Oddity Esports partners with Flight Centre – Daily Esports
Oddity Esports has announced their partnership with Flight Centre. This comes shortly after Legacy Esports and Chiefs Esports announced their partnerships with Razer and Marvel respectively. Things are certainly looking bright for the Australian esports scene. We got in touch with Melvin Tang, the co-founder of Oddity Esports, to get his thoughts on one of their latest sponsors.
Oddity Esports and Flight Centre
The Flight Centre Travel Group is one of the largest travel agencies in the world. They have operations in 23 countries and arrange a multitude of corporate travel. This covers more than 90 countries. As one of the newest additions to Oddity Esports, what does the Flight Centre sponsorship mean for Oddity? Tang told Daily Esports the partnership is extremely critical for the growth of the organization:
The partnership with Flight Centre is extremely crucial to our roadmap of growth for the organisation and the industry itself. We have worked tirelessly since the last quarter of 2019 until present and we are proud of what we are able to achieve as one of Australia's quickest growing esports organisations. We have built a great rapport with Flight Centre and we are excited to continue our growth together in the coming year.
As Tang points out, this sponsorship doesn't just help his organization. It aids the wider esports scene. Tang believes having Flight Centre on board will bring esports and gaming to broader mass markets. He told us:
I believe anything that we do to get more people and businesses involved with esports, if done correctly, will bring gaming and esports to the broader audience. Australia is always ten steps behind the rest of the world and I cannot wait for our industry to develop and mature.
Extensive partnership
Flight Centre is a major player in the corporate travel space. As such, they will be assisting the team with this area of their organization. The Flight Centre logo will appear on all Oddity Esports kerseys for 2020 and on Twitch and Mixer streamers. Tang told us players and managers will be receiving extensive industry knowledge and service from Flight Centre:
Staff and players of Oddity Esports will have access to Flight Centre's extensive network of travel partners, accommodation, transport hire, and much more, provided by their expert team of consultants. During a full calendar year, we expect to attend multiple key gaming/esport-orientated events across Australia. Flight Centre's extensive knowledge and expertise as market leaders in the industry, their A+ customer service and advice for young up-and-coming esport professionals are crucial for their travel safety and wellbeing.
The sponsorship is set in stone for this year, and Tang sees it as a great step forward. He's excited for the growth of the team and the partnership over the coming year:
This partnership will literally assist in the move of Oddity Esports Players and Staff both domestically and internationally when required. It is extremely satisfying to see non-endemic brands/businesses enter into the realm of esports and I believe we are the first ANZ Organisation to bring a travel agency brand of this nature into the industry. Oddity Esports will continue to open our world of Esports to Flight Centre as we grow together.
Australian esports and Genesis Internet Cafe Esports
There are lots happening in the Australian esports realm. Sponsorship announcements, major tournaments like IEM and MEO combining, Warcraft III coming, and Fortress Melbourne. We asked Tang what he thinks of all these announcements and how it's shaping esports down under:
It is amazing to see new partnerships being built from other esport organisations within Australia, whilst there can only be an exponential growth for our industry moving forward. Partnerships being formed such as Chiefs x Marvel, Legacy x Razer, and our most recent with Flight Centre will only place Australia on the global map.
And that's not all from Oddity. They just announced their sponsorship with Genesis Internet Cafe (GIC) Esports.

@GICESPORT for 2020!

Read More: http://bit.ly/Oddity-GIC #OurOdds #GICEsports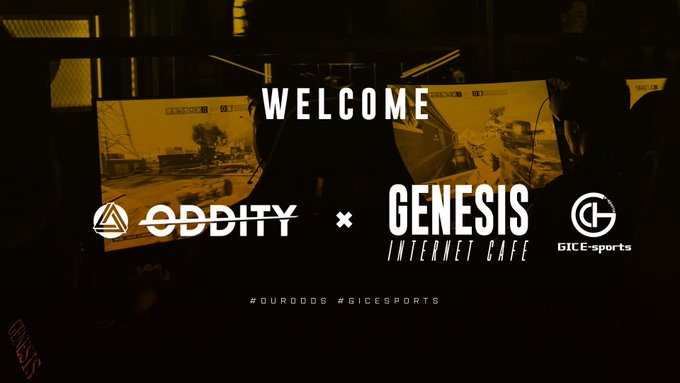 This sponsorship will see GIC Esports become the home for Oddity Esports' training facilities. The cafe is Melbourne's first GeForce-Certified Platinum iCAFE. They have plenty of high-tech equipment for the pros to train on. Word on the street is the cafe will play host to meet-and-greets and other community-style events. Keep an eye on Oddity's Twitter page for announcements and giveaways.
We wish Oddity all the best for 2020.
Source: Read Full Article