OpTic Gaming Is The Team To Watch Coming Out Of The CDL Los Angeles Home Series
OpTic Gaming Los Angeles (OGLA) showed signs of life this past weekend, as they gave Call of Duty fans a glimpse into the team they truly are at the Call of Duty League (CDL) Los Angeles Home Series.
The Call of Duty League hosted its 4th event last weekend in Los Angeles, and despite the fall in viewership, the weekend was full of many surprises and unexpected moments. From Atlanta FaZe's first loss to the Minnesota Rokkr to the Dallas Empire's ultimate victory, it was a surprising and action-packed weekend. However, one team in particular stood out, and they are certainly not going to get the coverage they deserve.
OpTic Gaming Los Angeles is the team to watch coming out of the Los Angeles Home Series. Perhaps it's lost on viewers that OGLA was a high ranked team in many power rankings prior to the season's launch. That weekend, they lost 3-2 to Paris and were swept by the Chicago Huntsmen. Yes, their showing was weak in the opening weekend, and they continued on this path in Atlanta as they got creamed by both the Florida Mutineers and the Atlanta FaZe. So, how can a team with only 20 CDL points that currently sits at 8th in the standings be the "team to watch?"
Let's break it down.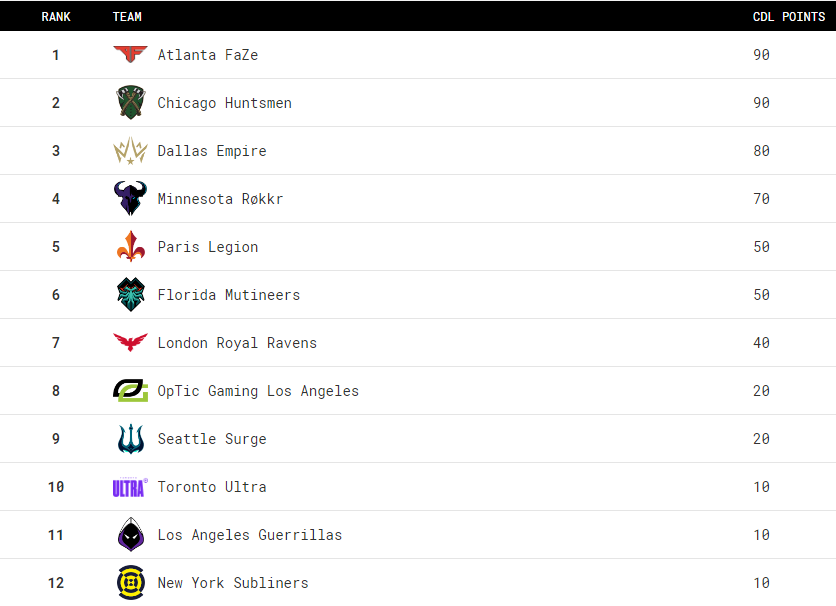 OGLA has one of the highest powered, winningest rosters in the Call of Duty League
A roster consisting of TJHaLy, Dashy, Kuavo, SlasheR, and JKap shouldn't be overlooked. Multiple championships between them, in addition to several years of experience, make this team one of the most mature organizations in a league of young, unproven talent. At the end of the day, veterans and experience will hold true in times of adversity, which is exactly what this team has faced.
When they're all in sync, they are unstoppable
We saw only glimpses of this play from them in LA and really did not see any of it at any prior events, but the glimpses we got to see were remarkable. When this team is playing together, communicating well, rotating early in Hardpoint, and giving themselves a chance to win every single gun fight, they are dominant.
Remember the Minnesota Rokkr? The only team to beat the Atlanta FaZe so far this season, and also the team took the Dallas Empire to a first-ever game 5 in the finals. OGLA obliterated them during group play and swept them 3-0. This series their rotations were on point, they flipped every spawn they needed to, and their Search and Destroy was actually functional. When they do the fundamental things right, their natural skill and ability takes over and they become one giant machine of death to their enemies.
Sometimes it takes time to adjust to a new team
We have seen in past Call of Duty seasons that when there are massive roster changes, it can take time to adjust to teaming with new players. One could refute this statement by saying all teams have had the same amount of practice and preparation time, so they should all be on the same level. However, some players adjust to change differently.
That's fine. The CDL still has nine events left this season, which is plenty of time to earn the CDL points necessary to qualify for champs. Sometimes, the way a team practices can make all the difference, and OGLA have been grinding away lately as the team has looked at the adversity as an opportunity instead of a failure.
This team is not going anywhere. A roster full of Call of Duty legends backed by a storied organization has shown signs of life for the first time at the CDL Los Angeles Home Series. This will not be the last time fans see dominance from OGLA, and I suspect we will not see the standings remain the way the are for the rest of the year.
Source: Read Full Article