Overwatch: Ashe's Mardi Gras Challenge is live with new rewards
It's Fat Tuesday and a brand new Overwatch event went live today to celebrate Mardi Gras. Ashe's Mardi Gras Challenge will occur from Feb. 25 to March 9 and will feature rewards with a Mardi Gras theme.

From bead to shining bead.
Let the good times roll in Ashe's Mardi Gras Challenge and earn unique rewards, including Mardi Gras Ashe (Epic), now through March 9.

: http://Blizz.ly/MardiGras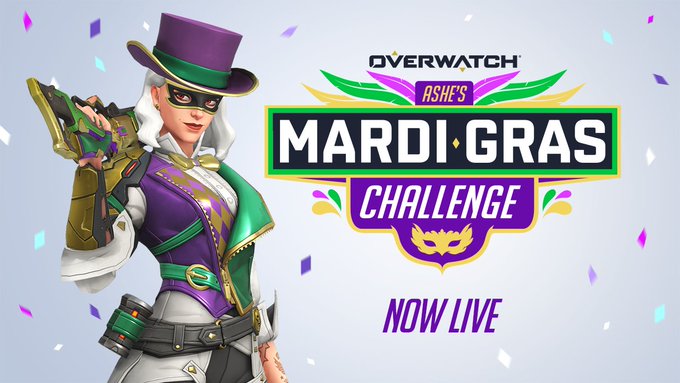 By playing this video you agree to Twitter's use of cookies
This use may include analytics, personalization, and ads.
The challenge and rewards
Ashe's Mardi Gras Challenge is similar to other Overwatch challenge events in the past, such as D.Va's Nano Cola Challenge and Ana's Bastet Challenge. To participate in the challenge and earn rewards, players simply have to win quickplay, competitive, or arcade games in Overwatch. Players can also earn rewards by watching select Twitch streamers participating in the event.
Winning three games will earn players two unique player Icons, one featuring B.O.B. (Ashe's ult) and the other featuring Ashe herself. Winning six games will reward a new spray, and winning nine games will reward the Mardi Gras Ashe skin. This will be the only way for players to get this skin.
Watching two hours of participating Overwatch Twitch streams will earn players a Mardi Gras Wrecking Ball spray. Watching four hours will earn players two sprays, one of a Mardi Gras Zenyatta and another of Torbjorn and Brigitte eating. The top-tier rewards will be given to those who watch six hours, and they will include Mardi Gras Reaper, Lucio, and McCree sprays.
In addition to the Mardi Gras Challenge, the Experimental Card game mode is live as well. The game mode features an experimental 3-2-1 role lock with three damage heroes, two healers, and one tank. The game mode also comes with select changes to certain heroes to help with balance in the mode. These changes will not be present in other game modes.
Be sure to celebrate the event and get these limited rewards! What is your favorite part of the event? Do you think events like this are a good thing for Overwatch?
Source: Read Full Article