Overwatch League cancels South Korean matches due to coronavirus
Much like earlier in the Overwatch League, another homestand has been canceled. Health concerns stemming from coronavirus have led the league to cancel Seoul Dynasty homestand matches in South Korea, echoing what the league recently did in China.
In order to protect the health & safety of our players, fans, & staff, we are canceling plans to host #OWL2020 matches in South Korea in Weeks 5, 6, and 7, including the @SeoulDynasty home event.
We'll share more info about when and where matches will take place at a later.
Coronavirus thwarts the Overwatch League schedule again
Much like the issues with Chinese teams and homestands from a couple weeks ago, the coronavirus continues to cause issues with the league's home and away games. This was verified by the Seoul Dynasty in another tweet. The team also donated to charities involving this virus, as reported earlier.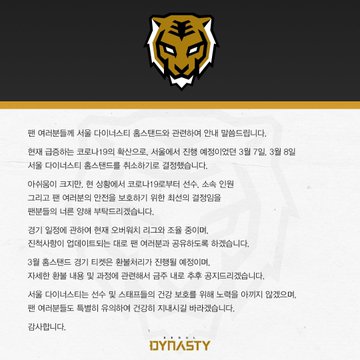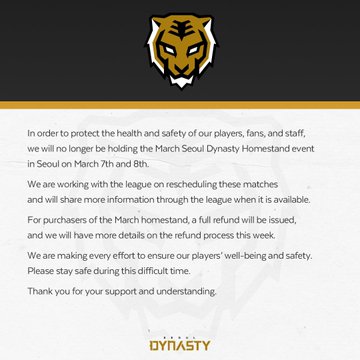 Overwatch League players and fans still aren't sure of where these games will be hosted yet. Korea was the backup to China in the first place, but they have had to back out too. This was really unfortunate, as these two homestands were coming up soon. This leaves the league with only a month or less to reschedule all matches during those times. Also, this leaves both fans and players looking forward to seeing Shanghai and Seoul in person empty. While the league is hoping to reschedule the matches to later on in the year, it seems like this might be the end for this season's games in South Korea and China.
What does this mean for future homestand games in the league?
Coronavirus has incurred a variety of tragic effects on the world already. Almost the entire Overwatch community was happy that the first priority was health and safety. This clearly shows that this is the precedent for future homestands, that the player and team health comes first. When the risk of sickness is too high, Overwatch League will step in and change things. I am glad for this, but it is unfortunate to not see players play in the countries where Overwatch grew to be what it is now.
Source: Read Full Article