Team Razer and Legacy Esports join forces – Daily Esports
Razer is paving the road for esports, from partnerships with organizations like Alliance to great gamer and streamer products. Razer now expands its reach by partnering with Australian organization Legacy Esports.
Legacy Esports is one of the most prominent teams in the Oceanic scene. Formerly known as Avant Garde Ascension, Legacy has teams in many titles including Fortnite, Overwatch, League of Legends, StarCraft II, and Smash. They are also the first organization to partner with the Australian Football League, one of Australia's most loved traditional sports.
The Razer partnership
Partnering with Team Razer has many perks. As part of the alliance, Legacy Esports players and content creators will be equipped with the latest Razer gear. They'll also be field-testing products under development. Razer Global Esports Director David Tse is excited about Razer's expansion into the Oceanic region. He said in the official press release:
Team Razer has been expanding our footprint to support esports teams across the globe. Now we are proud to extend our support to the Oceanic region. Legacy Esports has proven to be a top notch esports team within Australia. We are inspired by their grit and perseverance to elevate esports within their region.
Legacy Head of Esports Tim Wendel is just as excited. In the press release he outlines some of their plans for the future:
Joining Team Razer is a huge step for us. We look forward to working with Razer and using their top-tier products to take Legacy Esports to the next level. 2020 is shaping up to be another massive year for us, with exciting new players and innovative plans which we hope will take us to the pinnacle of the OCE and beyond. I have no doubt that our partnership with Razer will be a key part of this next era of success for our teams.
The partnership came just before the Fortnite Summer Smash, where Legacy had a number of players compete.
Fortnite #AOSummerSmash – Player Walk-in https://twitter.com/i/broadcasts/1DXxyegEONNxM …
Fortnite #AOSummerSmash – Player Walk-in
Legacy eSports @LegacyOCE
Love is in the air
Team Razer isn't the only one jumping on board with Legacy Esports. On Valentine's Day (how fitting), Legacy Esports announced its latest sponsor in the form of Harvey Norman. Harvey Norman is one of Australia's biggest consumer electronics retailers. They also sell furniture and bedding, therefore having an extensive reach into many markets. For an arguably non-endemic brand, this is a huge step for the retailer. While gamers and streamers will find all their equipment at Harvey Norman, this sponsorship is sure to put esports in the minds of other shoppers who frequent the store — moms purchasing white goods, families buying furniture, and more. It's sure to extend esports into the mainstream market.
Harvey Norman will be working with Legacy Esports' streamers. All of Legacy Esports' Fortnite video content will be sponsored by Harvey Norman. It's the perfect partnership, considering Harvey Norman is one of the largest stockists of Razer equipment. Anyone watching esports competitions featuring Legacy Esports will notice the Harvey Norman logo on the player jerseys. Harvey Norman is just one of the confirmed Legacy Esports sponsors for 2020. Legacy also has Samsung, and Optus — one of Australia's largest telecos.
Welcome streamers to Legacy Esports
Following these latest sponsor and partnership announcements, Legacy Esports has named its latest steamers. Kori "Vandie" Hallows joins Legacy Esports as their new stream manager. Vandie has hosted events like the Melbourne Esports Open. She's a streamer herself and is mostly seen playing League of Legends. Alongside Vandie, streamers Sarah "Artemis" Pike and "Alishiera" have been welcomed to the team. All three ladies are from Australia.
Please welcome @Alishiera (and cat Jack) as our newest streamer to join the LGC Stream Team!

Live now: http://twitch.tv/Alishiera #weflyasone – #RISEOFLGC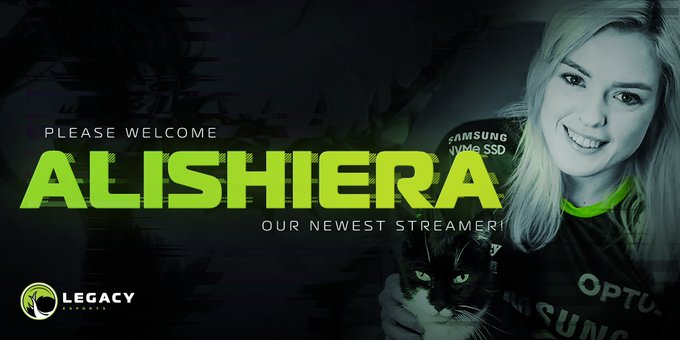 Wendel is excited to build out fan engagement through Legacy Esports' streamers, as mentioned on their website:
Legacy Esports has always had a focus on its teams and high performance, fine-tuning and improving its individual and team strategies. With a range of great brand partners joining Legacy Esports including Samsung, Optus and Razer, the move to build out our fan and audience engagement, through player and talent streaming is the next logical growth initiative.
Furthermore, Nigel Smart, the CEO of the Adelaide Football Club (which Legacy is partnered with), said he sees the future of esports in game analytics and content creators:
Moving to identifying, managing and analysing gaming content creators will be an important capability we will invest and build out in 2020. I can see in the future Legacy Esports having a large variety of gaming content creators, engaging with vast audiences, across various games which we bring together collectively to create great value.
It looks like things are certainly shaping up for Legacy Esports with all these great announcements. We wish them all the best for 2020. You can catch Legacy Esports in action at Intel Extreme Masters in Melbourne later this year.
Source: Read Full Article