The LPL announces they will resume matches in March
The League of Legends Pro League (LPL) will continue their matches despite the global coronavirus (COVID-19) situation. In an official announcement, the LPL plans to follow a special protocol as players resume their delayed schedule. Fans are ecstatic over the news and are looking forward to an exciting Spring Split ahead.
The LPL hiatus
In an unfortunate turn of events, the Chinese pro league halted their professional matches from taking place. They did this to prevent players from becoming sick or infected due to the spread of COVID-19. Because of the hiatus, players were uncertain of what would happen to the LPL's upcoming season.
To make matters more complicated, many players lived in the infected cities which made it difficult for them to leave while under quarantine. Recently, the LPL held scrim matches in place of the tournaments. This gave their audience something to watch while waiting on updates.
As of Thursday evening (EST), the LPL announced the return of professional matches. Through a Twitter post on their official account, they informed viewers of some rules and protocols they will follow. Their matches are scheduled for March 9, 2020, while their English broadcast will air starting March 15.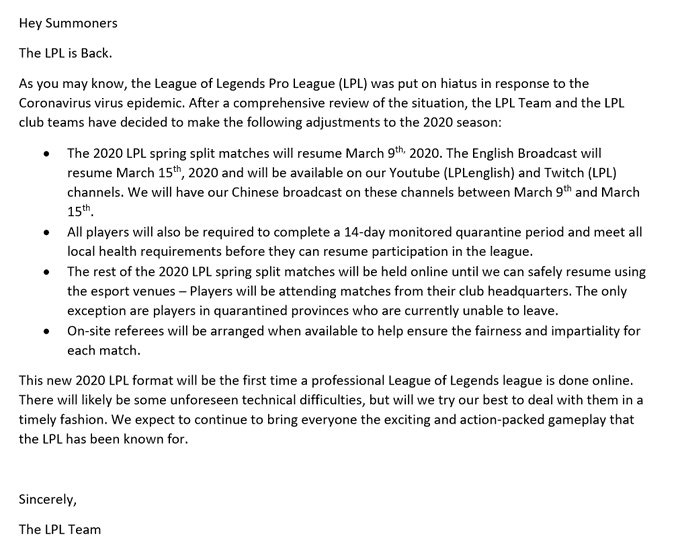 Rules and protocols
Some of the rules they will follow include the health and safety of all LPL players. They will monitor each player over a 14-day quarantine period to make sure there is no infection present. In order to participate with their teams, each player will also have to meet local health requirements. They are also planning to hold each match online to ensure the safety of their players and staff.
This will follow in the footsteps of their scrims that took place online, as players will compete via their club headquarters. Those who are currently under quarantine and unable to leave their homes are the only exception. There will also be on-site referees present to ensure the fairness of all games.
An exciting comeback
Plenty of fans and teams are excited to see LPL matches continue. Although there is no telling how much this will affect their standings for the MSI tournament, they will continue to stay positive. Things are slowly looking up for the professional League of Legends scene with the recent announcement that Worlds would continue in China despite COVID-19. We will continue updating readers with match details as the LPL starts back up.
Source: Read Full Article