TSM welcomes Greekgodx as their new content creator – Daily Esports
TSM has announced Dimitri "Greekgodx" Raymondo to be the organization's newest member. The popular content creator will now represent TSM in all of his future streams.
Quick, everyone, act surprised
Please welcome our newest cowboy to TSM, @Greekgodx



: https://youtu.be/05HyLTKYC8I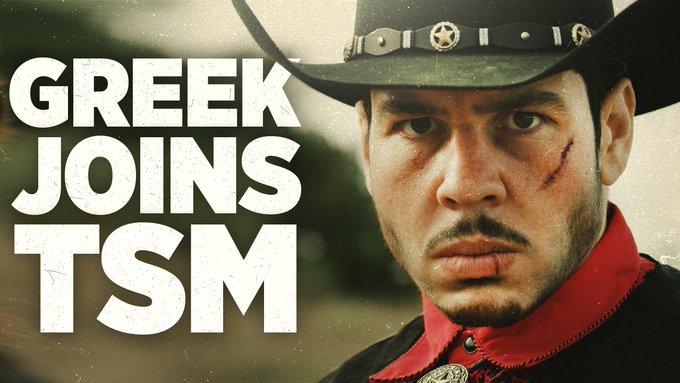 By playing this video you agree to Twitter's use of cookies
This use may include analytics, personalization, and ads.
On Monday morning, TSM uploaded a YouTube video of Greekgodx, welcoming him to the organization. He had initially teased the announcement on Twitter a few days before it was made it official. This partnership excited plenty of followers, and they're looking forward to more content.
The announcement
The video featured Greekgodx wearing a cowboy hat while speaking to his horse named "Rusty." He starts the video by talking to the viewers in a southern accent. "I just landed here in the United States of Texas." He continues, "This wouldn't have been possible if it wasn't for an organization named TSM."
About Greekgodx
The 27-year-old British streamer made his debut in 2011. He is known to play games such as Fortnite Battle Royale, Skyrim, and Grand Theft Auto. Although he plays a wide variety of genres, his fans mostly follow his League of Legends streams. Overall, he currently has more than 360,000 YouTube subscribers and over 39.2 million Twitch views.
His move to the United States
In a recent Instagram post, Greekgodx is seen getting ready for his visa interview. Fans had figured he was planning for a big move to the United States. Plenty of comments wished him good luck and congratulated him on his recent weight loss. He then received his visa and moved to Texas in early February. Not long after, he was given the opportunity to join TSM.
HUGE CONGRATZ to @Greekgodx for joining @tsm !!!
He has came such a long way over the years, from stream sniping @Sodapoppintv , carrying @loltyler1 every day on stream to becoming the streaming legend that he is today.
I'm so proud of him!
PS: Rusty the horse MVP!
Finally, he will be joining the organization along with several other TSM content creators. Just recently, they had announced the addition of streamers MacieJay and Xaryu for Rainbow Six and World of Warcraft. Additionally, you can visit his Twitch channel to get a hold of some quality TSM content.
Source: Read Full Article