Apocalypse, The Ultimate Mutant, Becomes A Playable Character In Marvel Contest Of Champions
One of the most powerful mutants in existence will be making his way into the area as Apocalypse will become a playable character in the popular mobile fighting game Marvel Contest of Champions. As part of the Rise of X campaign, developer Kabam made the announcement of the villain's inclusion into the big roster of characters.
Taking inspiration from Jonathan Hickman's run on the X-Men, Rise of X is Marvel Contest of Champions' next campaign with both Professor X and Apocalypse making their debut in the game. The title is strongly based on the events from the classic comic book storyline Contest of Champions as many heroes and villains are pitted against each other by the Collector. They join with the long list of playable characters, each with their own backstory. Apocalypse's background remains the same as the comics where he's depicted as the first being on Earth to obtain the X-gene from ancient Egypt. Declaring himself as a deity, he has manipulated many civilizations into fighting one another as it increases his power.
Being one of the most powerful foes to the X-Men, Apocalypse has abilities that include Bleed, Concussion, Degeneration, Poison, and Weakness. The X-Men villain will have three special attacks and one signature attack, according to the game's official site. His main attack is Survival of the Fittest, which allows him to regenerate his health after every fight he doesn't participate in as long as his teammates win while he's recovering. This can be used up to two times. Apocalypse's recommended masteries include Double Edge, Inequity, and Recovery. As far as his strengths, they include Fighting Mutant Opponents, Prevent Evade, Prevent Purify Abilities, and Significantly enhancing any Mutant on his team.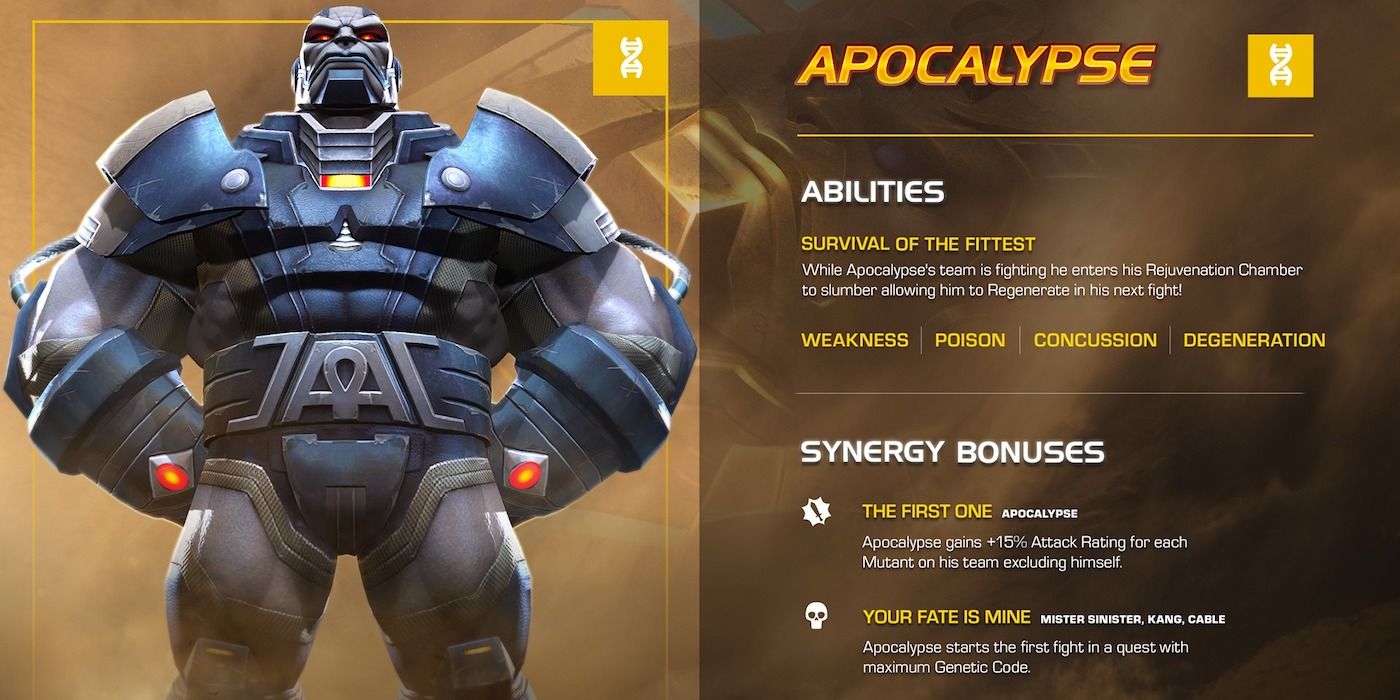 The most powerful mutant can be quite useful with certain characters since each of them have what is called Synergy Bonuses. Called The First One, this bonus allows Apocalypse to gain an attack boost for each mutant on his team, including himself. His second bonus is Your Fate Is Mine, which allows him to start the fight with Genetic Code to raise his stats or his teammates as well.
Apocalypse is now available to use in Marvel Contest of Champions, which can be played on iOS and Android devices.
Source: Read Full Article