Assassin's Creed Valhalla: A Guide To All Greatswords
Quick Links
* Sir Gareth's Holy Sword
* Saint George's Holy Sword
There are so many weapons to choose from in Assassin's Creed Valhalla, but one of the best ones you can use for sheer power is the Greatsword. These are two-handed weapons that require Eivor to use their strength to wield, but their damage makes them worthy weapons. This is especially true with rare blades like the Excalibur. Their sluggishness and clunkier nature might not be favorable for some, but depending on your playstyle this could be the perfect weapon for you.
These are all the Greatswords that are available for you to find or purchase. This guide can help you decide which of these distinct two-handed blades you should add to your inventory, highlighting their stats and abilities. It is important to keep in mind that the stats could change based on your skill tree as unlocking a mastery with Greatswords or upgrades for aligned gear makes a difference.
Updated May 1st, 2022 by Stephen LaGioia: Greatswords have proven a fun weapon option and a terrific fit for Assassin's Creed Valhalla, which stresses gritty, heavy-hitting combat. And many players have found themselves in pursuit of more of these potent weapons, as they traverse and battle through the lush lands of Medieval England.
Continuing updates, events/festivals, and DLC add-ons by Ubisoft have kept the game's momentum going, further enriching this already robust Viking journey. Supplementing fan favorites like Wrath of the Druids, the epic Dawn of Ragnorok further expands the worlds and lore of Valhalla, adding new weapons and quests to the fold. With all this in mind, it seemed fitting to venture back and revisit this list.
* Swordfish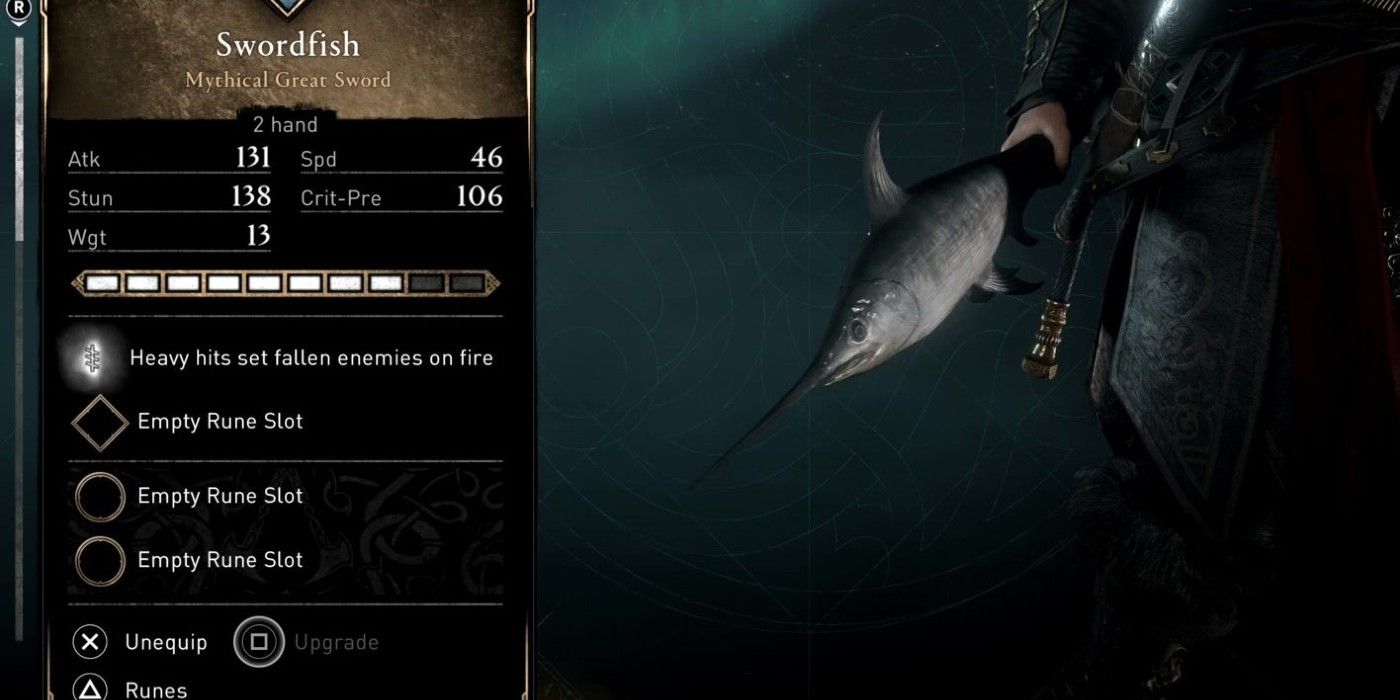 Starting things off with a particularly amusing option—the Swordfish can be earned after completing each of the twenty fishing delivery requests at the settlement. Keep in mind that you'll need to get the settlement to level 2 and construct a Fishing Hut.
As one might expect, the Swordfish isn't all too powerful compared to most of its ilk. Still, players who like to exploit critical hits might get a kick out of it, at least, as it's fairly strong in this area. It also has a curious perk in that it sets fallen enemies on fire upon landing heavy hits.
Unless otherwise specified, all stats listed for each weapon are those for Mythical upgrade level 10.
Stats
| | |
| --- | --- |
| Attack | 144 |
| Stun | 150 |
| Speed | 46 |
| Crit-Pre (critical hit chance | 110 |
| Weight | 13 |
* Sir Gareth's Holy Sword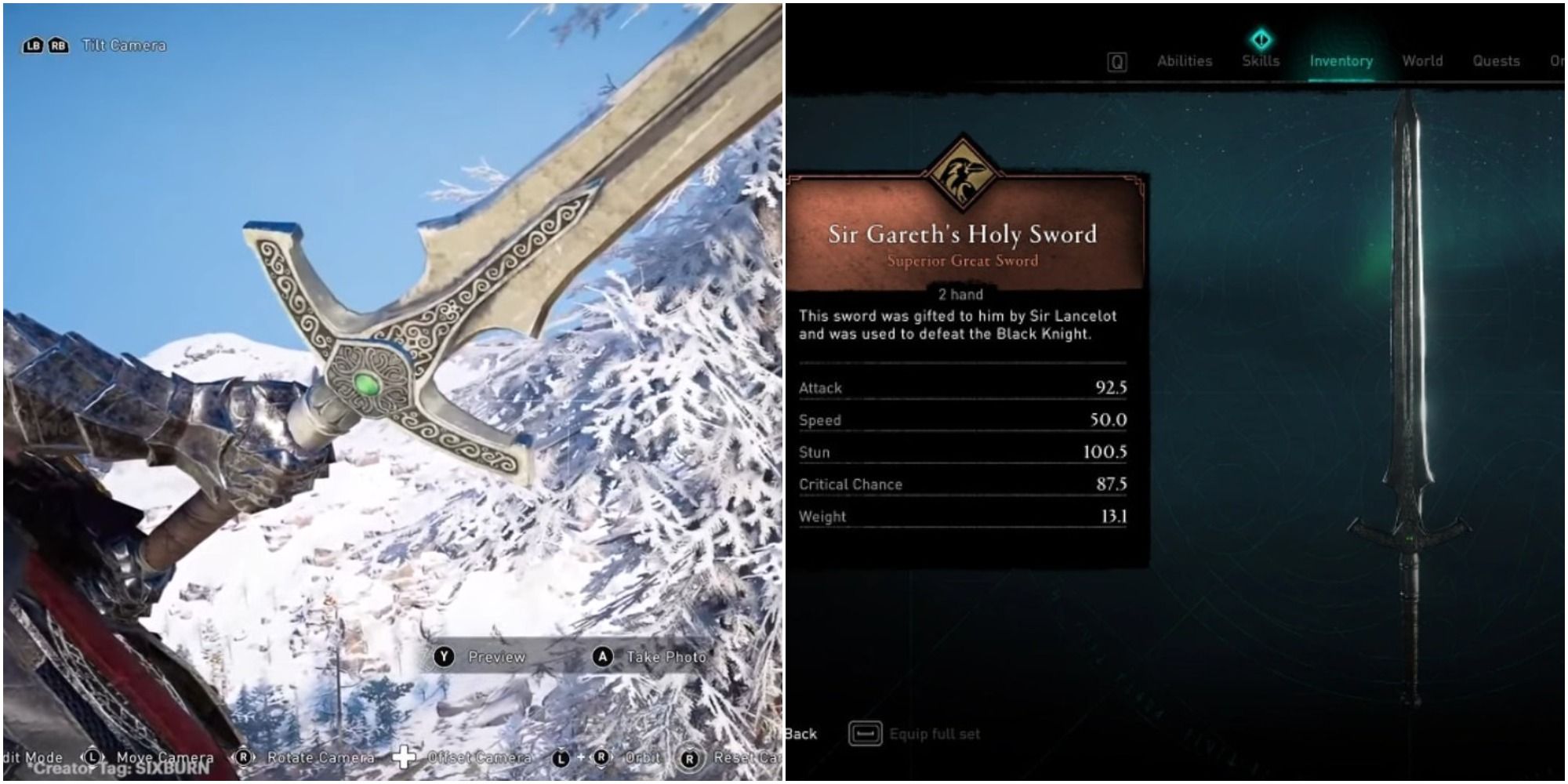 This coveted raven-aligned sword can be won upon finishing the Francia's Anointed quest as part of the River Raid feature. This weapon excels in strength, though it's also relatively quick. These traits make it great against bosses and larger enemies. It can break right through various shields and defenses.
If you favor the Spinning Harpoon ability spinning attack, you will want to seek this one out. This is because your ability and melee damage will be bumped up after finishing this move. This can be increased to up to ten added damage for a ten-second duration.
Stats
| | |
| --- | --- |
| Attack | 148 |
| Stun | 150 |
| Speed | 50 |
| Crit-Pre | 107 |
| Weight | 13 |
* Saint George's Holy Sword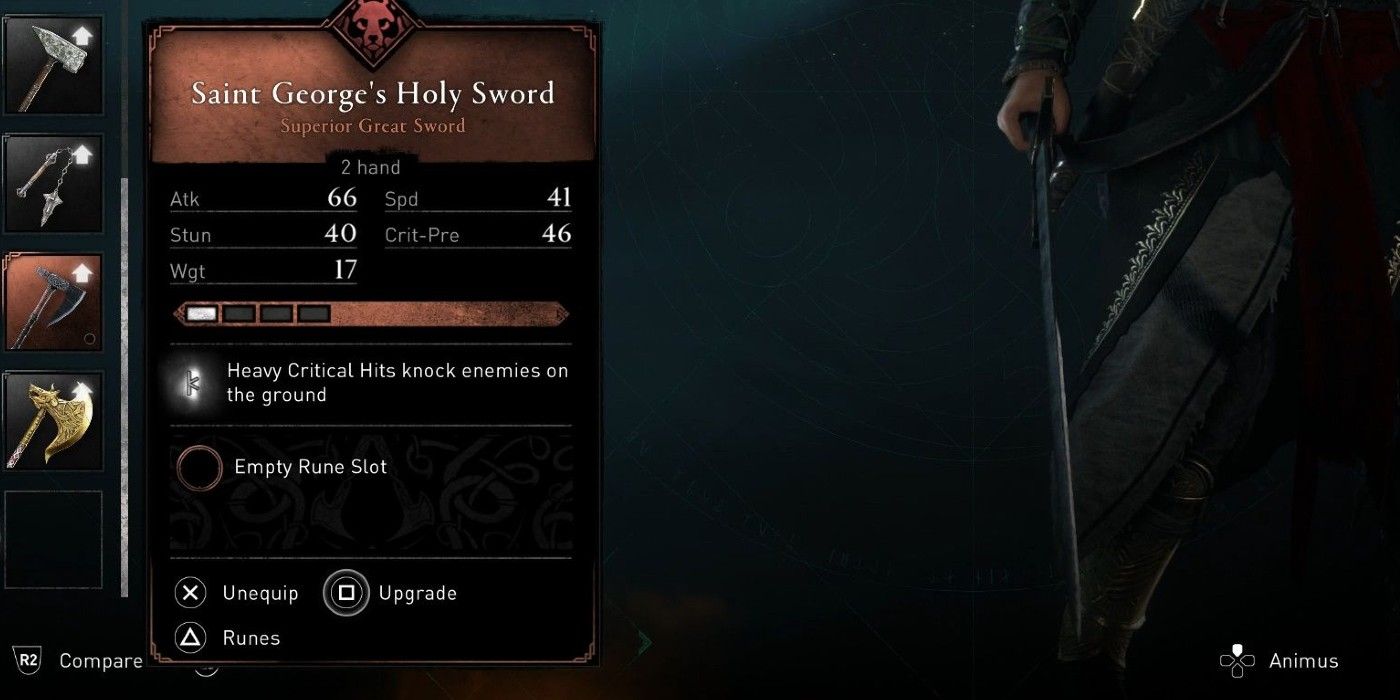 This holy relic of a weapon can be obtained after besting the champion at Deva Victrix fortress, along the River Dee. Players will want to come prepared for the fight, as this is a large River Raid fortress, full of tough opponents.
While a bit sluggish, the sword is more than worth it for its tremendous power and ability to stun targets. It further rewards brute, offensive play by way of its useful perk—which knocks enemies square to the ground when heavy criticals find their mark.
Stats
| | |
| --- | --- |
| Attack | 155 |
| Stun | 159 |
| Speed | 44 |
| Crit-Pre | 96 |
| Weight | 14 |
Sword Of Eden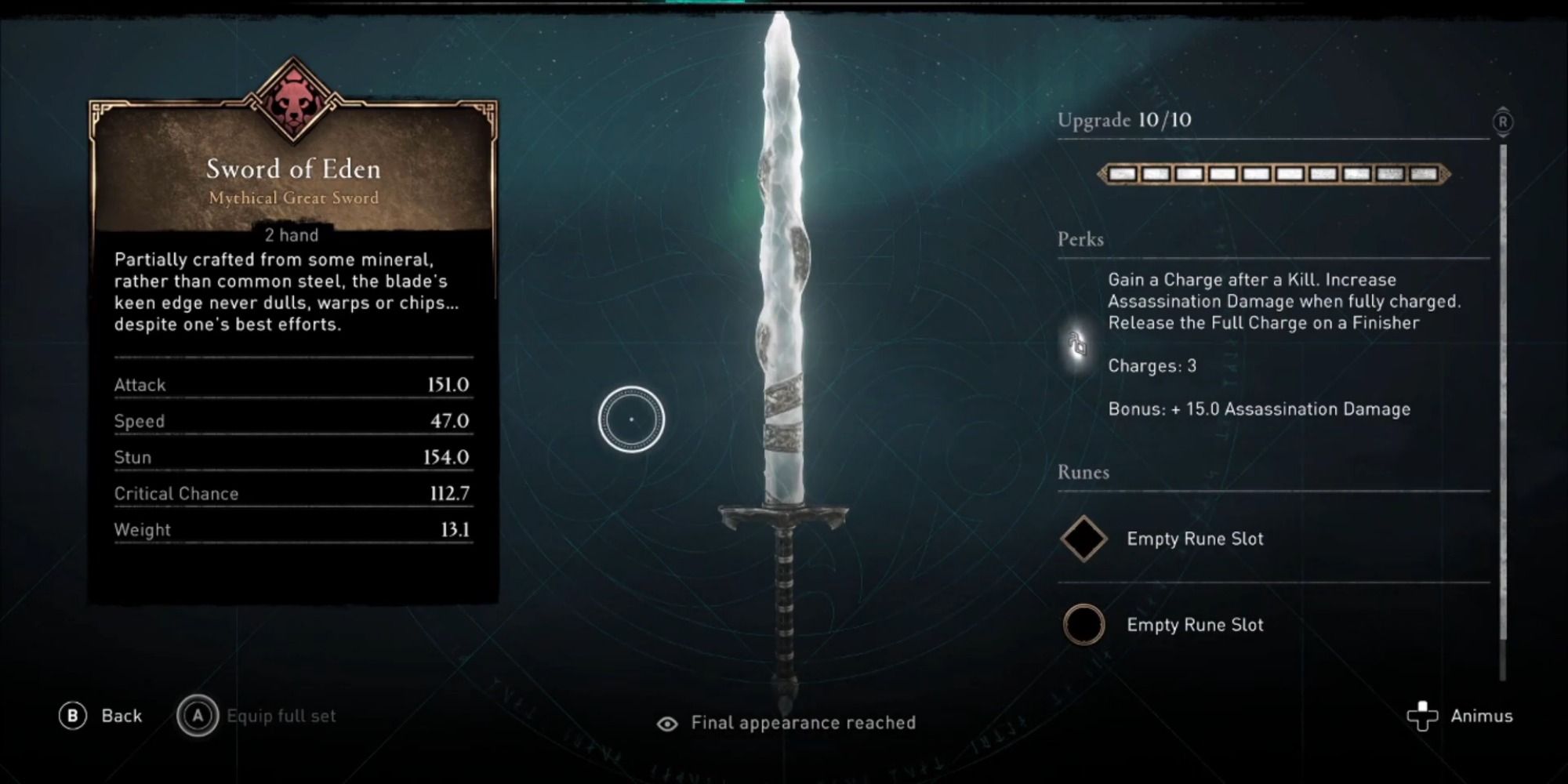 The Sword of Eden can be acquired from the Ubisoft Store for 350 Helix Credits, or you can take your chances and see if it comes to Reda's Shop. The design of this weapon is mythical as it has an ethereal glow that leaves your hair standing on end. But it's not just visually enticing, it's also a well-rounded, potent sword that pairs well with some of the best armor sets.
It starts off already fully upgraded and it is a degree stronger than the Excalibur, which makes it a worthwhile purchase. It also comes with a few nifty perks. These include the player gaining a full charge following a kill, which is released during a finisher. It also rewards bolsters stealthy play, by increasing assassination damage when fully charged.
Stats
| | |
| --- | --- |
| Attack | 151 |
| Stun | 154 |
| Speed | 47 |
| Crit-Pre | 112 |
| Weight | 13 |
Bayonet Sword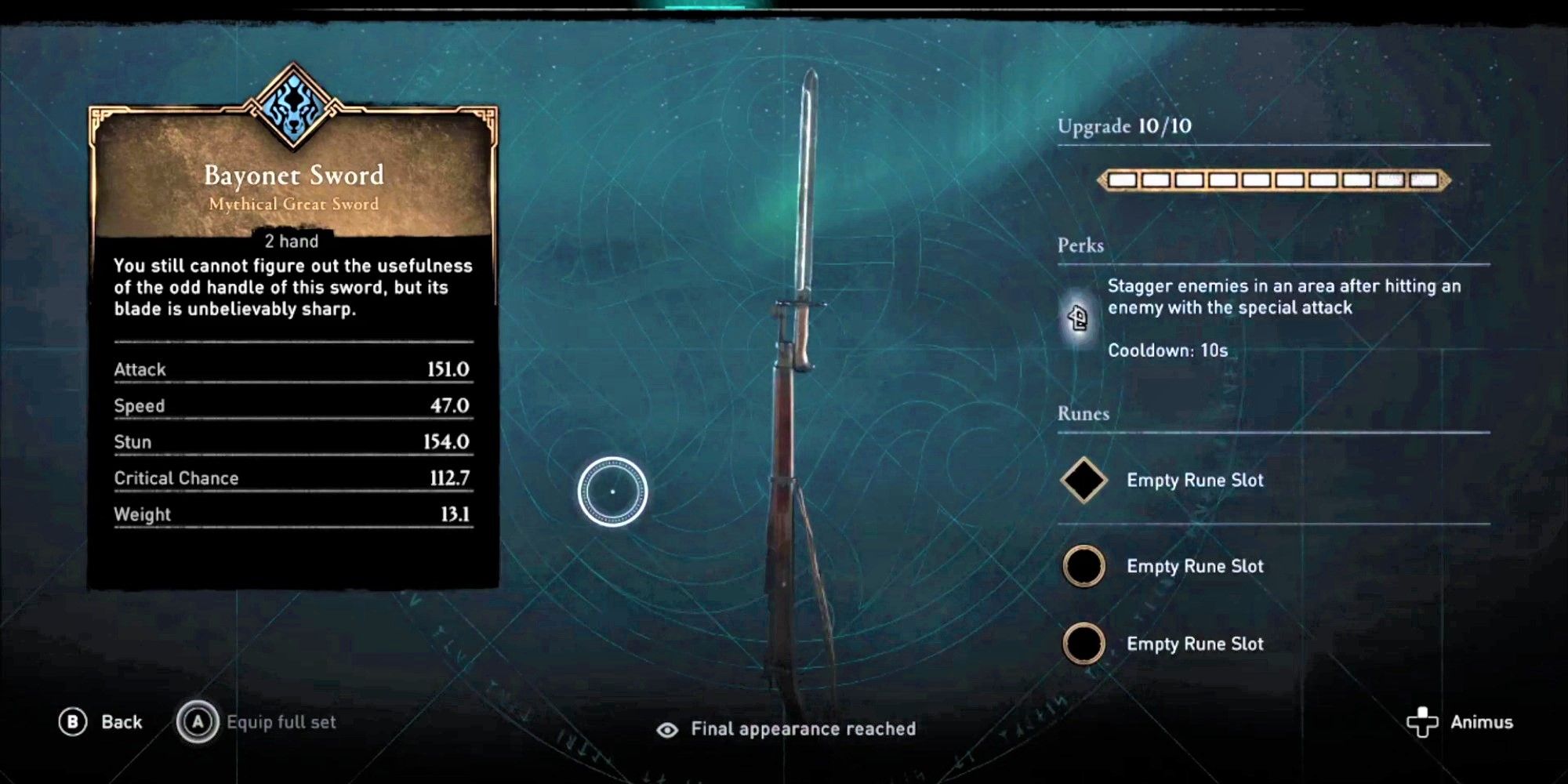 The Bayonet Sword is pretty similar to the Sword of Eden in every way, except for its historic design. This must be bought in the Ubisoft Store or at Reda's Shop, so it makes sense to choose one or the other because of their comparability.
However, its perk does differ as it will cause all enemies in an area to stagger after using a special attack on an opponent. It makes the Bayonet unique in its ability to overpower and get a leg up on multiple foes with speed and power.
Stats
| | |
| --- | --- |
| Attack | 151 |
| Stun | 154 |
| Speed | 47 |
| Crit-Pre | 112 |
| Weight | 13 |
Egyptian Khopesh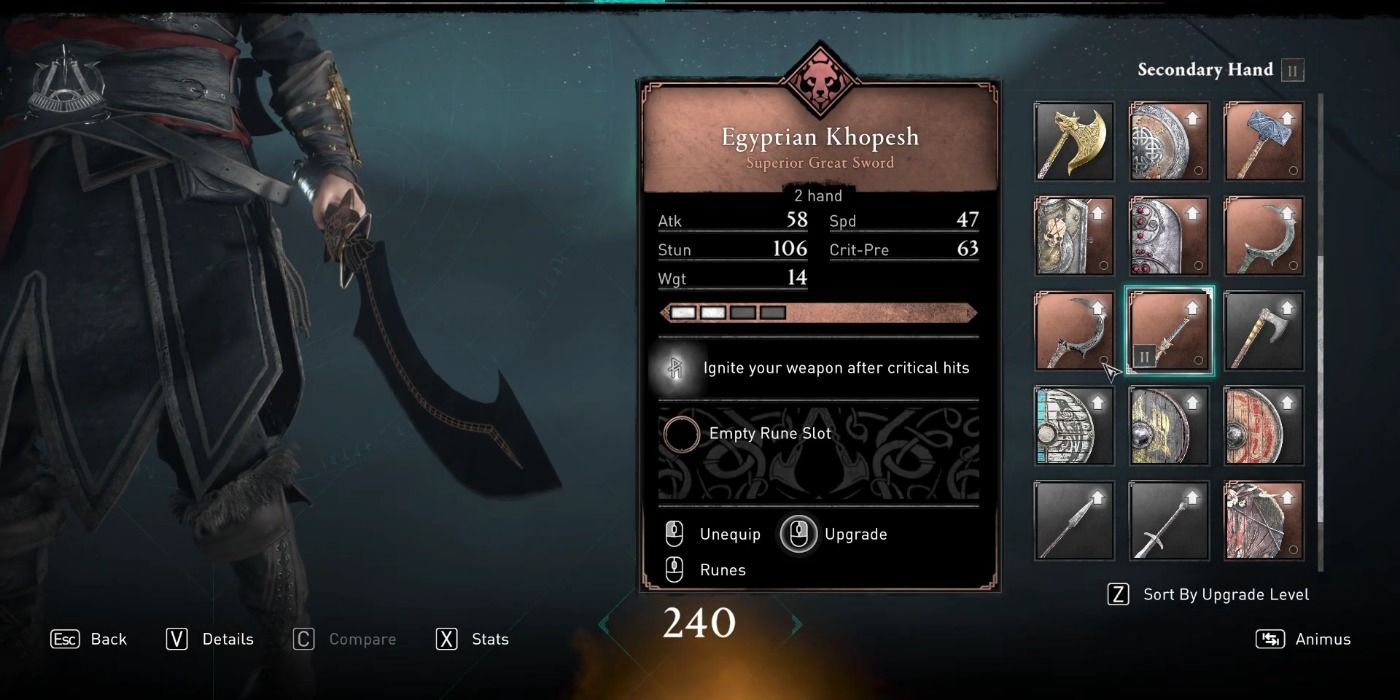 The Egyptian Khopesh is one of the new weapons introduced in the Wrath of the Druids, and it is a combination between a Greatsword and a Sickle. You can obtain it from Azur's Trading Store once you reach Dublin Reputation Rank 2.
The coolest thing about this weapon is that it ignites after performing critical hits during a fight. It also starts as a Superior Greatsword so it gives you a leg up compared to other swords you might find. This fiery, flashy blade is distinctly fun and effective when engaged in a heated battle.
Stats
| | |
| --- | --- |
| Attack | 120 |
| Stun | 180 |
| Speed | 48 |
| Crit-Pre | 98 |
| Weight | 13 |
The Nameless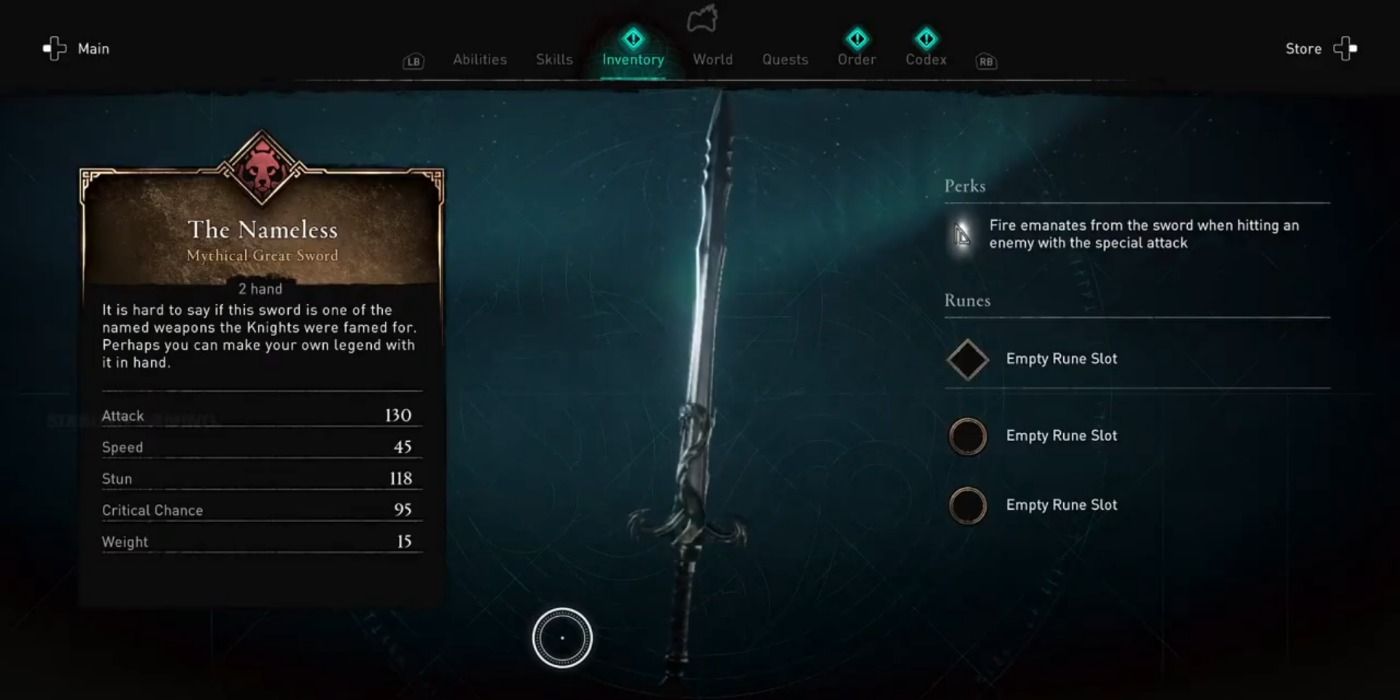 The Nameless Greatsword can be bought in the store for 350 Helix credits, or you can try your luck at Reda's Shop. Its design is fairly basic, as it is comprised mainly of silver tones, but its stats are what makes it so desirable.
When optimized, it can be one of the most powerful weapons in Assassin's Creed Valhalla, and its perk is also exceptional. The sword will emanate fire when you hit an opponent with a special attack. This passive damage damage-over-time can help Eivor get an edge in their battles of attrition.
Stats
| | |
| --- | --- |
| Attack | 144 |
| Stun | 149 |
| Speed | 46 |
| Crit-Pre | 110 |
| Weight | 13 |
Royal Sword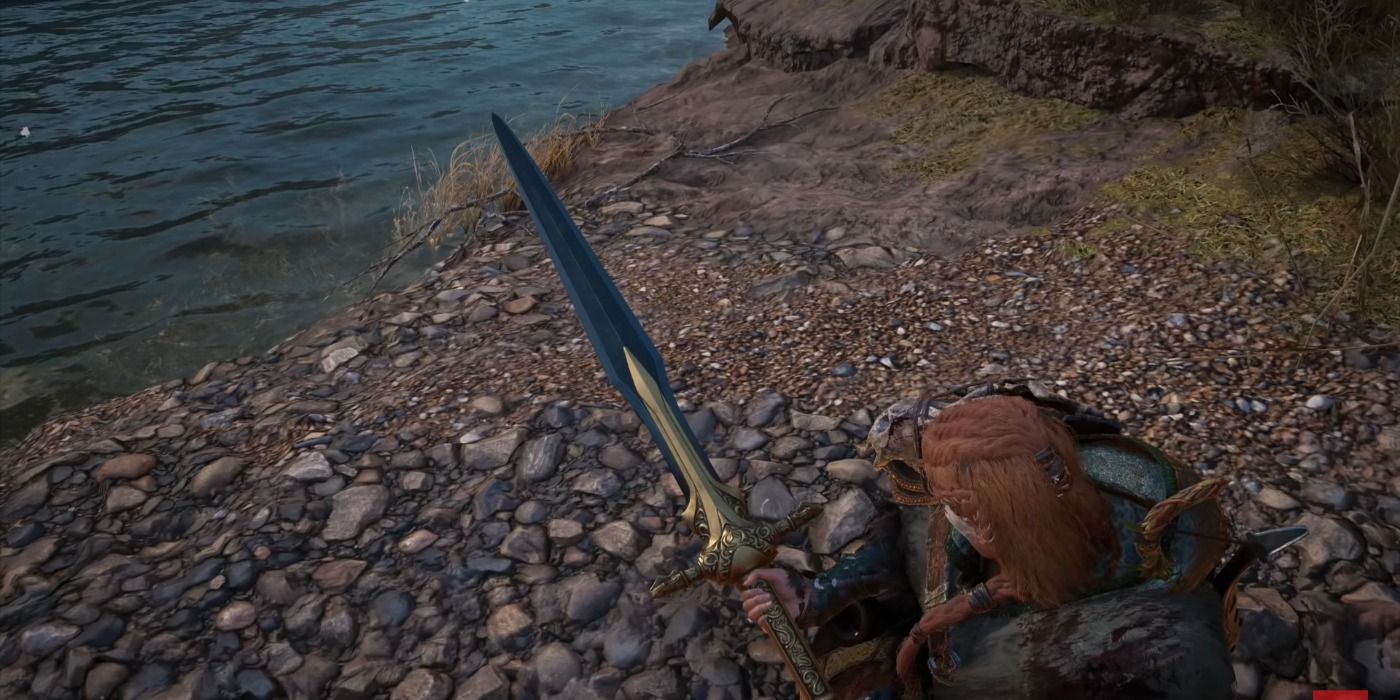 The Royal Sword can only be acquired as part of the Premium Starter Pack for $30, which is a bit steep even with all of the items included. It isn't even mythical when you purchase it, as it comes as a Fine Greatsword which further reduces its value. At least in terms of functionality may want to look elsewhere, as it has no perks, and some have reported that the weapon cannot be upgraded.
Still, the sword is strong and effective as a simple, "cut to the chase" weapon. Players also love it for its sleek design, as it has a small vial of blood affixed to the hilt, helping to set the tone with its emphatic English Viking vibes.
Stats (base)
| | |
| --- | --- |
| Attack | 88 |
| Stun | 100 |
| Speed | 46 |
| Crit-Pre | 90 |
| Weight | 13 |
Doppelhander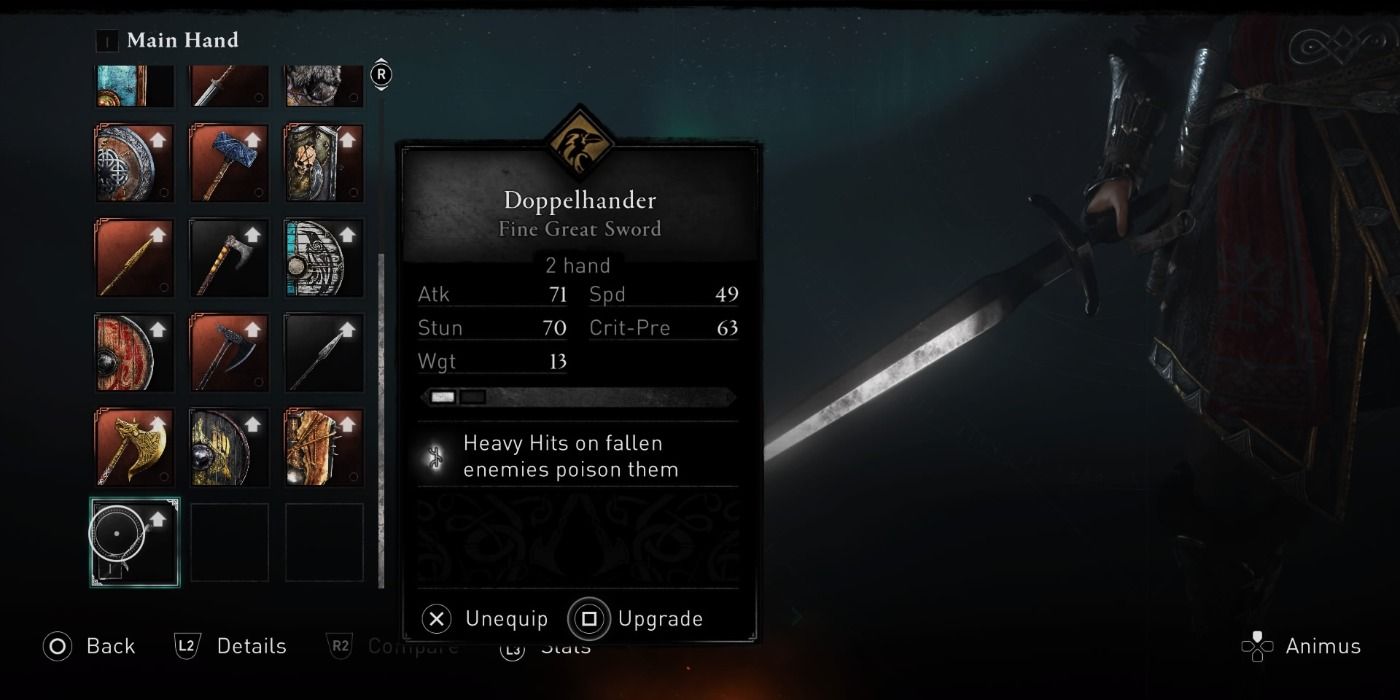 The Doppelhander is a Fine Greatsword that can be bought off a merchant for 390 silver. It is part of the Raven-aligned gear, so make sure to acquire the upgrades in this branch if you want it to achieve the best stats possible.
The weapon can feel rather sluggish, especially compared to some of the potent lightweight bows. Yet, its value becomes clear once getting into the "swing" of things and hacking through multiple foes. Players have viewed this weapon with mixed reactions, but the sword has won over some offensively-minded players willing to take the time to learn its unique style.
It does have a unique perk attached to it, where performing a heavy hit on a downed enemy will poison them, which is great when it comes to wearing down elites and Order members. This will deplete their damage even further as the poison continues to wound them if they manage to recover from your attack.
Stats
| | |
| --- | --- |
| Attack | 146 |
| Stun | 150 |
| Speed | 51 |
| Crit-Pre | 100 |
| Weight | 12 |
Carolingian Longsword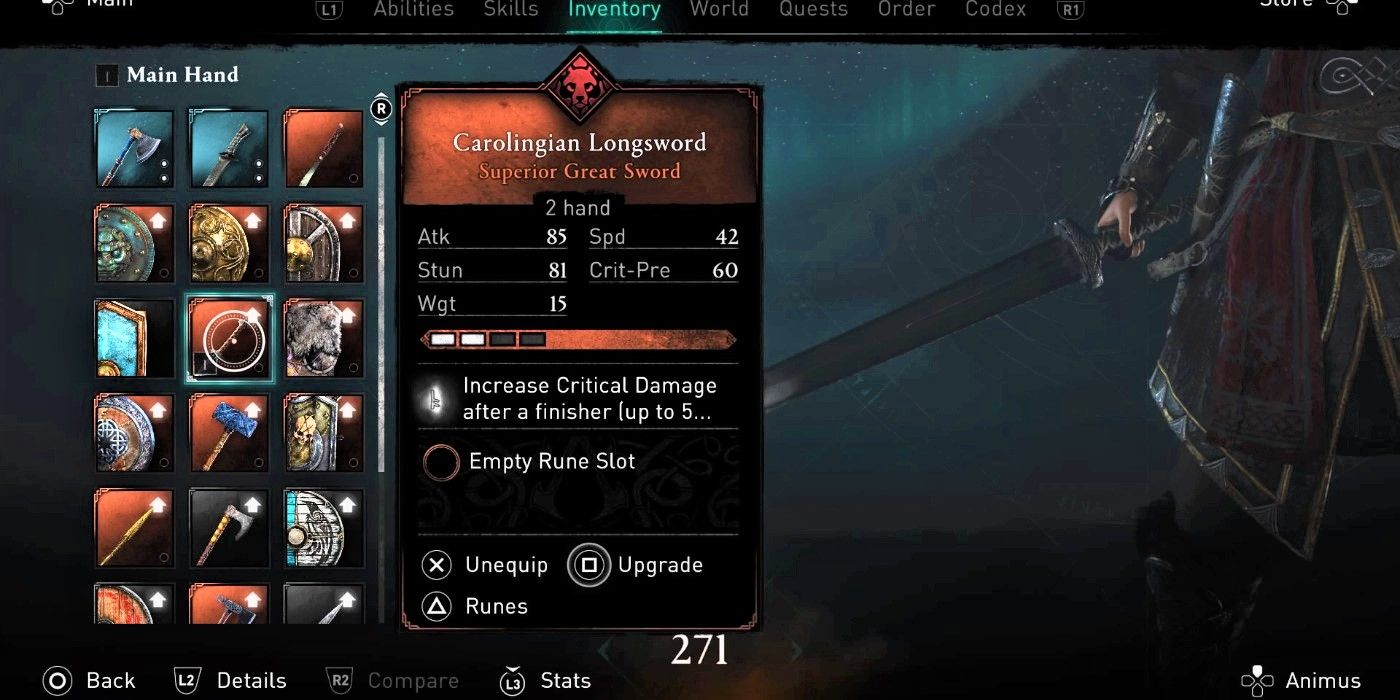 The Carolingian Longsword is a superior Greatsword that can be acquired in the East Anglia region. It can be found at a location called Forest Hideout, which is just east of Thetford Forest—and the chest is located within the red tent up on a platform. This is a notable leap in power from, say, the Doppelhander, and it is a great early game option to seek out.
The perk this weapon offers to its users is that critical damage can increase up to five times after performing a finisher on an opponent. This is highly effective for flashier players out there, as the criticals can stack up and make an impact when fighting in style.
Stats
| | |
| --- | --- |
| Attack | 155 |
| Stun | 159 |
| Speed | 44 |
| Crit-Pre | 96 |
| Weight | 14 |
Excalibur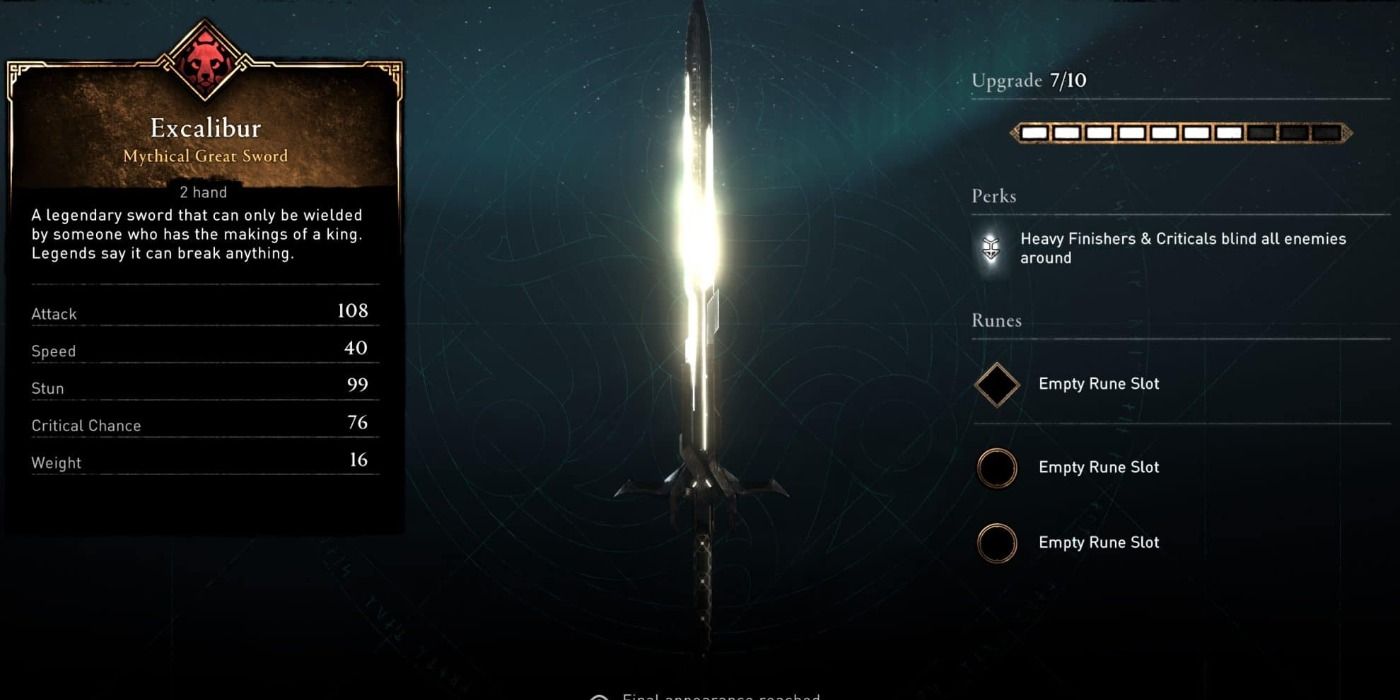 Excalibur is a Mythical Greatsword that requires a series of steps to be taken before it can be found. If you want full details then you can read this guide on how to acquire this weapon.
The basics of it are that you need to acquire the Treasures of Britain and take them to a location in Hamtunscire. This will unlock the sword—however, Hamtunscire is one of the areas that players won't have access to until later in the game. It might be worth it to look at your other options for Greatswords because of this fact.
This Greatsword deals a ton of damage and it might be a bit of work to retrieve it, but it is well worth your time if you want to make an overpowered character. The perk this offers is that every time a heavy finisher or critical is completed, it will create a light that will blind all nearby enemies. It's a great choice to make your Viking assassin all the more stealthy.
Stats
| | |
| --- | --- |
| Attack | 156 |
| Stun | 160 |
| Speed | 43 |
| Crit-Pre | 96 |
| Weight | 14 |
Scimitar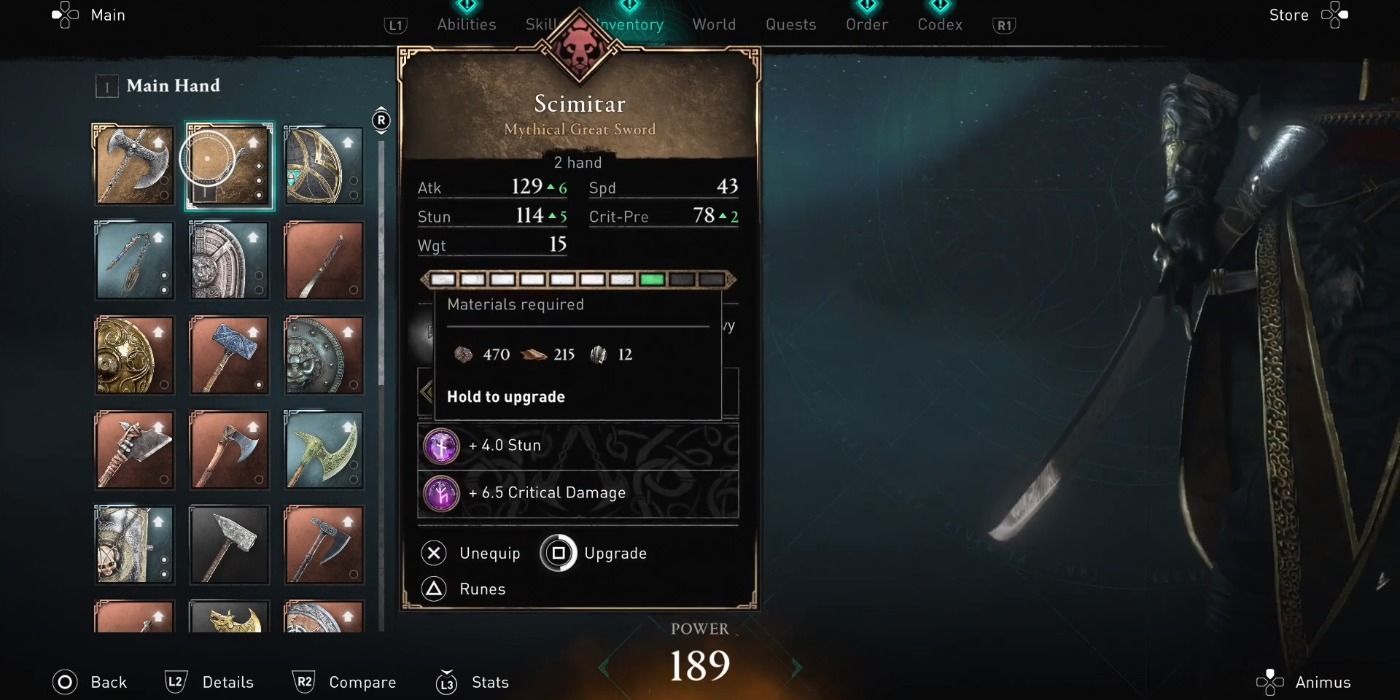 The Scimitar is aligned with the bear branch of the skill tree and it is another Mythical Greatsword. It can only be acquired at Reda's shop for 120 Opals or by using Helix Credits if you want to add it to your inventory. This is one of the best Greatswords in the game, but it might be worth trying out some of the lesser weapons before splurging on this purchase. This is well worth your money as it can help you create an amazing offensive build, seeing as no ingots are needed since you buy it at the mythical level.
The perk is also nice as it increases your light damage after completing a heavy finisher. With its light damage emphasis, this is particularly great for swifter, lightweight builds and for raids, but it's pretty versatile in general.
Stats
| | |
| --- | --- |
| Attack | 155 |
| Stun | 159 |
| Speed | 44 |
| Crit-Pre | 65 |
| Weight | 14 |
Surtr Sword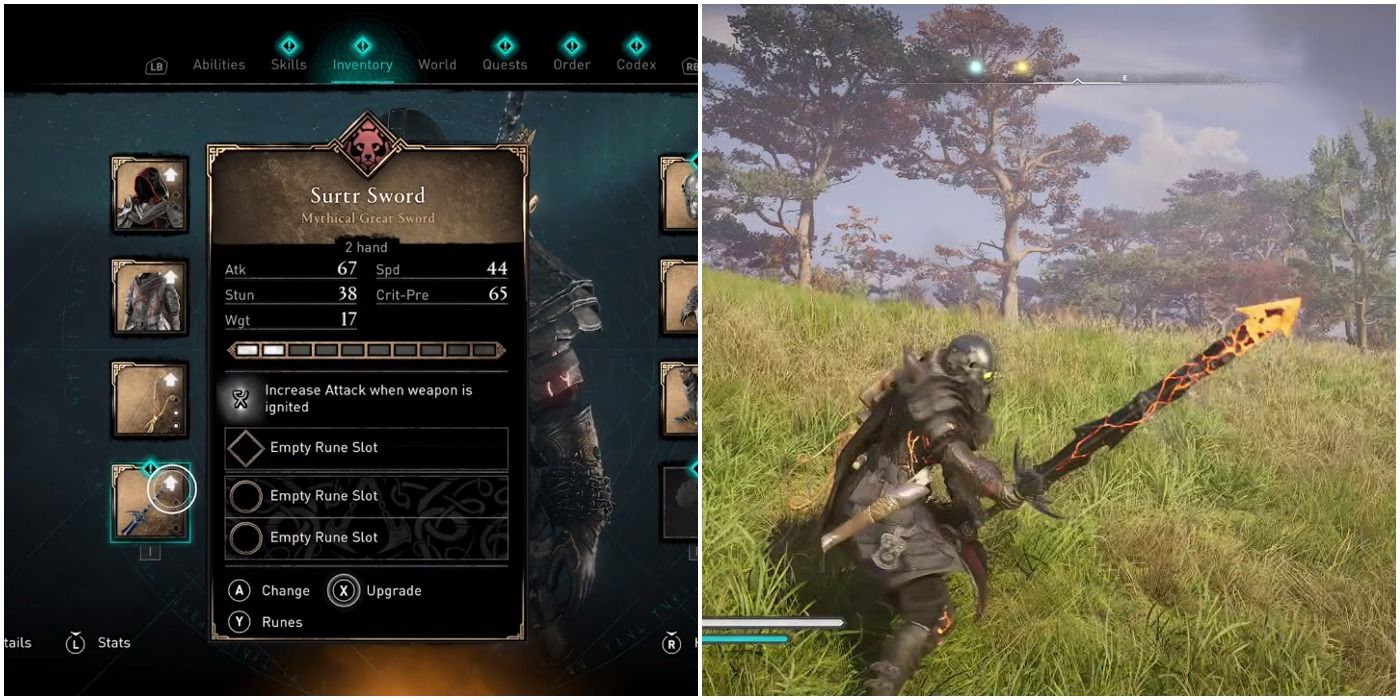 The final Mythical Greatsword is called the Surtr Sword and it not only looks cool, but it inflicts quite a bit of damage as well. This is another weapon that can't be found in the world and must be bought at Reda's Shop or with Helix Credits in Ubisoft's store. When it is fully upgraded it more than doubles the damage it does when you first acquire it, which is great for slaying legendary animals, powerful bosses, and other strong foes.
The perk for this sword is that it will deal more attack damage when it is ignited by an ability. If you find yourself using Fire Strike more than anything else then this is probably worth the purchase price, as the buffs make an impact. However, more traditional sword fighters might want to invest in the Excalibur instead.
Stats
| | |
| --- | --- |
| Attack | 144 |
| Stun | 149 |
| Speed | 46 |
| Crit-Pre | 108 |
| Weight | 13 |
Source: Read Full Article