Check Out The Digital Deluxe Edition Of Demon's Souls Here
Prepare to die again with the Digital Deluxe Edition of Demon's Souls on November 12. It will cost $89.99 and comes with a bunch of digital content that goes against the whole point of the game.
According to the PlayStation Blog, it will include the Original Soundtrack by Shunsuke Kida, which will likely be its own app on the PS4 like inFAMOUS: Second Son's OST.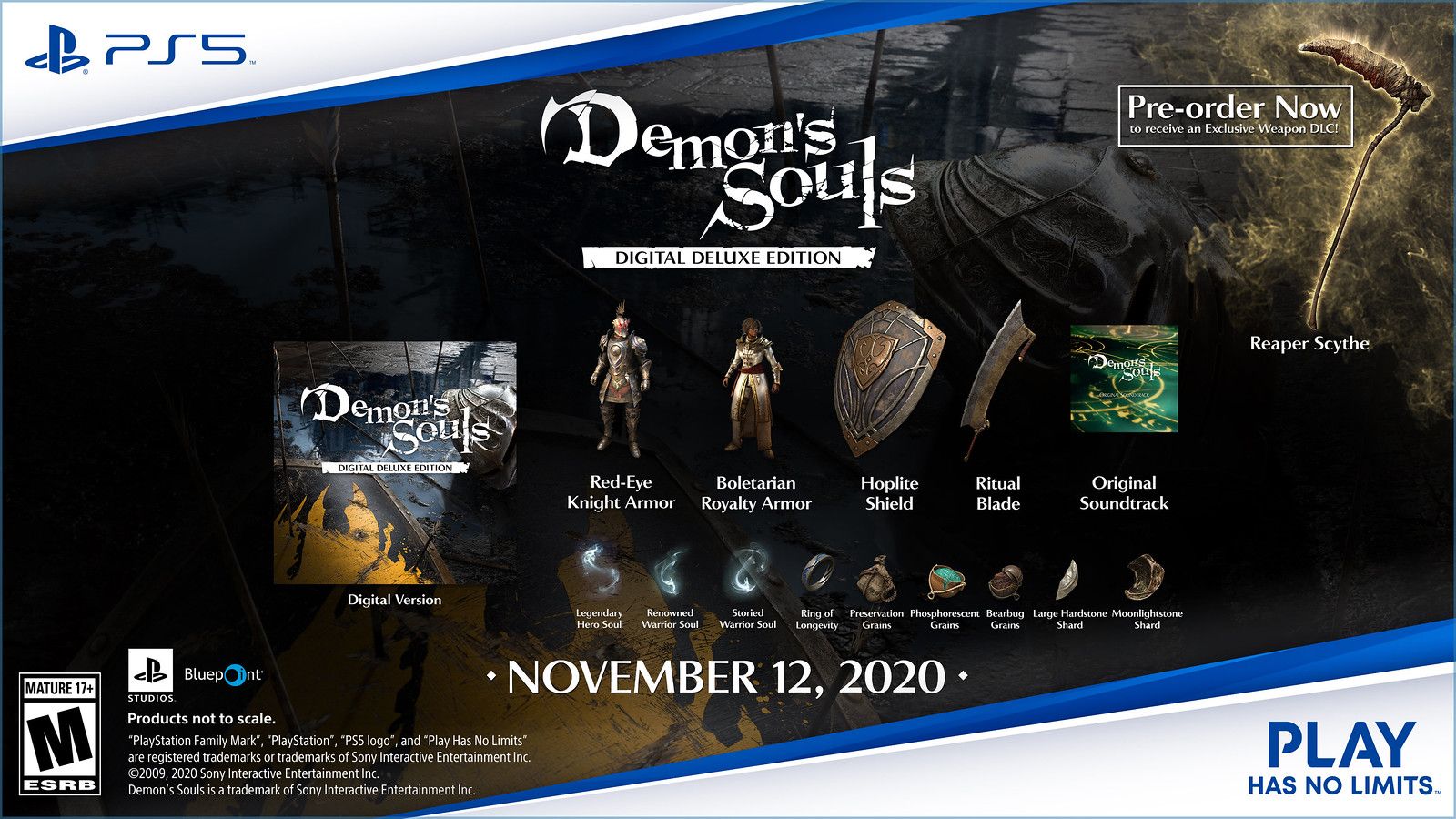 Next is the Legendary Hero Soul, Renowned Warrior Soul, and the Storied Warrior Soul. These are forms of in-game currency, which you can use to buy items and upgrade your weary traveler's stats. The three items all add up to 12,800 souls (if we refer to the original) which can give the player an early advantage in the chaotic world of Demon's Souls.
The Red Eye Knight Armor, Boletarian Royalty Armor, Ritual Blade, and Hoplite Shield are all included in this pack, but there is no word on what their stats are and how effective they will be in combat. The Ring of Longevity is also included, but we do not know what its effects are yet; it does sound powerful, though, and will hopefully not break the game.
In addition to the weapons and armor, there are the Preservation Grains, Phosphorescent Grains, Bearbug Grains, Large Hardstone Shard, and Moonlightstone Shard.
Anyone who preorders the title from the PlayStation Store, Digital Deluxe Edition or not, will gain access to the deadly-looking Reaper Scythe. The External Development Creative Director Gavin Moore describes the curved blade as "so sharp that they say it can sever your soul from your body." Sounds pretty brutal, but it will need a lot of strength and dexterity to properly use, so beware intrepid adventurers.
This Digital Deluxe Edition goes against the discovery of the Souls formula. As you progress, you find new objects that upgrade your character who is left with nothing at the beginner. Part of the fun is exploring and getting stronger as you go. These bonuses feel like more of a turn-off for those who want to enjoy the game in its pure form. It will also detract from the original vision that FromSoftware had with Demon's Souls when the act of discovery was paramount to the experience. For those who struggle with the tough-as-nails genre, maybe this is worth a purchase. Just be aware Demon's Souls is going to be huge in filesize. 
Source: Read Full Article