Corsair Hydro Series H100i AIO Liquid CPU Cooler Is Crazy Quiet & Insanely Cool
There are plenty of ways to regulate the temperature of your CPU, and depending on who you ask, you hear a lot of different answers on the best way to do it. If you ask me though, an all-in-one liquid cooler is a fantastic way to not only keep your processor cool, but also to add some flair to your PC build.
Corsair's Hydro Series H100i RGB Platinum SE 240mm Liquid CPU Cooler, while certainly a mouthful, is by far my favorite CPU cooler. It's easy to install, practically silent, is absolutely packed with high quality, customizable RGB LED lighting. Ditch that giant crazy CPU fan and add this beautiful AIO liquid cooler to your build, you'll thank me later.
A Breeze To Install
This is the third AIO system I've installed, and it's by far the easiest to put together. It comes right out of the box ready to install on an Intel-style motherboard, but if you have AMD (like me) converting it over is a cinch.
The mounting bracket is two pieces that pop off with a little pressure. There's a different AMD bracket in the box that needs to click onto the pump the same way. If you happen to use TR4 chipset, there's a mounting bracket for that as well. I'm using AM4, so after attaching the bracket, all I needed was to dig a couple of hooks and thumbscrews out of the included hardware bag and it was ready to go. The H100i comes with all of the hardware you could possibly need.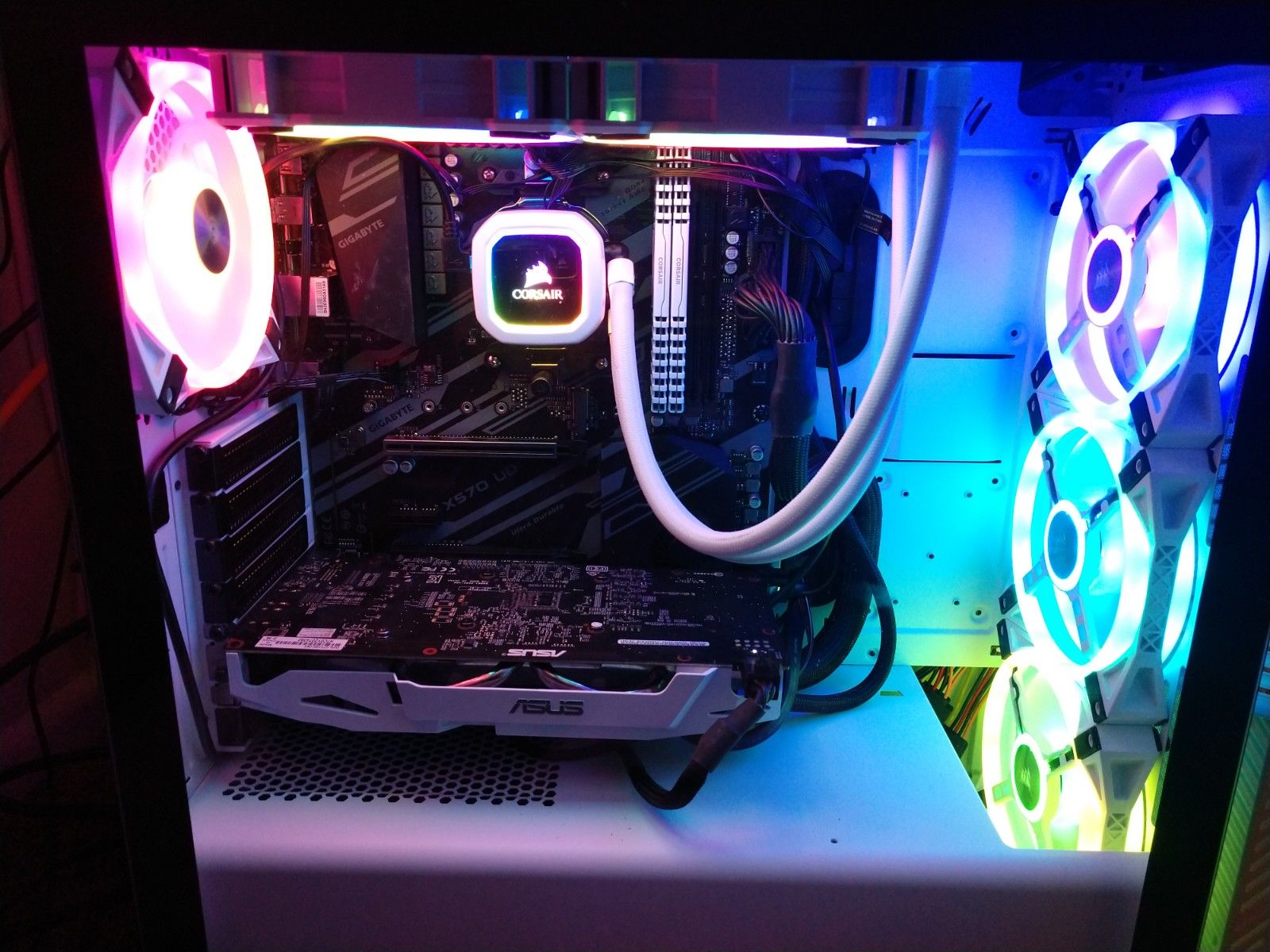 The best part? The pump is pre-coated with thermal paste. The other AIOs I've installed have come with a tube of thermal paste that I needed to apply. It isn't complicated, but it's invariably led to a huge mess both times. This way was completely mess-free.
The hooks latch onto the motherboard and after tightening them down, all that's left to do is attach the radiator and fans to the top of the case. The connections are obvious, everything connects back to the pump and the pump connects to an open USB header on the motherboard. There's no way to possibly screw anything up.
Is This Thing On!?
The array of RGB lights kicked on and started pulsing in a brilliant rainbow pattern as soon as I plugged the PC back in, but the pump and fans were so quiet I couldn't believe it was actually on and working. I had to check the iCUE software to be sure.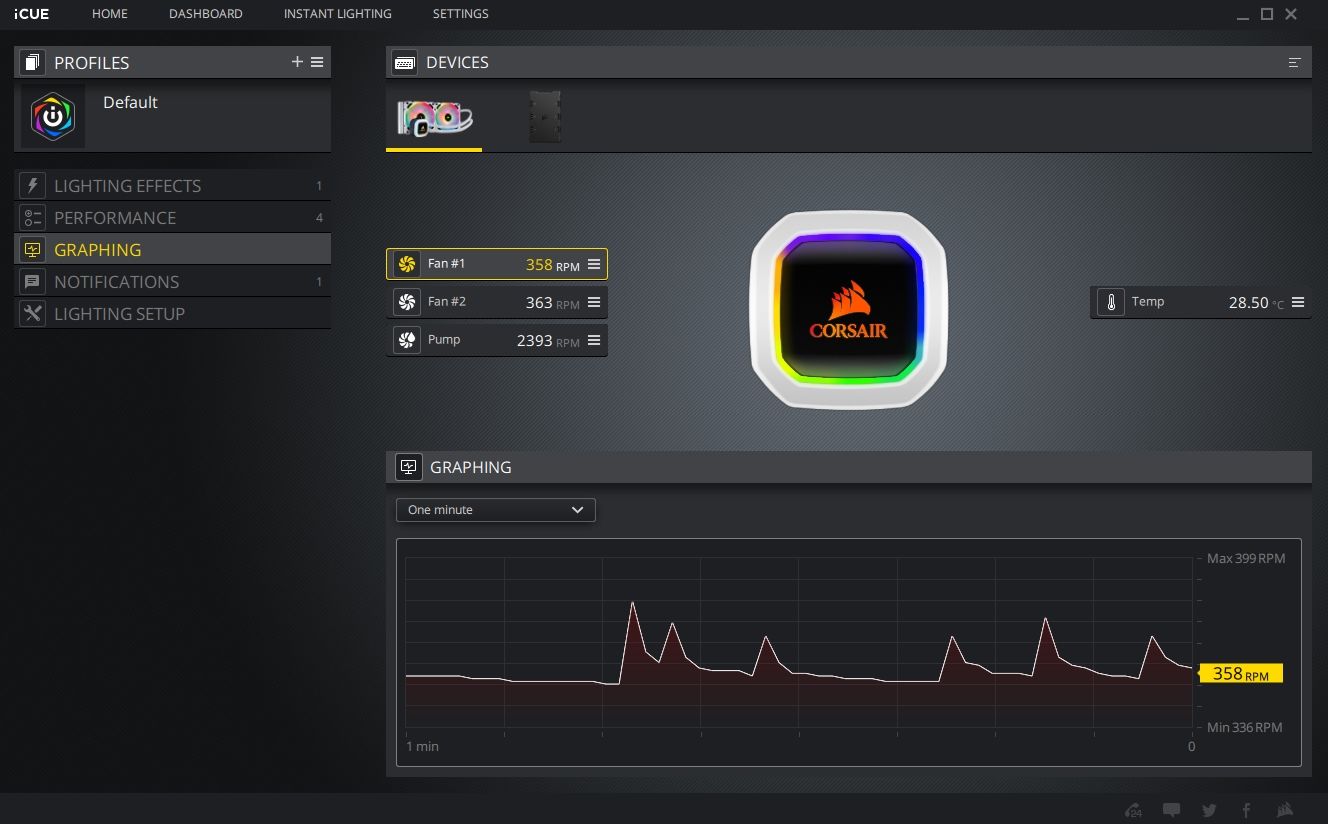 Corsair's iCUE manages all of its different RGB lighting products in one app, but for the H100i, it does so much more. You can monitor the temperature from the app and specify what speed each fan and pump run at. There's a quiet, balanced, and extreme setting you can choose depending on how you're using the PC.
The graphing offers a minute by minute (or longer) visual chart of the speed, separated by each fan and pump. It's a useful tool if you're having a problem with things overheating (or if you're a reviewer that needs to stress test the system). I couldn't get the temperature to climb above 42 degrees Celsius, no matter how hard I tried.
The iCUE Ecosystem Is The Best
In my review for Corsair's QL Series RGB fans, I talked about how much I love the iCUE app. It's so easy to program all of Corsair's RGB products in the app, and it's actually a lot of fun to make your own custom light plans.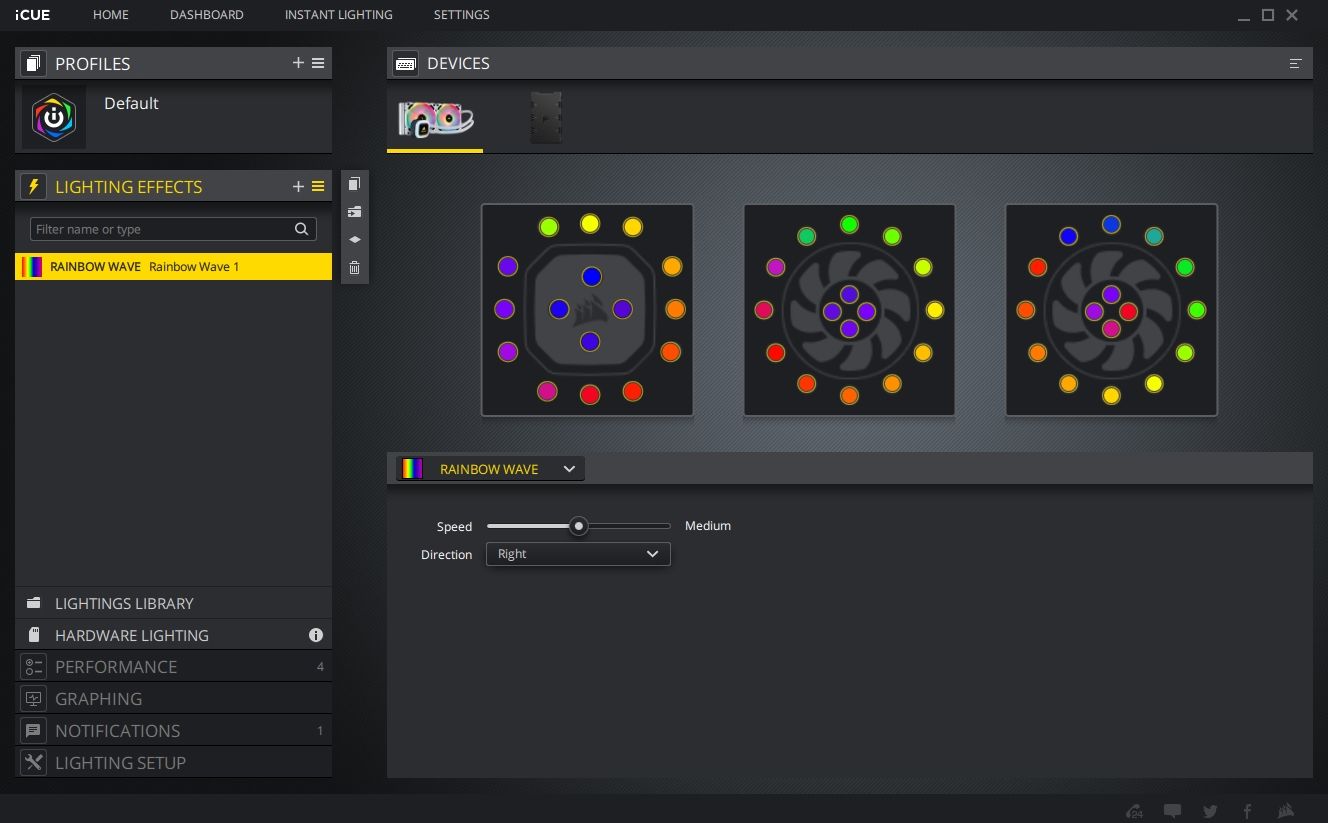 The fans included with the H100i have the same amazing RGB features that the QL Series fans do. Each fan has 48 individual RGB LEDs, even the pump itself has multiple RGB regions. Every part of the system is white, which is perfect for reflecting light and color and filling your case with a beautiful ambient glow. I'm using four other QL Series fans, so the light coming off of the top-mounted AIO fans isn't as noticeable, but, when synced up with the other lights, adds a lot to the total effect.
The H100i AIO is the best water cooler solution whether it's your first system or a replacement. It's by far the simplest to install of any AIO I've used, and the RGB lighting options are unparalleled.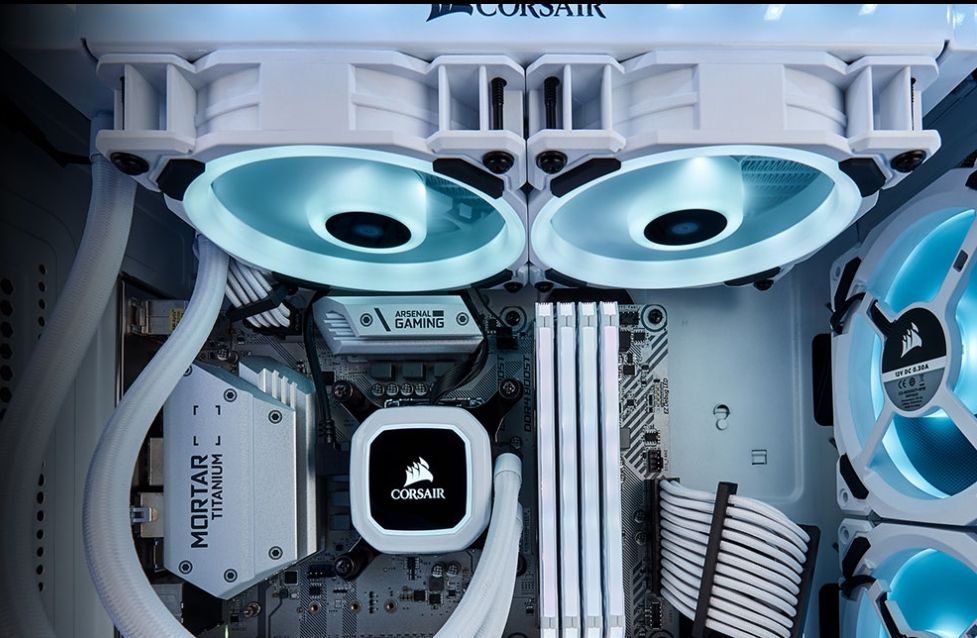 A Corsair Hydro Series H100i was provided to TheGamer for this review. If you'd like to learn more about the water-cooled system and pimp your PC, head over to Corsair's website.
Source: Read Full Article