Cyberpunk 2077 Is Getting Review Bombed On Steam Following CDPR's Stance On The Ukraine War
Cyberpunk 2077 is getting review bombed on Steam after CD Projekt Red announced that it was pulling its games from sale in Russia and Belarus.
Just yesterday, CD Projekt Red joined the many developers and publishers pulling its games from release in response to Russia's invasion of Ukraine. In a statement, it said, "In light of the Russian military invasion in our neighboring country of Ukraine, until further notice, the CD Projekt Group has made the decision to halt all sales of our games to Russia and Belarus".
Because of this, Cyberpunk 2077 is being review bombed on Steam, lowering its recent review score to "Mixed". According to Steam, 34 percent of the recent reviews have been negative and taking a look at the reviews themselves makes it clear that CDPR's choice to pull its games from sale in Russia and Belarus is why.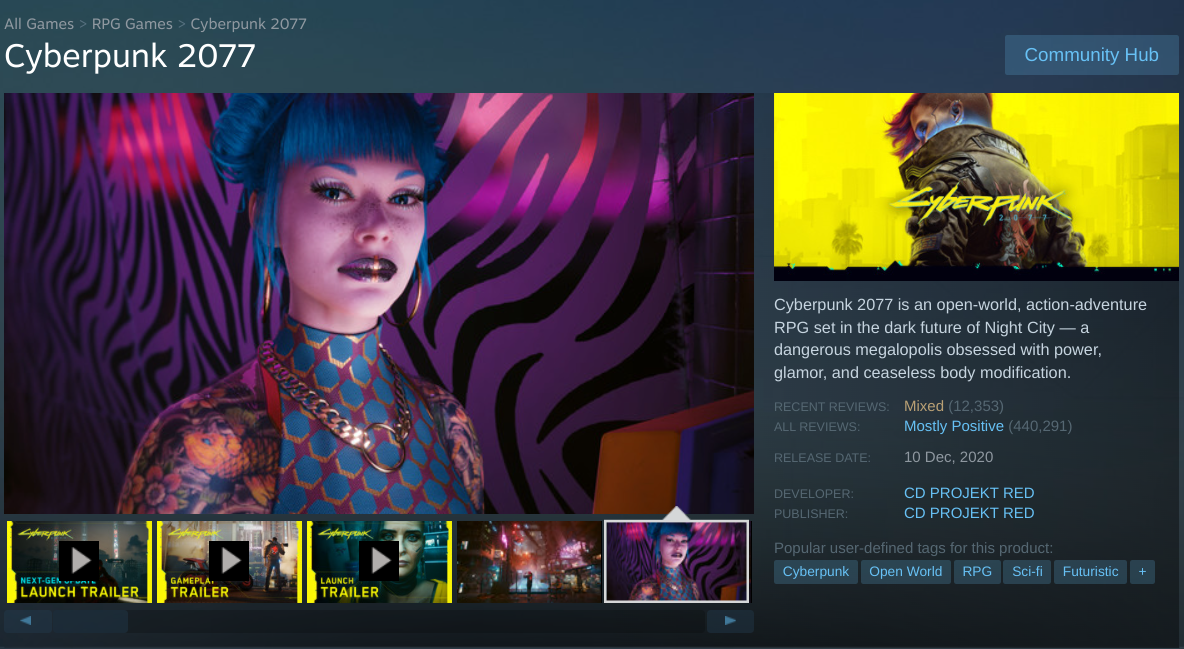 Although some of the reviews don't mention why they're scoring it negatively, many of them openly state that the conflict in Ukraine is why they're review bombing it. Some of the reviews call CD Projekt Red a "liar", while others say things like "Games should not be about politics!!!". Another says, "there's nothing punk about mixing with politics, go f**k yourself, cdpr". One of the most common words used throughout the negative reviews is "nazi", while many of the reviews use ASCII art to create middle fingers.
Scrolling through recent reviews shows that almost all of them are negative, but there are a few positive reviews out there that are trying to keep the score even and praise CDPR for its choice, such as one that says "Respect. Glory for Ukraine".
Cyberpunk 2077 has always had a rocky review score on Steam, but it's skewed positively over the past few months thanks to recent updates and a 50 percent price cut. If the review bomb continues, it looks like it's quickly going to fall back into a negative review score.
Source: Read Full Article