Flows Bandwidth Audio Glasses Review – Slick Design, Middling Sounds
Audio glasses aren't typically marketed to the gaming community – and rightfully so. I don't know about you, but not many people in my circle of friends sit inside playing video games with sunglasses on. And when it comes to sound quality, most people opt for fancy headsets or booming stereo systems. Hence, the lack of audio glasses in gaming.
However, I recently had the chance to run around with a pair of Flows Bandwidth audio glasses and found one great use for them – AR gaming. While the Bandwidth's sound quality isn't going to set the world on fire, their combination of affordability, style, and performance made them a joy to wear during lengthy Pokemon Go sessions out in the blistering sun.
Flows Bandwidth Full Specs
TR90 Ultra Light Nylon Frame (IPX4 water-resistant and dustproof)
Qualcomm 3034 Chip
120 mAh Lithium Battery
Bluetooth 5.0
Control Button: Play, Pause, Skip Track
Polycarbonate Lenses
Optional Neck Strap
Optional Lens Pack (Blue, Gold, Blue Light Reflective)
Form Over Function
Most audio glasses on the market don't feature the best-sounding speakers on the market, and that holds true for the Flows Bandwidth. Listen to them in complete silence, and your experience will be comparable to low-end headphones you picked up at the supermarket.
It's truly unremarkable, but the middling sound quality isn't the full story with the audio glasses – you also have to consider the glasses themselves, along with all the extras packed into every purchase.
Flows Bandwidth audio glasses are available in two form factors – Taylor's and Bruno's – although they both feature the same spec list. Look past the low-end open-ear speakers and you'll find a built-in microphone, up to five hours of run-time, a high-quality water-resistant frame, and a variety of (optional) polarized lenses to customize your sun-blocking experience.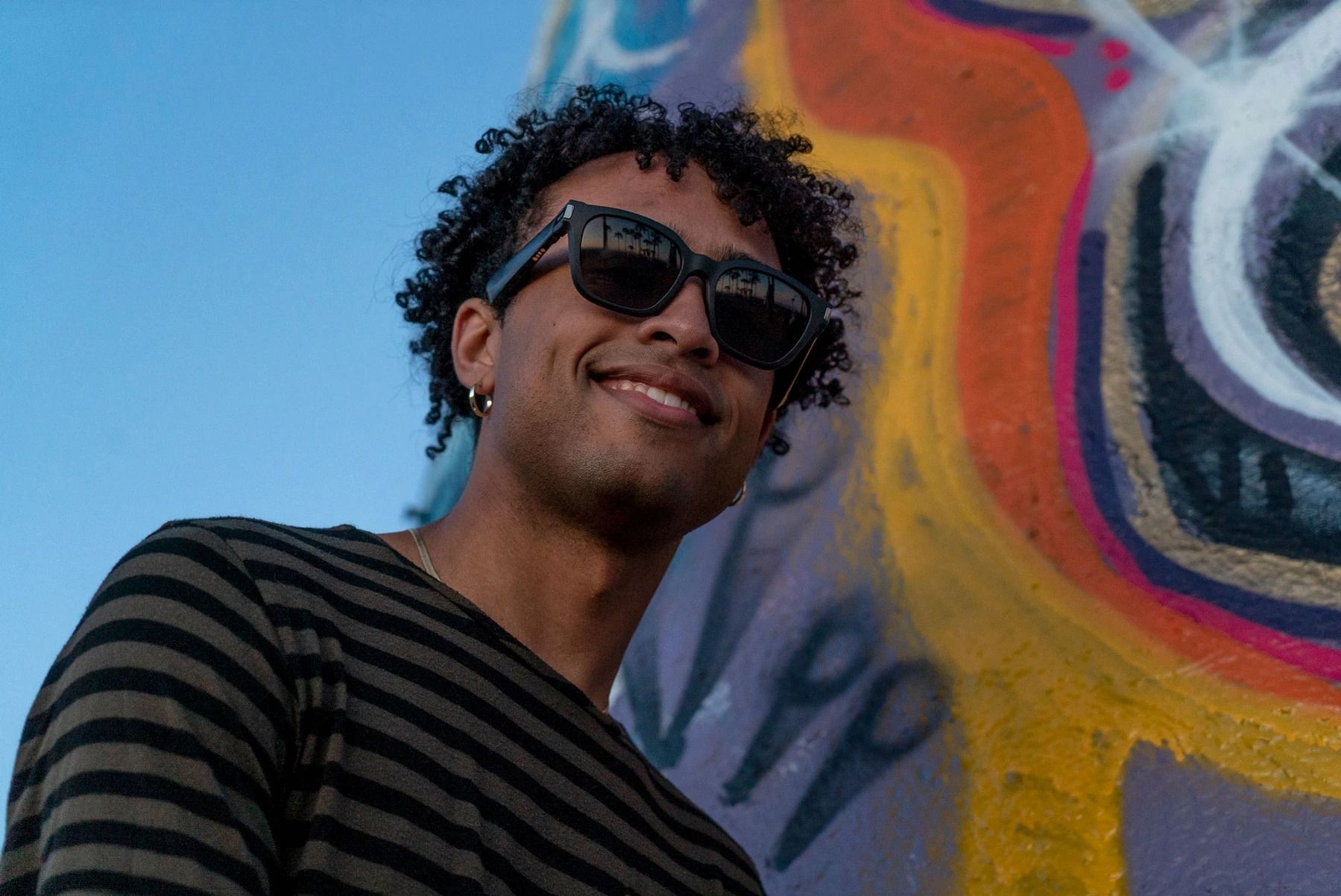 While the speakers leave much to be desired, the rest of the product is surprisingly well-designed. In fact, I've found myself ditching my regular sunglasses in favor of the Bruno's – even when I don't want to listen to music or play AR games. They're simply that good-looking. The only thing giving away the fact that these are audio glasses are some bulky arms. Its charging port and lone control button are deftly hidden out of sight when in regular use.
AR Gaming In Sunglasses? Really?
Of course, no time spent outside in the sun is complete without a bit of Pokemon Go. And despite the polarized lenses included with the Bruno's, I had little trouble playing games on my phone or seeing the screen. There's also the option to swap out your black lenses for other colors – including clear, blue-light reflective ones – so you'll be able to pick the lenses that give you the best viewing experience with your phone. That also means you can use them as typical gaming glasses and protect your eyes from harmful blue light emitted by your computer screen, although their added heft from speakers and internal electronics makes them a less than ideal choice for pure PC gaming.
To my surprise, playing Pokemon Go with the Bandwidth audio glasses was a game-changing experience. Instead of blocking out my surroundings with in-ear headphones or blasting my embarrassing Pokemon music to everyone on Main Street, I could subtly listen to the in-game action while still keeping track of my surroundings. It's weird to say it, but there was an added element of immersion when listening to everything together – and I'd argue it's one of the better ways to experience AR games.
The Verdict
If you're thinking of picking up the Bandwidth audio glasses to exclusively use for AR gaming, you might want to think twice. Although they're some of the more affordable glasses on the market, they still clock in at $150 – a hefty price to pay for a bad pair of speakers.
However, if you're looking for a versatile pair of sunglasses that you'll take to the beach, on a jog, or during a bike ride, there's a lot to love about the Bandwidth glasses. The sound quality plays second fiddle to their impeccable design and having a serviceable pair of speakers for a bit of gaming is an added bonus.
So, if you're in the market for a new pair of sunglasses and happen to do a bit of AR gaming on the side, be sure to give the Flow Bandwidth audio glasses a minute of your time.
A pair of Flows Bandwidth were provided to TheGamer for this review. The Flows Bandwidth audio glasses are available for $149.99.
Source: Read Full Article