Fortnite Teases Samus's Arrival Via Batman: Zero Point Comic
A telling silhouette spotted in the latest issue of the Batman: Zero Point comic appears to hint Samus is coming to Fortnite.
Fortnite has become as famous for its crossovers as it has its gameplay at this point. However, the ongoing work alongside DC to create a Fortnite x Batman crossover comic might be its most ambitious project to date. The Zero Point comic series is three issues old and has already expanded on the Fortnite story and added items to the game that can only be unlocked by buying the comics.
A recent discovery may have hinted the crossover is even more ambitious than it seems on the surface. Eagle-eyed readers of Zero Point's third issue have noticed a silhouette in the background of one of the frames that belongs in neither Fortnite nor DC. It looks very much like Metroid's Samus is a part of that universe.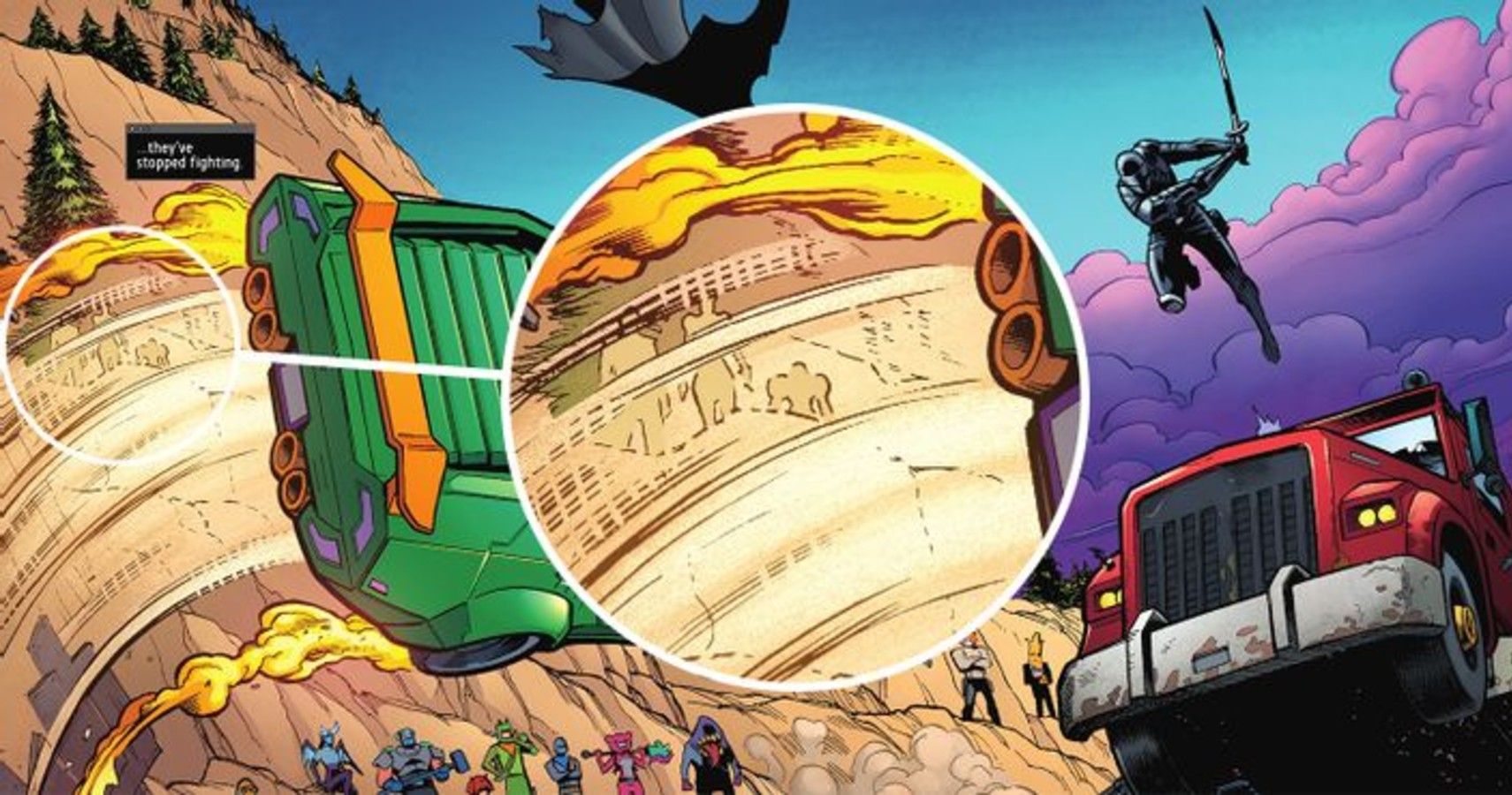 You can check out a close-up of the distant outline above, and it is very reminiscent of Samus's bulky upper body armor. It also leans into the reveal that Epic was planning to add Samus to the ever-growing world of Fortnite made during the Epic vs. Apple lawsuit. The revealed plans also spoke of LeBron James coming to the game and seemed to confirm the assumption that The Rock voiced The Foundation.
Some players were excited at the potential addition of Samus when first hinted at earlier this month, while others saw it as a reason to give up hope. Samus was shown alongside other hunters added during season five, which wound up being Fortnite's most crossover-heavy season to date. Since Samus didn't arrive in season five, it seemed fair to assume plans to bring her to the island had been scrapped.
The new issue of Zero Point now suggests that is not the case, and Samus will still become a part of the Fortnite universe at some point. Her possible presence in a comic could also mean the Metroid character is somehow incorporated into DC's extended universe. Exciting times for Fortnite and comic book fans right now who can already get the armored version of Batman introduced during the event.
Source: Read Full Article