Genshin Impact: How To Collect The Jade Chamber Artifacts In The Great Gathering
Genshin Impact's Lantern Rite Festival has kicked off once again, this time with the theme of "Fleeting Colors in Flight." The event is a historic fan-favorite and this iteration offers more to players than ever before. Whether it's story advancement, craftable fireworks, or shadow puzzles, this event provides a little something for everyone.
This year's Lantern Rite event features four sub-events that accompany the new story content: Flameplume Starflowers, The Great Gathering, Wondrous Shadows, and Oceanic Defender. Each one offers unique challenges and unique rewards, meaning that players who want to get the most out of this event will need to complete them all. This guide will cover The Great Gathering, in which players join Beidou and her crew to recover artifacts from the Jade Chamber that were strewn across the sea during the battle with Beisht.
How To Unlock The Great Gathering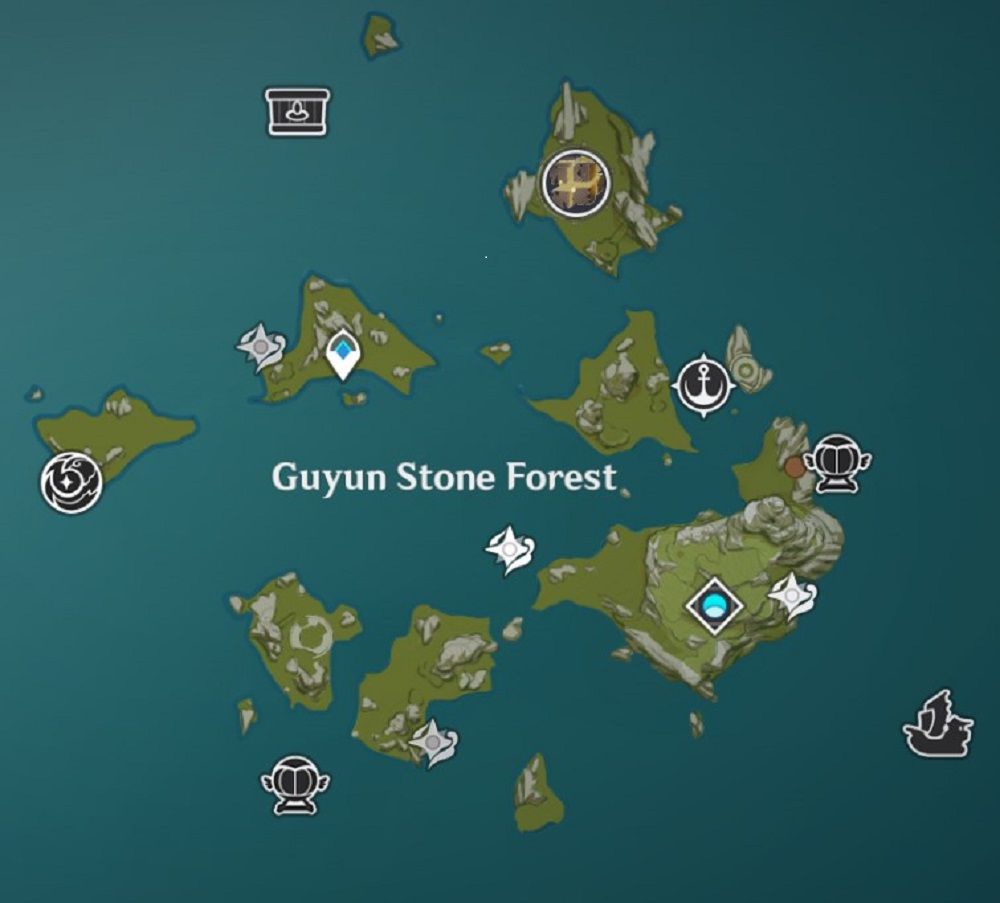 The Great Gathering event should automatically unlock for players once they have progressed the main story up to the time of the festival. To begin The Great Gathering Quest chain specifically, you must first consult with Ningguang in the Jade Chamber, who explains that some important artifacts have gone missing and Beidou has been contracted to retrieve them.
To help Beidou in her task you must seek her out in the Guyun Stone Forest area of Liyue. You can navigate to these characters via the quest Tab and can use the map to teleport to both the Jade Chamber and Beidou's ship. Once you talk to Beidou and the event begins in earnest several challenges will become available to you, broken up over a few days:
Interrogation by Night, in which players must defeat groups of Treasure Hoarders on land.
Curio Salvage, in which players must sail their Waverider around while picking up floating crates and defeating Treasure Hoarders and Specters.
Midpoint Interception I and II, in which players must destroy a floating Transport Balloon with their Waverider.
Return to Safe Harbor I and II, in which players must quickly sail their Waverider to a destination while collecting crates and taking out Treasure Hoarders.
These challenges all have unique icons on the map around Guyun Stone Forest and can be navigated to by clicking Go to Challenge on the event page for The Great Gathering. The area also contains new Windrider summoning points to unlock.
How To Defeat Treasure Hoarders On Land
The Interrogation by Night activity tasks you with amphibious assaults on Treasure Hoarders in order to retrieve the stolen artifacts. At each group of enemies you will notice one or two boxes of fireworks and an Elite Treasure Hoarder, marked by a red symbol above their head. This Elite foe has increased DEF but can be weakened by taking one of the nearby fireworks and exploding it near them (similar to how you'd use a Gadget).
Once all the Treasure Hoarders in one area are defeated, you can collect the artifact crate and advance to the next location. Most fights are straight forward but one of the locations has several ruin guards close by. In order to avoid having to also fight them, try to keep the treasure hoarders by the shoreline.
How To Destroy The Transport Balloons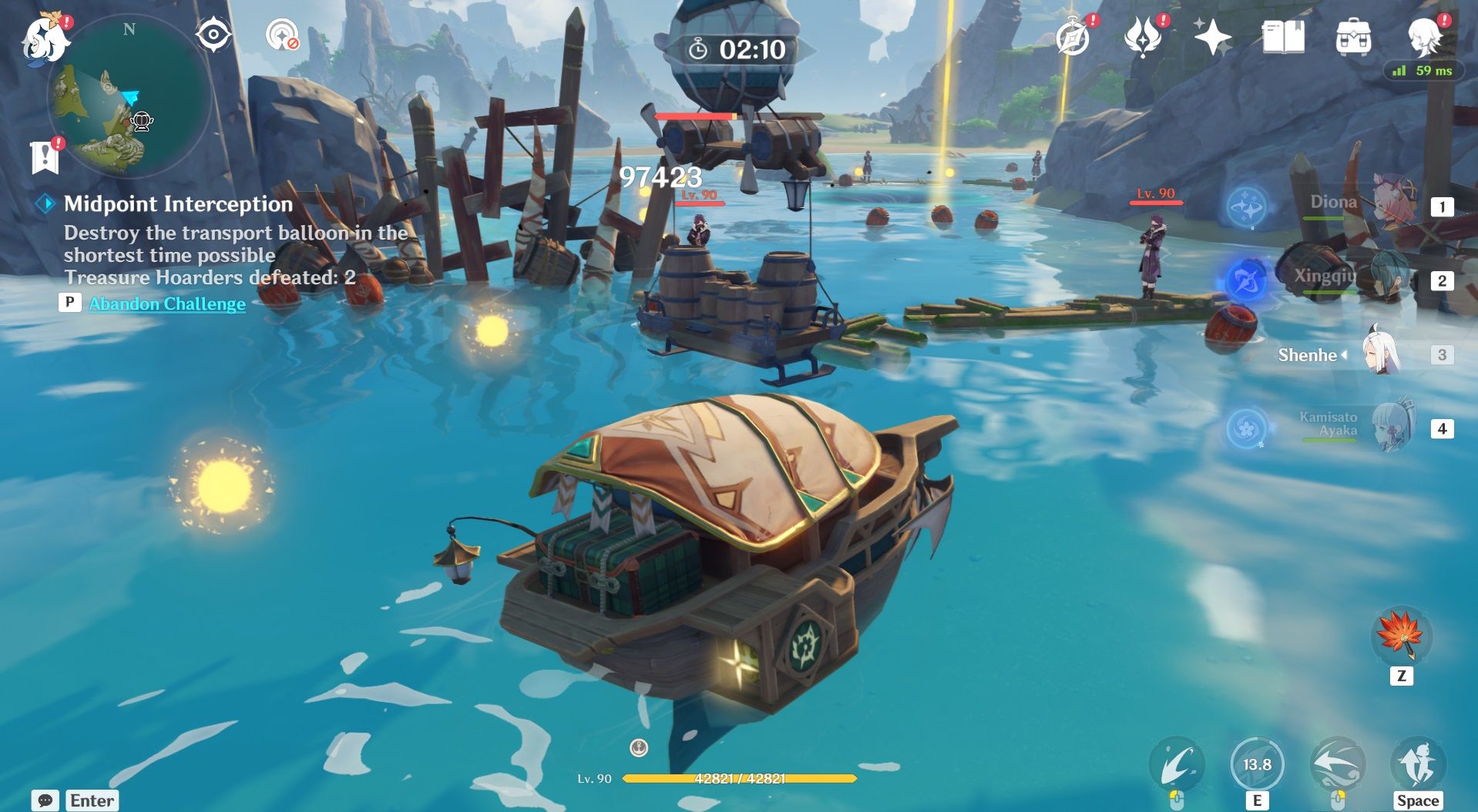 The Midpoint Interception I and II activity requires you to pursue and destroy the Treasure Hoarders' Transport Balloons with your Waverider before the balloons reach a target destination. Normal Attacking while in the Waverider will launch a weak projectile, whereas using the Skill button will launch a larger, stronger projectile with a cooldown. Each of these attacks can damage the Transport Balloon directly, but aiming at explosive barrels near the Transport Balloon will cause massive damage and help you take it down faster.
The Transport Balloon will sometimes cross areas that you cannot. If there is no apparent barrier that can be destroyed to let the Waverider through, then you must find an alternate route. The alternate route is usually designated by yellow orbs that you can follow, but be careful of hostile Treasure Hoarders along the way.
Rewards For The Great Gathering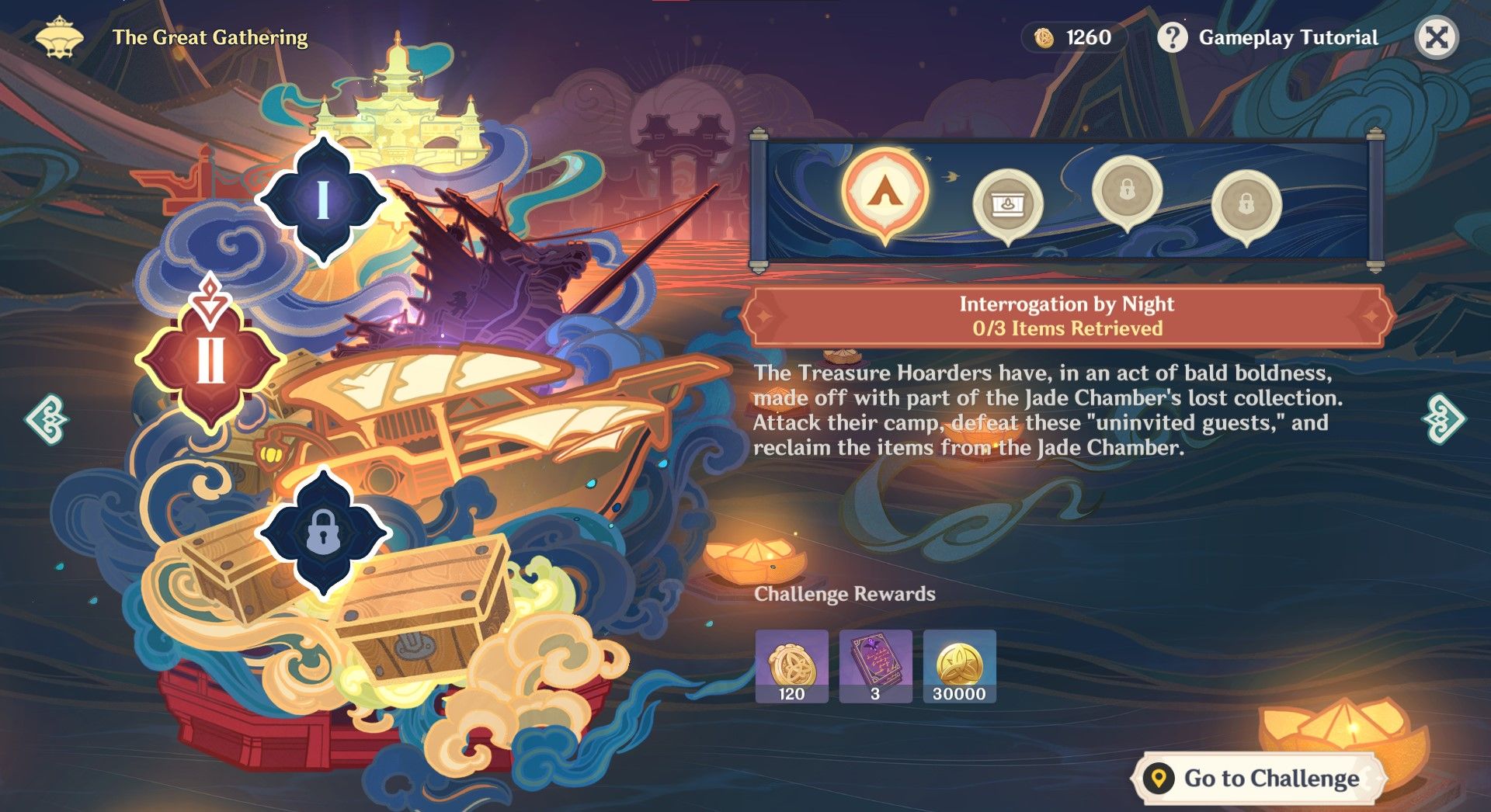 Rewards for The Great Gathering are awarded differently depending on the activity. Interrogation at Night and Curio Salvage are purely completion-based; finishing these activities is sufficient to unlock all their rewards. The other Waverider activities, however, are time-sensitive so you will need to complete these trials quickly in order to gain all the rewards.
The Great Gathering event awards Primogems, Hero's Wit, and Mystic Enhancement Ore, but the real prize is no doubt the Immaculate Talismans. This event-specific currency can be used in the Afterglow Market Stage 2 section of the Event Shop to acquire Lantern Rite-themed Teapot Furniture. Obtaining Immaculate Talismans is also essential for unlocking Ningguang's new outfit, Orchid's Evening Gown, via The Moon's Comely Brow.
Source: Read Full Article