Gran Turismo 7: How To Obtain The National-A License
Gran Turismo 7 sees the return of the Gran Turismo License system. You will need to progress through the licenses to level up in the game and certain sections of the game will be locked until you complete them. Just like the series' early titles, while this all seems easy – completing these license lessons, especially if you are going for gold, can be pretty stressful!
Related: Gran Turismo 7 Review Completing the licenses rewards you with credits and a new car (potentially two new cars if you achieve gold in them all), so here's a guide on how to obtain the second license you can do: The National A Licence.
National A License Lessons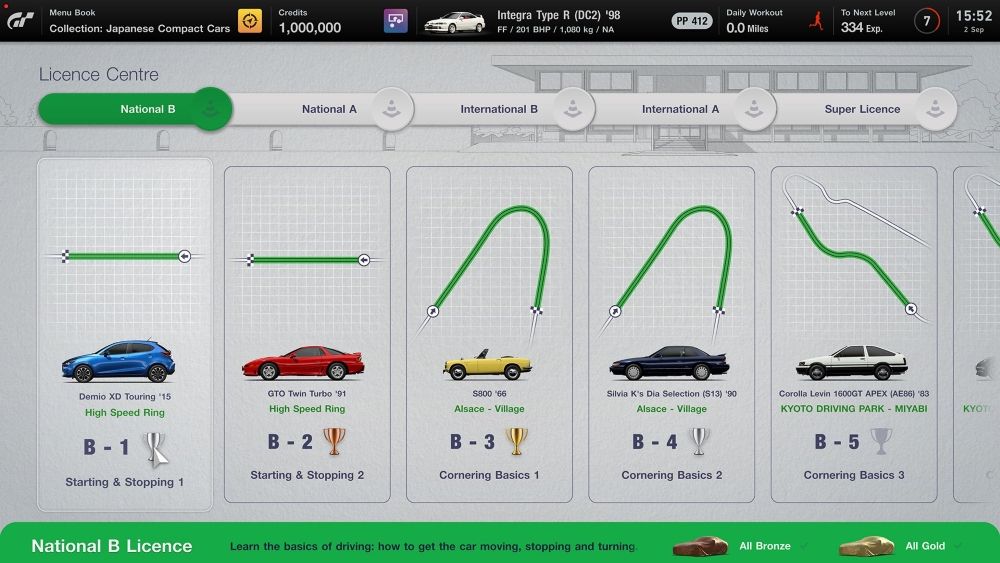 | | | |
| --- | --- | --- |
| Lesson | Tips On How To Complete | Car Used |
| A-1: Racing Line Beginner 1 | The last corner at Tsukuba is quite tricky to get right for this lesson. A fast straight leading to a sweeping right-hander means it's easy to understeer – but it's also possible to brake too much and ruin your chance of getting gold. Make full use of the entire track when entering the corner and be as smooth as possible through it. | Subaru BRZ Sport |
| A-2: Racing Line Beginner 2 | Two sharp square left-handers after a long straight. Follow the racing line as tight as possible and if you need to brake mid-corner, then you were going too fast before you turned in. | VW Scirocco R |
| A-3: Racing Line Beginner 2 | This is a famous sequence of corners at Monza: the "Lesmos". Two right-handers of slightly different tightness. The Abarth is a brilliantly handling car, though, so this one shouldn't be too much trouble. Just watch your entrance speed to the second corner as it looks the same as the first when it isn't. | Abarth 500 |
| A-4: Urban Tracks 1 | This is a tight section on a street track, meaning that you can't make an error as you'll hit the barrier. You'll need to get as close as you can to them, however, if you want to get gold. The Civic is a fairly old car, so watch those brakes after getting used to the Abarth in the previous lesson. | Honda Civic Type R |
| A-5: Cornering IN The Wet | Les Combes corner at Spa-Francorchamps is always quite tricky in any racing game (and in real life!), as it is a right-left-right chicane after a long fast straight. As it is wet in this lesson, and our car has some fairly old brakes, the braking zone and corner entry speed are critical for getting gold. The first right turn is always a lot tighter than you think. | Nissan 180SX Type X |
| A-6 Consecutive Corners Beginner 1 | This is a tricky one to get gold on right away, as the Alfa is probably the fastest car you've driven in the game up until this point and the chicane (Ascari at Monza) is a bit quicker than it first seems. The chicane is smoother than a traditional chicane, so you can carry more speed. Use as much of the right-hand side of the track on exit as possible to keep momentum. | Alfa Romeo 4C |
| A-7 Consecutive Corners Beginner 2 | This is a slightly clumsy right-left-long right sequence of corners that requires a very precise racing line. The BMW has a lot of torque, so the traction control might prevent the car from exiting the corner properly. Try turning it down in the in-game menu if you want to get that gold. | BMW M3 |
| A-8: Dirt Driving Beginner | Whoa! This is a change of pace! So we are now on a dirt track, meaning that everything you've just learned can be thrown out of the window? Well, not exactly. The Tundra is a four-wheel drive with big, chunky, off-road tires and you can complete this lesson by driving as you would on an asphalt track. Line and braking. Always line and braking. | Toyota Tundra TRD Pro |
| A-10: Hairpins | This is a tricky one. The hairpin's braking zone is just as you are turning out of the short right-hander and, if you miss it, you will understeer around the corner. If you need to correct your speed in the corner, then you'll almost certainly not get gold – so entry speed is crucial here. | Honda NSX Type R |
| B-10: Final Exam | The final exam is a twisty sequence of corners that include a square right, a double apexed left, and a hairpin right. The most crucial part of this test in terms of time is the entry speed into the second corner, as it is easy to undercook it and have to speed up mid-corner. | Toyota Supra RZ |
Traction control is an electronic device on cars that reduces throttle and stops the wheels from spinning if they are slipping. This is great when you're driving on a road, however, for a racing car, this can slow the car down if being too highly applied. If you are struggling to pick up speed after a corner on these license tests, you might want to drop the traction control assist by a couple of notches from the in-game menu to the point just before you can feel the wheel spin when accelerating out of a corner.
Source: Read Full Article