How to Get Overwatch's New Ashe Mardi Gras Skin
Starting February 25th and lasting until March 9th, Overwatch players will be able to partake in a promotional event titled Ashe's Mardi Gras Challenge. The grand prize for participants is a unique, epic skin (meaning the purple-colored tier of rarity, rather than a gold-colored legendary skin) recoloring Ashe's outfit with Mardi Gras colors—purple, green and gold. She also sports a holiday-appropriate eye mask, bow tie and top hat.
To unlock Mardi Gras Ashe, players simply need to win nine games in any game mode. A tally tracking these wins is located on the top of the screen that contains the cards for each mode (Quick Play, Competitive et al.) and includes the additional rewards unlocked at three and six wins.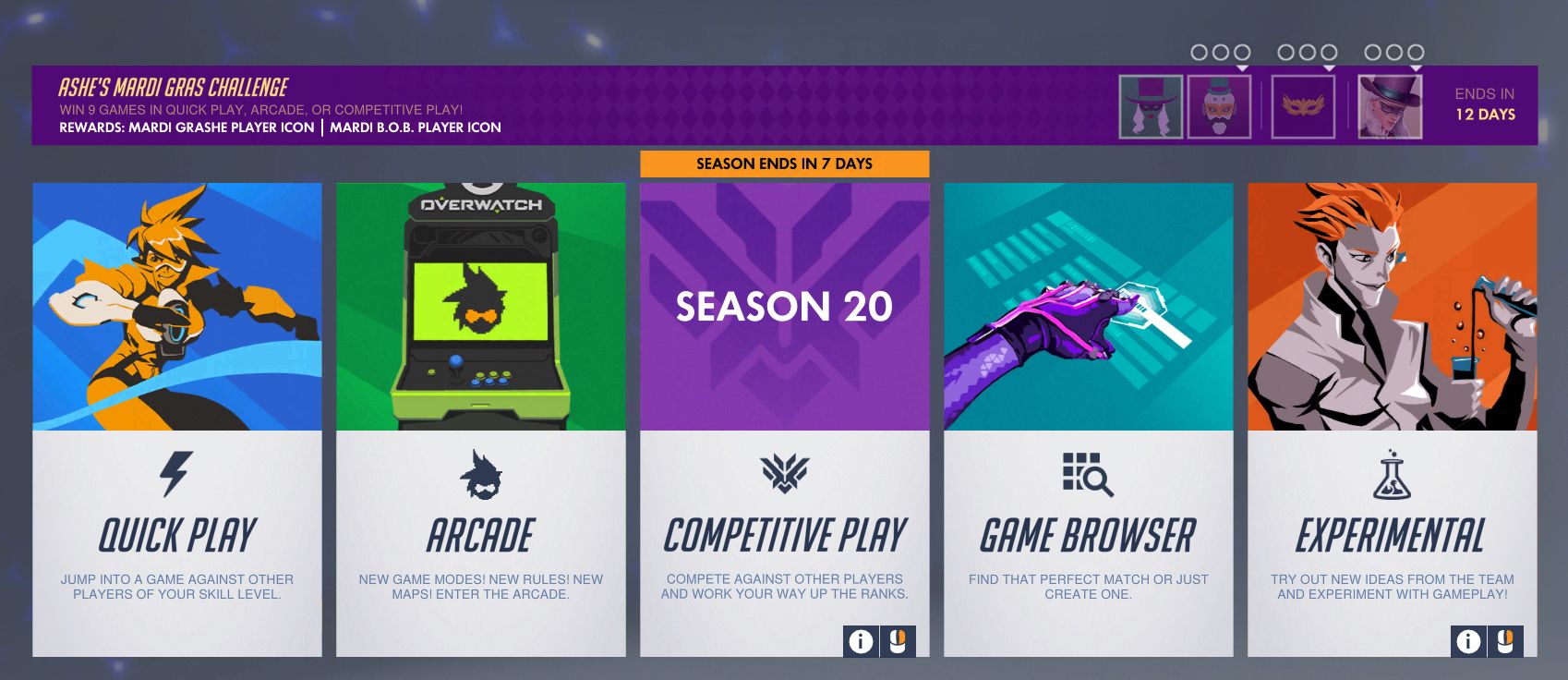 The most recent Overwatch patch added a fifth game type selectable on this screen: Experimental. This new mode allows the Overwatch development team to test major changes that ultimately may or may not be implemented into non-experimental game modes. In an effort to encourage a wide player base to make use of this feature and contribute to the data data gathered about those changes, wins in Experimental matches count toward the tally needed to ultimately unlock Mardi Gras Ashe, and will count in similar events in the future.
Before that, at three wins, players will unlock two player icons; one depicts Ashe in Mardi Gras colors, and the other her faithful robo-partner B.O.B. in inverted colors (and a similar, larger eye mask). After six wins, players will unlock a gold eye mask spray usable by all heroes. Then at nine wins, players will be able to equip Ashe's Fat Tuesday outfit in-game.
In addition to this skin, players can also unlock unique sprays depicting a few heroes other than Ashe in Mardi Gras outfits or scenarios by watching eligible Twitch streams. After two hours of viewing, players will get a cute as heck king cake Hammond spray; after four hours, sprays depicting a Mardi Gras Zenyatta and father-and-daughter Torbjörn and Brigitte gorging on semlor, a Swedish Mardi Gras tradition, will be unlocked; and after six hours, players get three sprays, featuring McCree, Reaper, and Lúcio.
For more information, visit Blizzard's official page for the event. Or, simply log into the Overwatch client, where you'll be greeted by Mardi Gras Ashe herself, as well as some fun swing music added just for the occasion.
Source: Read Full Article