Jurassic World Evolution 2, Farming Simulator 22, and Sniper Elite 5 Coming To Xbox Game Pass
We are well into May, and that means it's time for Xbox to update Game Pass with a bunch of new titles. This month we've got 10 new games to peruse, including five day-one releases.
Starting today, Xbox Game Pass adds Her Story, Jurassic World Evolution 2, Little Witch in the Woods, Skate, and Umurangi Generation Special Edition. The biggest of the bunch is easily Jurassic World Evolution 2, the game we gave a full five out of five stars as the sequel dinosaur fans had been waiting for. Full of new mechanics, dinosaurs, and not nearly enough Jeff Goldblum, it never gets old trying to keep life contained only for it to eventually "find a way" to burn your park to the ground.
Skate is another game worth mentioning is Skate, the 2007 original that rails into the cloud via EA Play. Skate 4 is currently in development, so now's the best time to see where it all began.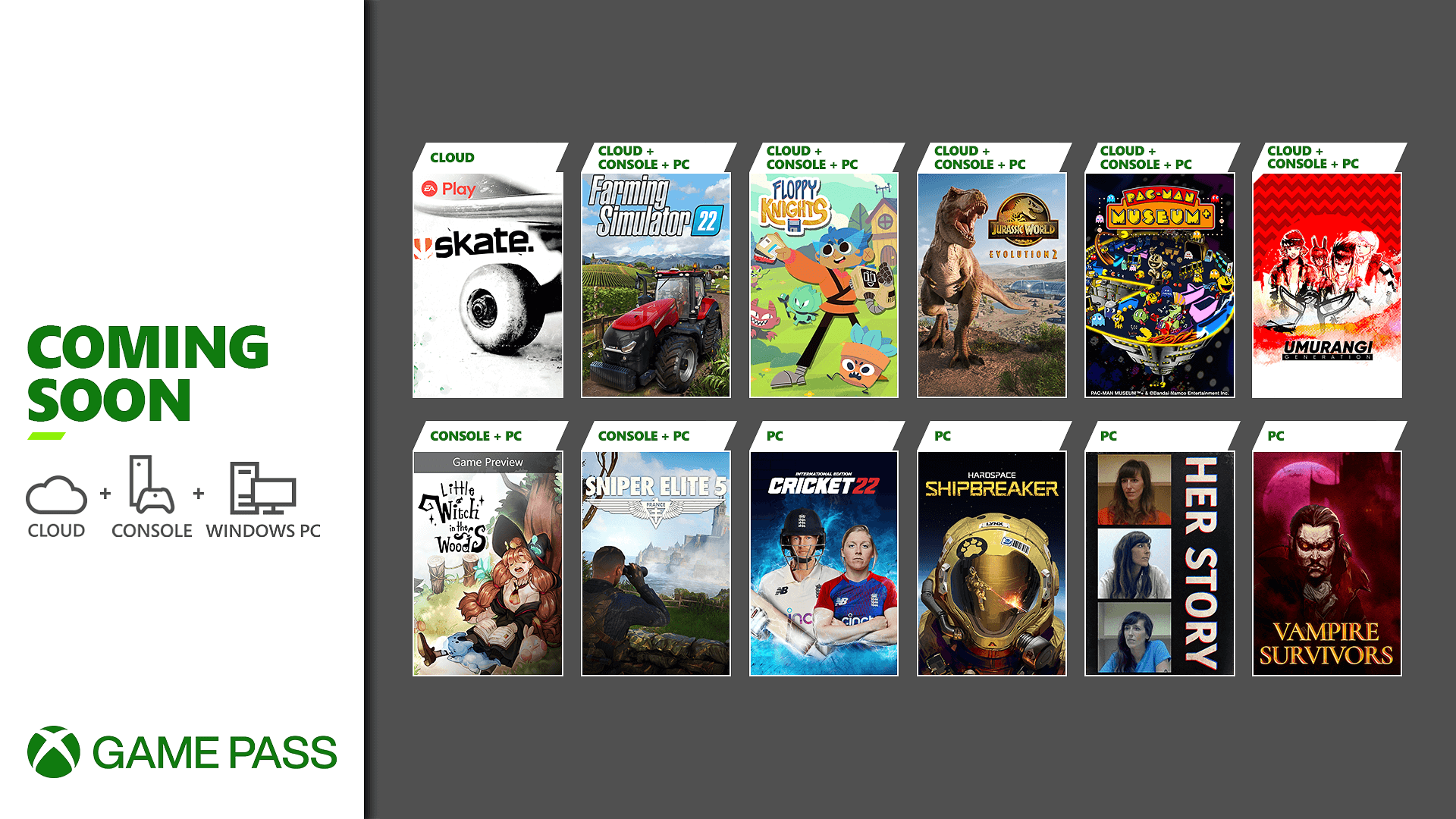 Starting May 19, Xbox Game Pass welcomes Farming Simulator 22, and Vampire Survivors. Farming Simulator is surprisingly popular for a game about watching grass grow (especially in Europe), while Vampire Survivors is the early access bullet hell roguelike action game that compels its fans for just one more run.
May 24 brings two day-one Game Pass releases in Floppy Knights and Hardspace: Shipbreaker. Floppy Knights is a card-based tactics game that tells the story of Phoebe and Carlton, a young inventor and her robot-arm artificial intelligence. Remake your deck and lead the Floppy Knights through turn-based battles over monsters, hooligans, and evil plants.
Hardspace: Shipbreaker, meanwhile, has been in early access development on PC for quite a while, but is finally getting its full release. This means Shipbreaker finally has a full and complete story to go along with a refined economy and upgrades that have been years in the making.
May 26 brings Sniper Elite 5 as another day-one Game Pass release, while Cricket 22 and Pac-Man Museum both arrive on May 27. Pac-Man Museum+ features 14 Pac-Man games, but not Ms. Pac-Man due to licensing issues.
Here's the full May release schedule with each platform:
Her Story (PC) – May 17
Jurassic World Evolution 2 (Cloud, Console, and PC) – May 17
Little Witch in the Woods (Console and PC) – May 17
Skate (Cloud – EA Play) – May 17
Umurangi Generation Special Edition (Cloud, Console, and PC) – May 17
Farming Simulator 22 (Cloud, Console, and PC) – May 19
Vampire Survivors (PC) – May 19
Floppy Knights (Cloud, Console, and PC) – May 24
Hardspace: Shipbreaker (PC) – May 24
Sniper Elite 5 (Console and PC) – May 26
Cricket 22 (PC) – May 27
Pac-Man Museum+ (Cloud, Console, and PC) – May 27
Source: Read Full Article