Nintendo Of America Accidentally Trolls NieR:Automata Fans On Twitter
Nier: Automata fans had hopes for their favorite character making the jump to Smash dashed yesterday, all due to some less-than-ideal tweet drafting from Nintendo of America and also some trolling from one of their own.
In the run-up to the release of the highly anticipated Animal Crossing: New Horizons, the folks running the Nintendo of America Twitter account set up some automated responses to fans tweeting about the game. One of these responses was a confirmation of New Horizons' release date including the Twitter handle of the person requesting an update. This is where Twitter user @2BforSmash entered the fray. If you've played 2017s Neir: Automata or know anything about that game's fandom, you can probably guess what happened next.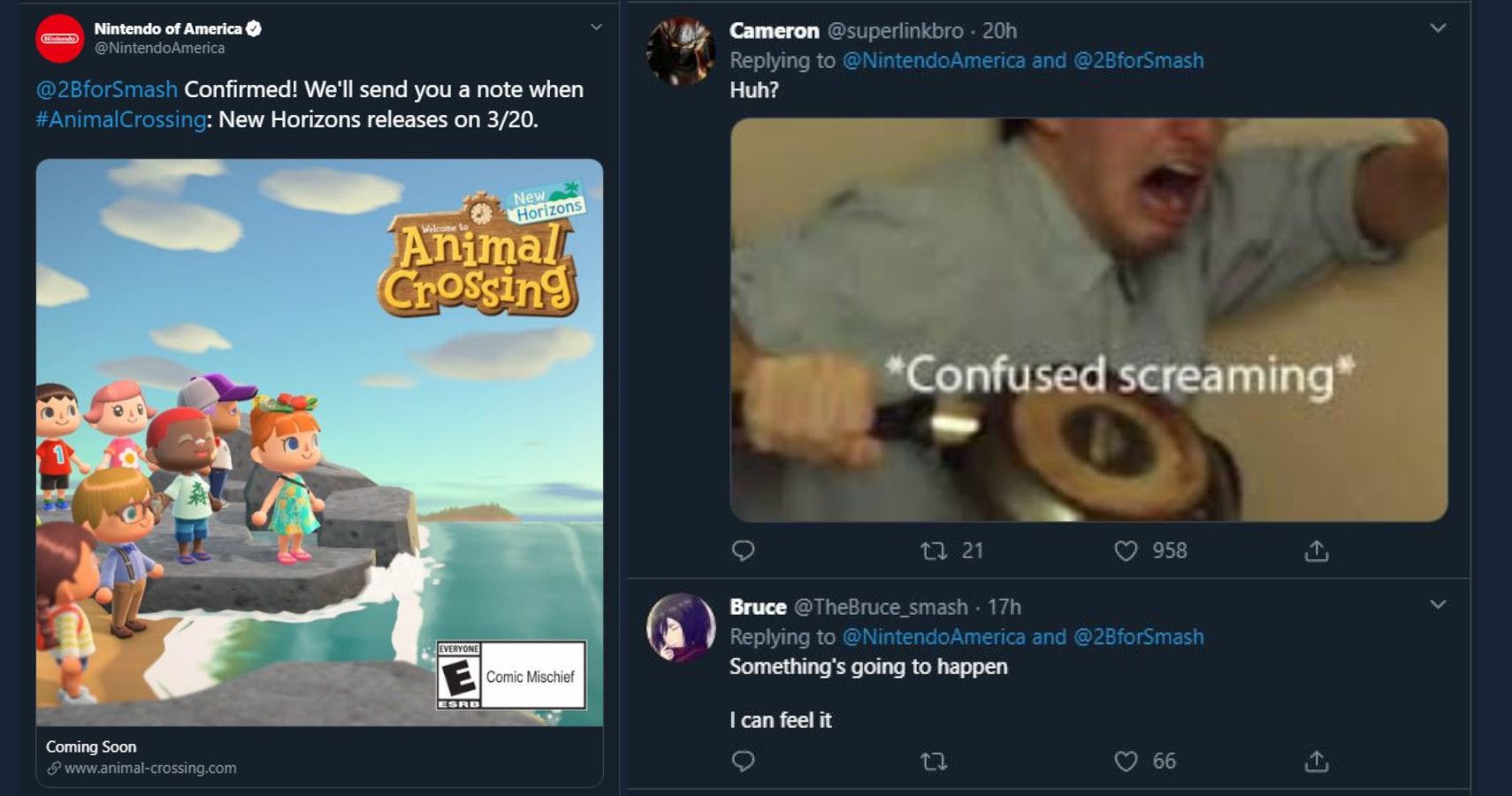 @2BforSmash tweeted at Nintendo of America and got this automated reply, "@2BforSmash Confirmed! We'll send you a note when #AnimalCrossing: New Horizons releases on 3/20."
Anyone who's even a little bit familiar with Twitter would, of course, read past the first two words of this reply and get the joke. On the other hand, half the fun of twitter is playing dumb for the sake of solid meming in support of a good cause, like getting your favorite waifu added to Super Smash Bros. Ultimate. Fans of Nier: Automata and its main character, the sword-wielding Yorha unit 2B, saw the tweet from an official Nintendo account that @2BforSmash so expertly baited out and blew it up.
The replies to the tweet are chock full of faux-outrage and/or anguish over the realization that 2B will most likely not be added to Super Smash Bros. Ultimate. While 2B would certainly be a viable addition to Smash, Nintendo has added a sword-based character to the game so recently that the android's addition seems unlikely. Who can really say, though, there's a Nintendo Direct next week and stranger things have happened.
This incident exposes an inherent flaw in games like Smash and, to a lesser extent, Mario Kart. When a game starts aggregating characters from a bunch of different properties that game immediately disappoints some players by not including their favorite character no matter how obscure.
Well played @2BforSmash, well played.
Source: Read Full Article