Rainbow Six Siege Breaks All-Time Player Peak Record With Over 178,000 Steam Players
The Six Invitational — a massive tournament celebrating all things Rainbow Six: Siege — has apparently brought renewed interest in Ubisoft's shooter. Although it regularly lands within the top five most played games on Steam, it seems that there is still room to grow. On February 23, Rainbow Six: Siege set a new concurrent player record on Steam with 178,824 users online.
What's even more impressive is that the record it broke was just set the day before on February 22. That day saw a peak of 178,419 concurrent players. It's an incredible feat for a game that launched in 2015 and has plenty of great competition in the FPS genre.
While the Six Invitational may have helped bring attention to the game, that's not the only reason Rainbow Six is on people's mind. Sometime during the week of March 9 the next update for Siege will go live, titled Void Edge. This promises two new operators — Iana as the Attacker and Oryx as the Defender — a reworked Oregon map, a versatile new ping system, and dozens of tweaks to balance the game.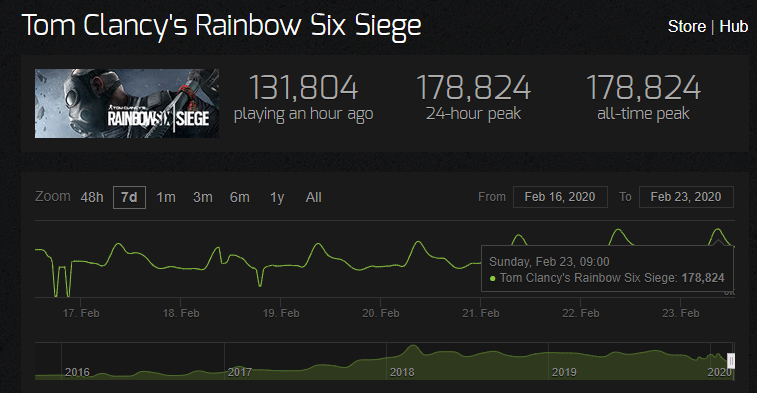 To say that Rainbow Six: Siege has been a success would be an understatement. Not many games on Steam can hang with heavy-hitters such as Counter-Strike: Global Offensive, Dota 2, and PUBG for such a long time. The fact that Siege continues to grow is an impressive achievement.
Not only that, but the players on Steam only account for a portion of the total player base. Siege is also available on Ubisoft's own launcher, UPlay. Player statistics are not readily accessible on UPlay, so we can only speculate as to how those stats compare with Steam.
Once Void Edge goes live in early March, don't be surprised if Rainbow Six: Siege breaks another record. Every new season brings great content and with that comes an influx of players. Many of them don't stick around for the long-haul, but — clearly — the game manages to keep a massive, healthy community.
Ubisoft recently laid the out the content roadmap for 2020 and 2021, giving players an idea as to what they can expect moving forward. While fewer operators will be added in the coming years, players will see more reworks, more gameplay balances, and several tools to combat toxicity.
Source: Steam Charts
Source: Read Full Article