Roccat Kone Pro And Air Review – Lighten Up
Turtle Beach's Roccat brand is supposed to be its premium, PC-based arm. The goal is to deliver the kind of peripherals esports players want to use in every big match. Roccat has certainly caught the attention of many streamers, with Dr Disrespect naming the brand as his official keyboard and mouse. Even if you don't look up to Doc, it says something that a person who plays competitive games daily would pick this particular name above all else. Now, Roccat has another refinement of its mouse on the market, this time in a much lighter package.
If you've used a Roccat mouse before, you know what's in store. Each mouse is essentially a perfection of the one before it, so you can expect certain performance benchmarks to be hit or exceeded. For this version of the Kone, you can choose between the wired Kone Pro or the wireless Kone Pro Air. Both have the same general specs, giving you a 19,000 DPI optical sensor, Titan switches with a 100 million click life-cycle, 1000Hz polling rate, smooth PTFE glides, and AIMO lighting so you can sync it with the RGB of other Roccat peripherals.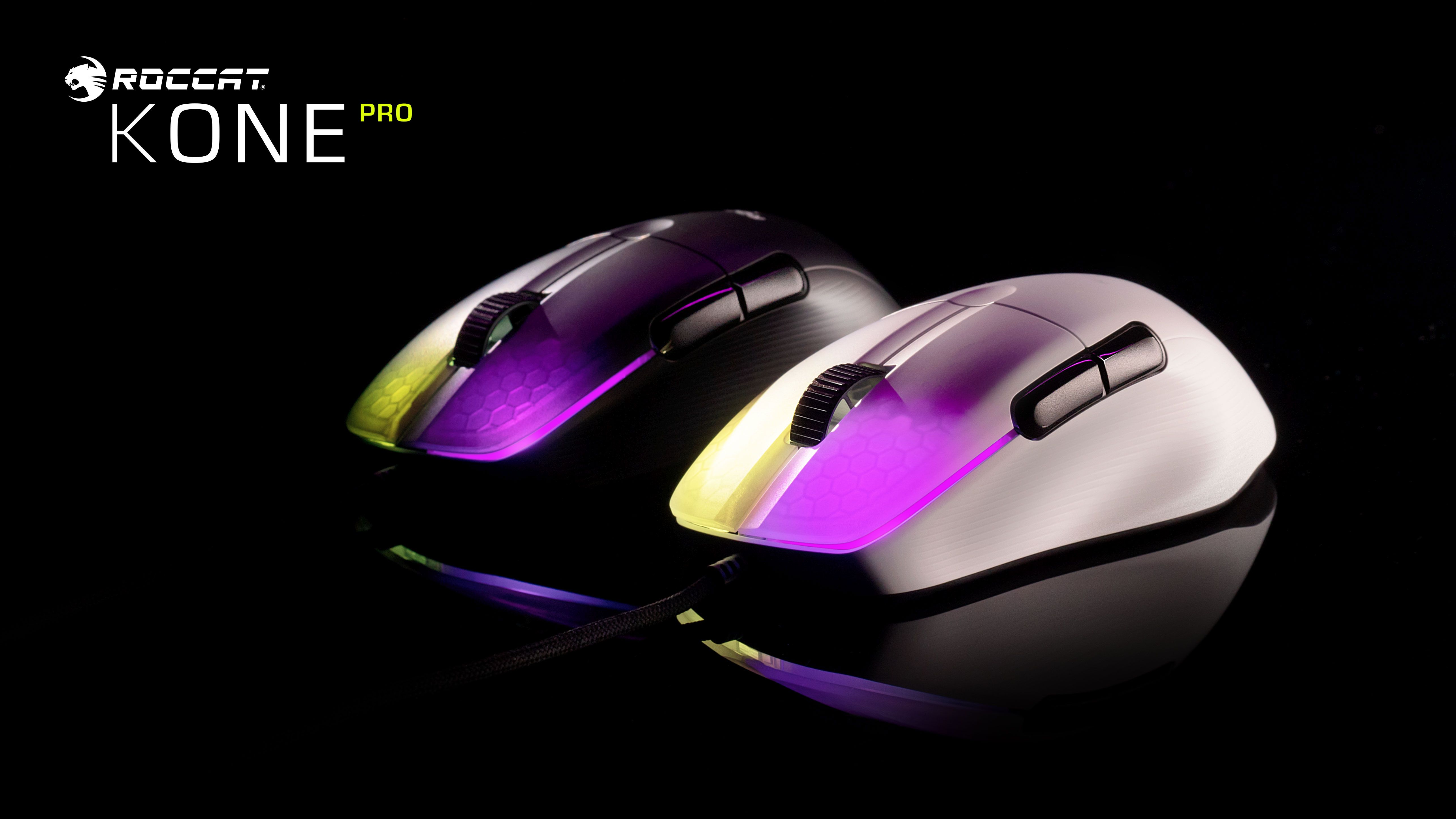 My absolute favorite thing about these versions of the Kone, however, is how light they are. Other TheGamer editors have talked about lightweight mice before, but it wasn't until I felt it that I understood the appeal. The Air is a bit heavier than the Pro (75g vs. 66g) but both just glide across my desk. I don't know if this smooth, responsive performance actually helps my gameplay in a significant way, but I love the sensation of using them. The Air in particular is very freeing when used in wireless mode.
I have the Air as my primary desktop mouse for this reason, although there was a hiccup in starting out. It supports wireless in two ways – with bluetooth or with a USB dongle. Both seem to require the installation of a driver (which was easy to get using Roccat's Swarm software) but even after the current update, I still have issues with the dongle method. The bluetooth connected right away and has proven completely reliable. On a more positive note, the battery on the Air is robust – I'm still at 80 percent after about two and a half weeks of daily use.

If wireless isn't your thing, the Pro comes at a more affordable price without sacrificing any quality. The attached 1.8m PhantomFlex cable still gives you plenty of breathing room. Whichever you pick, you're going to feel the difference right away. I can't imagine going back to a bulky mouse again.
Both the Kone Air and Pro were provided by Roccat for this review. The Air is $129.99 and the Pro is $79.99, and both are available on the Roccat site.
Source: Read Full Article