Roccat Pyro Keyboard Review: Slim, Solid, And Smartly Priced
Roccat is here with another quality keyboard to improve your PC game and your remote work life. The Roccat Pyro is the latest in a line of mechanical keyboards from the German manufacturer that focuses on esports-ready hardware. It doesn't bring anything bold to the table, but it does deliver a fantastic product for around $100.
The Pyro keeps to the same general structure laid out by the 120 Aimo, a keyboard once endorsed by Dr. Disrespect. Like the Aimo, the Pyro offers all keys and a number pad on a sturdy, aluminum-topped frame. RGB lights glow under the keys, which come with 2.0mm actuation and anti-ghosting technology. Rounding out the keyboard is a detachable plastic palm rest.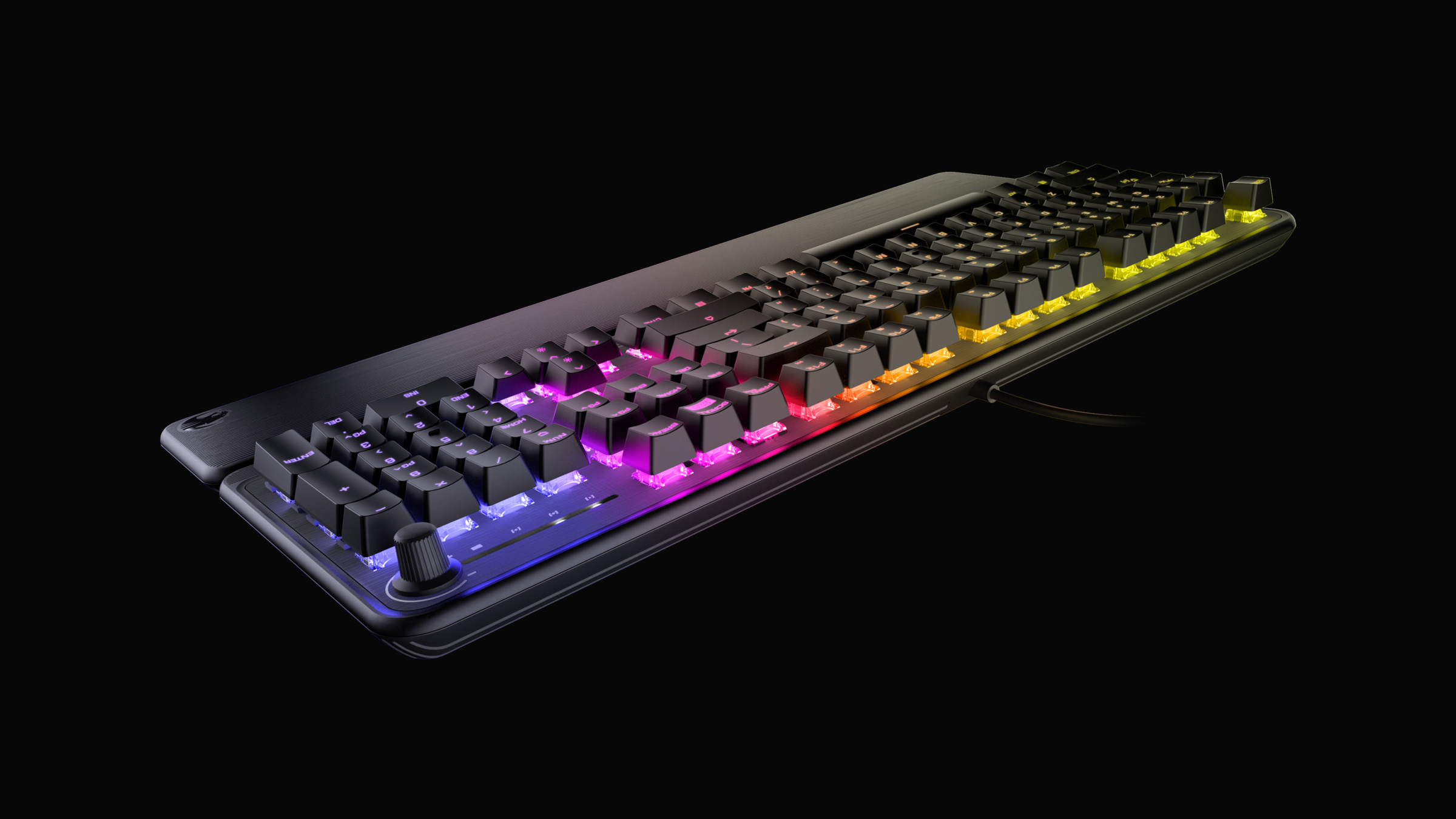 Evolution comes in an overall slimming down. The design is less chunky than that of the Aimo, but still has a heft that implies it will last. It also goes for a more subdued aesthetic with darker greys and blacks, which I personally think looks better than any attempt to be a cool gamer keyboard. I appreciate that it has a volume knob, and that this knob is smaller than it was on the Aimo. The one downside of this approach is that the palm rest is too thin to fully do its job. I love that Roccat thought to include one, but I would've liked something higher and with more cushion.
To further customize the Pyro, you can get the free Roccat Swarm software. Swarm unlocks many fun vanity features like RGB profiles and the ability to assign sounds to your keystrokes. It's also where you'll find the menus for assigning special hotkeys and creating profiles for specific games. It's not something I use particularly often, but does present very straightforward and easy-to-find options.
After a few weeks of use, I found the Roccat Pyro to be just as responsive and satisfying as my HyperX mechanical keyboard. Where it wins is in its slimmed down frame and the palm rest–even if I'm not 100% pleased with the palm rest. PC gaming enthusiasts will also love the price, as this is a high-tier competitive keyboard for $99.99. Between this, the Kone Air mouse, and the Elo Headset, Roccat is slowly taking over my PC setup.
A Roccat Pyro was provided for this review. Info on purchasing can be found on the Roccat site.
Source: Read Full Article