Stardew Valley: Guide To The Night Market
Events are the heart of Stardew Valley. The range of events and holidays spread throughout the year are exciting and have a chance to be incredibly rewarding. A recent addition to the event roster is the Night Market, available every Winter.
The Night Market is full of new vendors that only appear during this time. It feels so magical, and you definitely don't want to miss out on anything. This guide will go over every vendor within the Night Market, and how to get the most out of your visit.
How To Access Stardew Valley's Night Market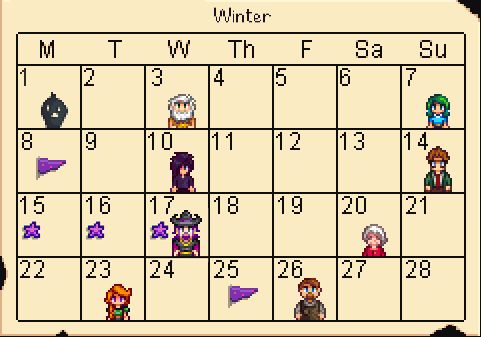 The Night Market takes place at the beach. The dock section of this area will transform into the market. Unlike other events, you can enter the area before the start time of the market, but you are not able to fully interact with the NPCs because they are still setting up.
To enjoy the Night Market, all you have to do is wait until the 15th of Winter. The Night Market will be available right away, with no extra steps required to unlock it. Overall, it will be available for three days between 5 pm and 2 am. On the calendar, the market days will have a purple star on them. Every villager will attend the Night Market, however, they are staggered between all three days.
Holiday Decorations You Can Buy At The Night Market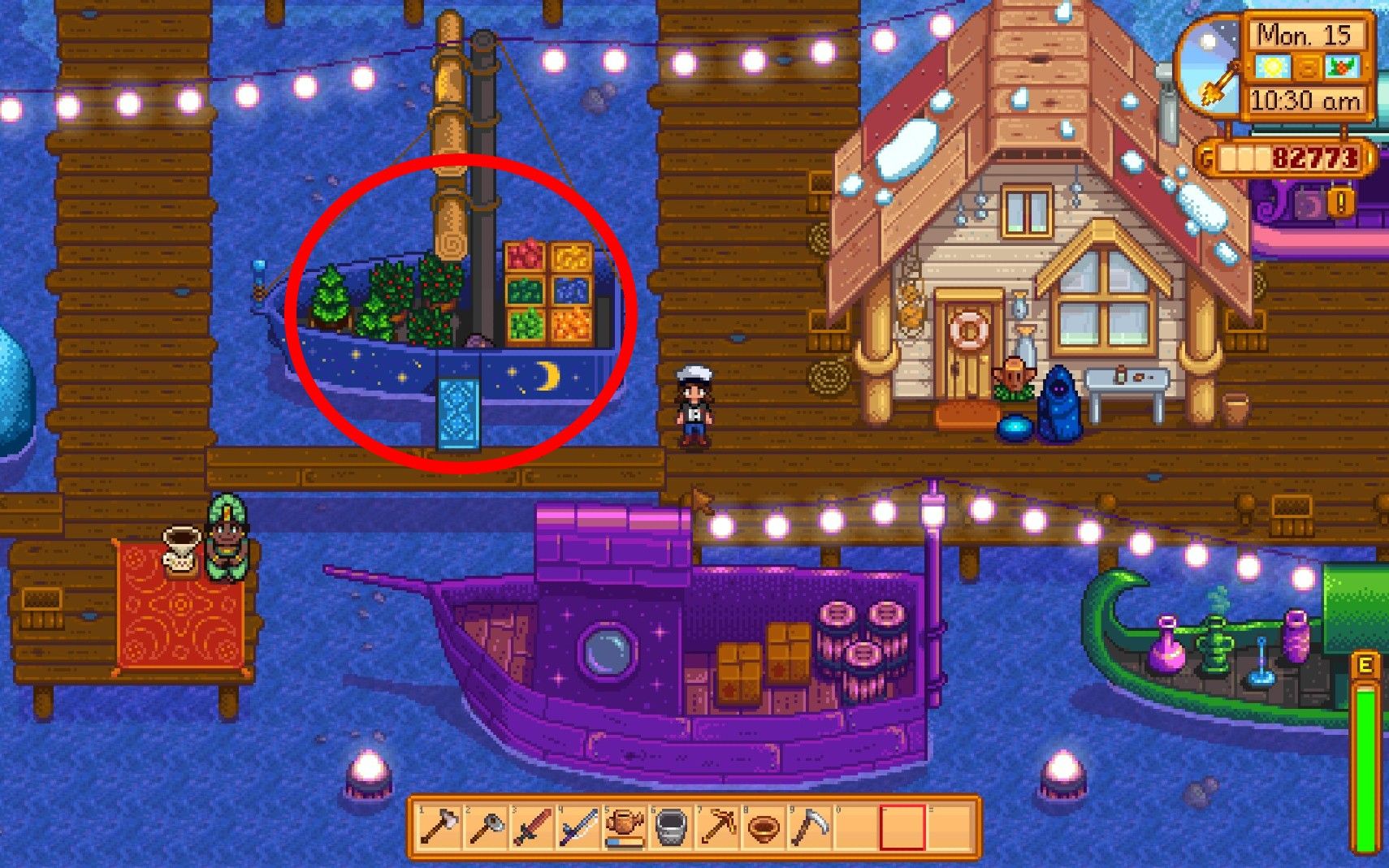 When you first stroll down the docks at the Night Market, you will see a blue boat with a moon on the lefthand side of the screen. This is the holiday decoration vendor, who will sell you a variety of plants and candy cane-themed decorations. Check out the items and prices below.
Big Green Cane: 200g
Green Canes: 200g
Mixed Canes: 200g
Red Canes: 200g
Big Red Cane: 200g
Seasonal Decor: 500g
Season Plant (small): 500g
Seasonal Plant (large): 500g
Seasonal Plant (pink): 500g
Seasonal Plant (catcus): 500g
Seasonal Plant (blue): 500g
Seasonal Plant (yellow): 500g
These items will not rotate through different days of the Night Market. This means that if you do not have enough money to purchase them all, they will be there the next day.
Don't Forget Your Free Coffee!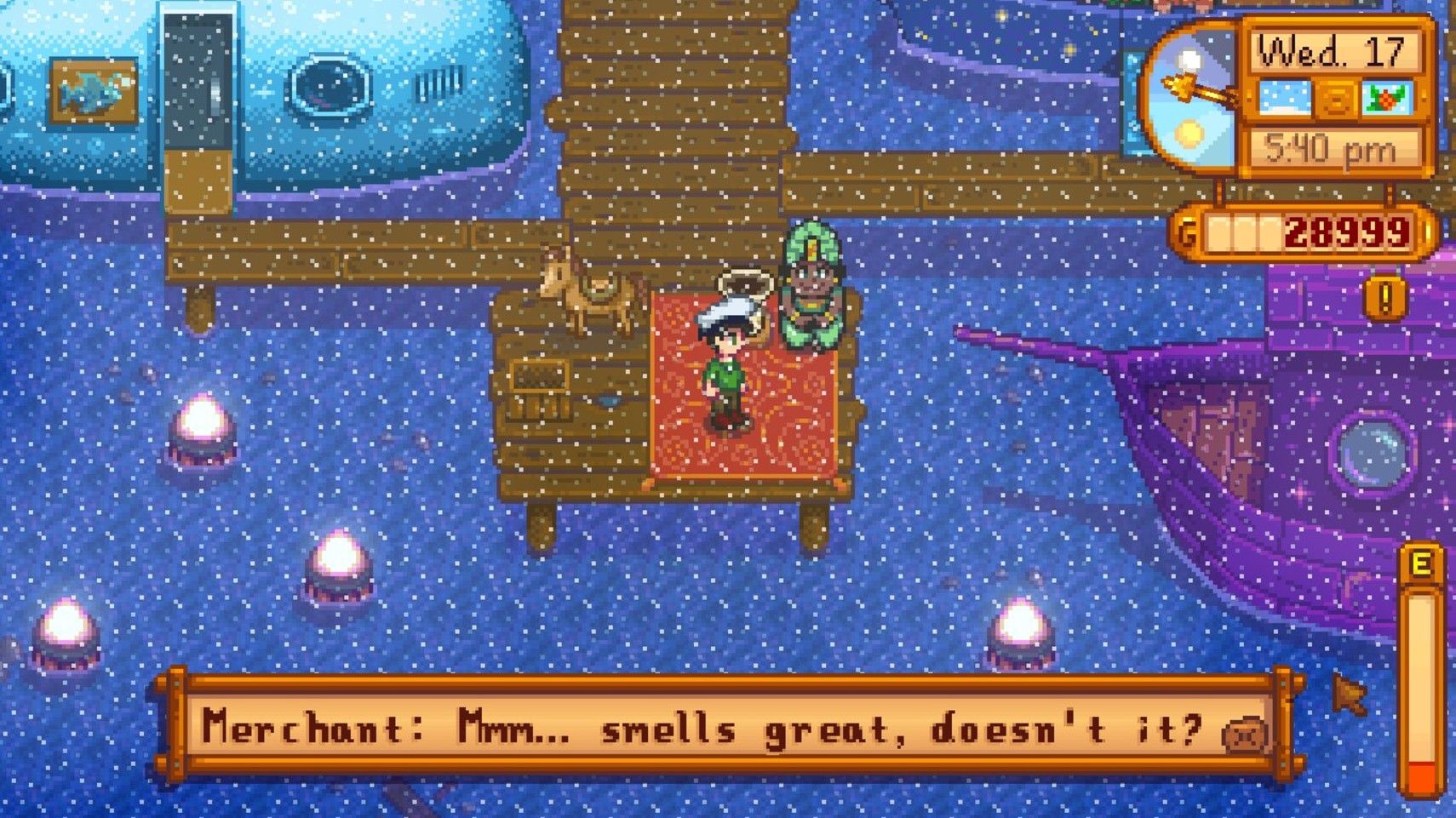 Below the holiday decoration vendor, you will see a merchant sitting on a red, square rug. Here, you can get one free coffee! 
You can get one free coffee per day, totaling up to three coffees. This is also the same merchant that appears in the desert.
How To Go Submarine Fishing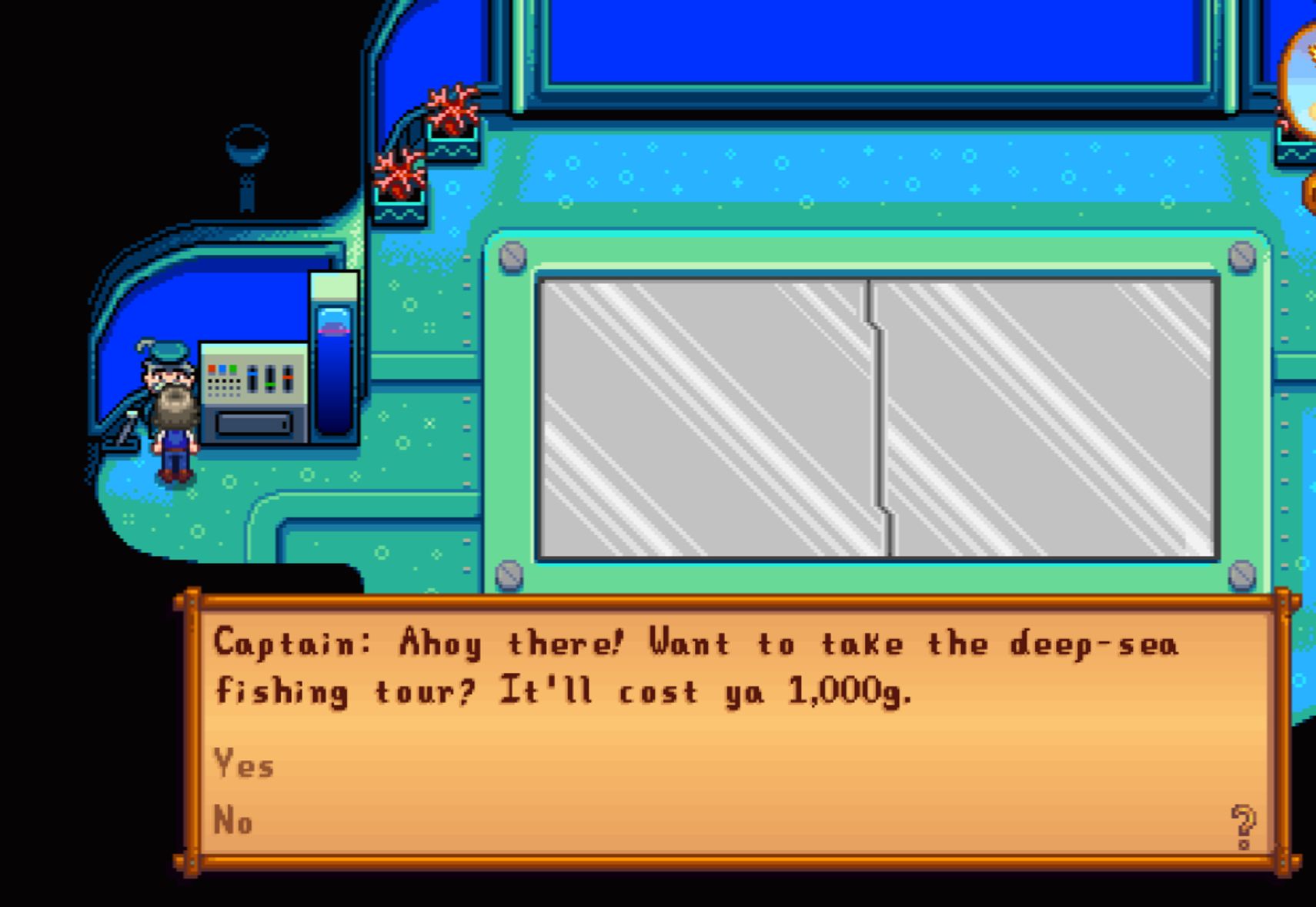 To the left of the coffee vendor, you will see a large submarine. For 1,000g you can purchase a deep-sea fishing tour here.
To go on this adventure, talk to the captain inside. After paying, the submarine will lower down into the ocean. A little bar to the right of the captain will show your depth; it will take 30 minutes of in-game time to fully descend. Once you've reached the bottom, start fishing!
While deep-sea fishing, you are only able to catch certain fish. Check out the available fish below, as well as their rarity.
Blobfish: 10%
Spook Fish: 16%
Midnight Squid: 21%
Sea Cucumber: 5%
Super Cucumber: 4%
Octopus: 2.2%
Pearl: 0.4%
Seaweed: 41%
Although the market officially closes at 2 am, the fishing tours will end at 11 pm. Be sure to start a fishing tour before this time.
Where To Find Rare Art And Items At The Night Market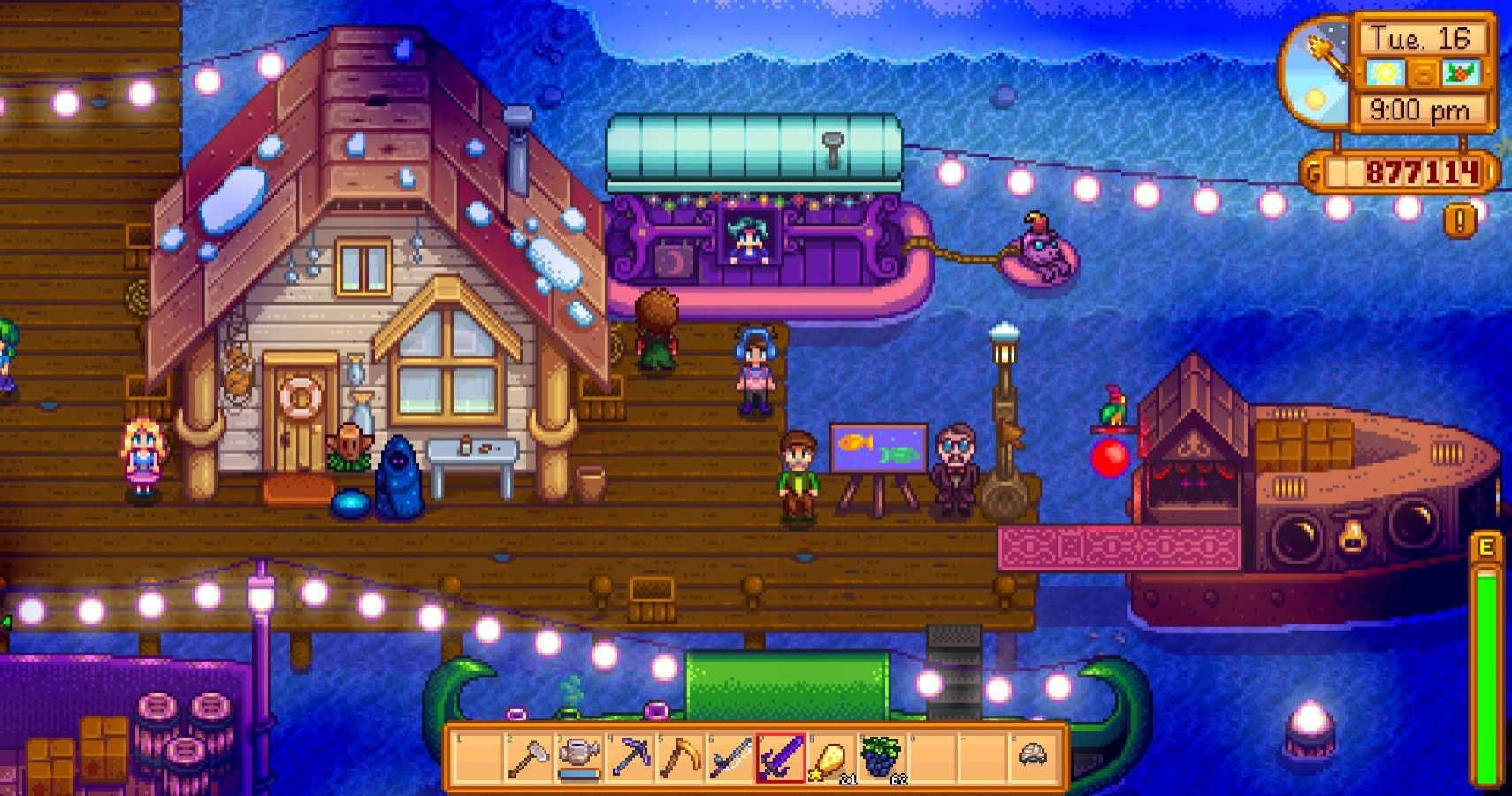 The right side of the Night Market has three vendors, each selling rare items. The vendors include the Traveling Cart, Famous Painter Lupini, and the Magic Shop Boat.
The Traveling Cart
You may recognize the Traveling Cart, which is located at the top of the right side, with the pig floating in an inner tube. The merchant will sell her usual selection of goods.
Here, you will be able to buy fruits and vegetables that are out of season, rare furniture, and items to finish community bundles. Prices are often heavily inflated. However, this is a good chance to buy items that you usually cannot find during Winter.
Famous Painter Lupini
Famous Painter Lupini will be standing in the center of the docks, next to a painting. You will be able to purchase rare paintings here for 1,200g.
Each day, there will be a new painting available. Additionally, the paintings will be different every year for three years. There are a total of nine different paintings available for purchase, which are listed below.
Winter 15
Red Eagle: every first year
Clouds: every second year
The Serpent: every third year
Winter 16
Portrait Of A Mermaid: every first year
1000 Years From Now: every second year
Tropical Fish #173: every third year
Winter 17
Solar Kingdom: every first year
Three Trees: every second year
Land of Clay: every third year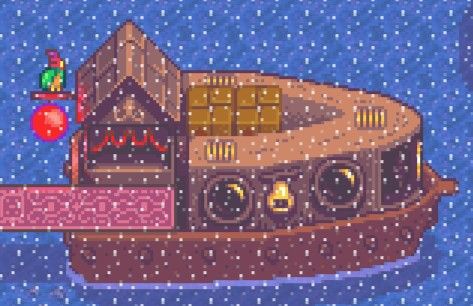 Magic Boat Shop
Finally, we have the Magic Shop Boat. This vendor is located directly to the right of Famous Painter Lupini.
Here, you can buy a variety of goods, including seeds and home decor. The stock rotates each day and is constant every year. Below, you can find all rotating items available at the Magic Boat Shop.
Winter 15
Grave Stone: 200g
Stone Frog: 500g
Cone Hat: 5,000g
Parsnip Seeds: 20g
Bean Starter: 60g
Cauliflower Seeds: 80g
Tulip Bulb: 20g
Potato Seeds: 50g
Kale Seeds: 70g
Jazz Seeds: 30g
Garlic Seeds: 40g (available year 2)
Winter 16
Suit of Armor: 200g
Stone Parrot: 500g
Cone Hat: 2,500g
Melon Seeds: 80g
Tomato Seeds: 50g
Blueberry Seeds: 80g
Pepper Seeds: 40g
Wheat Seeds: 10g
Radish Seeds: 40g
Poppy Seeds: 100g
Spangle Seeds: 50g
Hops Starter: 60g
Corn Seeds: 150g
Sunflower Seeds: 200g
Red Cabbage Seeds: 100g (available year 2)
Winter 17
Log Section: 200g
Stone Own: 500g
Cone Hat: 10,000g
Corn Seeds: 150g
Eggplant Seeds: 20g
Pumpkin Seeds: 100g
Bok Choy Seeds: 50g
Yam Seeds: 60g
Cranberry Seeds: 240g
Wheat Seeds: 10g
Fairy Seeds: 200g
Grape Starter: 60g
Sunflower Seeds: 200g
Artichoke Seeds: 30g (available year 2)
In addition to this rotating stock, an Iridium Fireplace (15,000g) and Rarecrow 7 and 8 (5,000g) will be available every day. Prices for seeds are the same as Pierre's General Store. However, this is the perfect time to buy seeds out of season.
Make Sure To Visit The Mermaid Show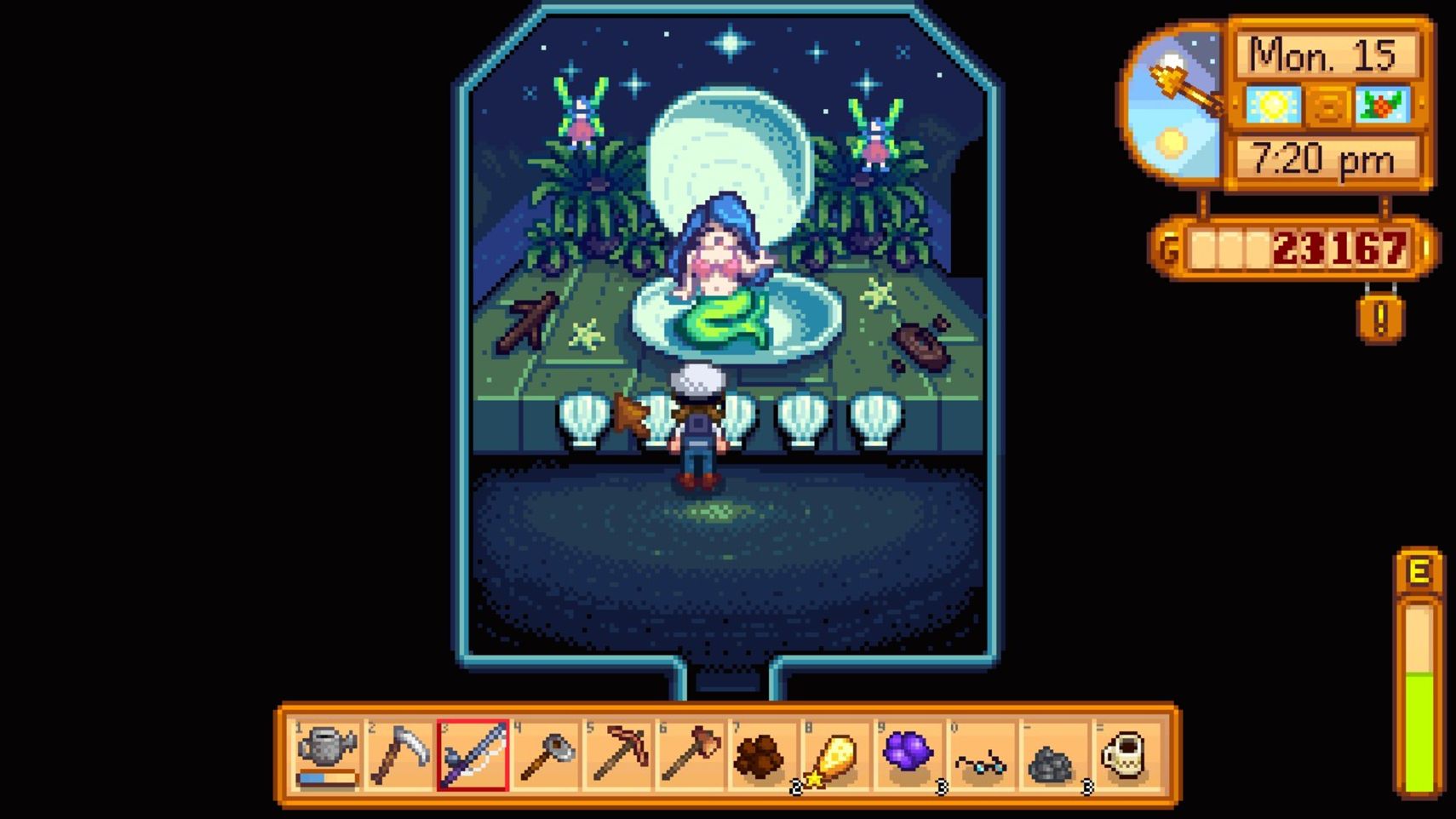 Lastly, we have the Mermaid Show boat. Available from 5 pm to 12:30 pm, this boat includes a show that lasts 1 hour and 40 minutes. To get to the Mermaid Boat, head to the green boat right below the vendors on the right. This boat will connect to a series of planks that lead to the Mermaid Boat.
When you enter the boat, a cutscene will trigger with the show. Although the show lasts a long time, you are able to leave whenever you want. After the show is done, you can interact with the clams to play notes. If interacted with in the right order, you will be rewarded with a pearl.
The Correct Order To Play The Clams At The Mermaid Show
The correct order to play the clams can be found in Secret Note 15. Like the fishing tour, the Mermaid Show ends before the Night Market closes. Since the show is pretty long, try to finish it soon instead of waiting.
Done with the Night Market? Head to the front door of Willy's house, where a shrouded figure will teleport you home. For just 250g, he will warp you straight to your farm.
Now, you know all there is to know about the Night Market. Be sure to come back all three days for new items!
Source: Read Full Article