The Witcher Season 2 Once Again Got A Lot Of Fans Playing Witcher 3
The Witcher Season 2 came out just a few weeks ago and quickly became Netflix's top-streamed show. It also gave The Witcher 3 another bump in players, according to data from SteamDB.
SteamDB reported that Witcher 3 player counts spiked to over 62,000 soon after the release of Netflix's second Witcher season on December 17. That's basically double the number that was playing Witcher 3 only a month earlier. It's also a similar story to what happened when the first Witcher season was released back in 2019, although that spike was well over 100,000 players.
It seems that a television tie-in to a highly successful video game franchise was a great idea for CD Projekt Red. Not only has The Witcher 3 maintained a generally strong player count for the past six years, but it's even grown steadily since the game was first released. You can see in the SteamDB chart that the total player number has steadily increased before spiking with the release of Netflix's Witcher, but the trend has remained generally upward.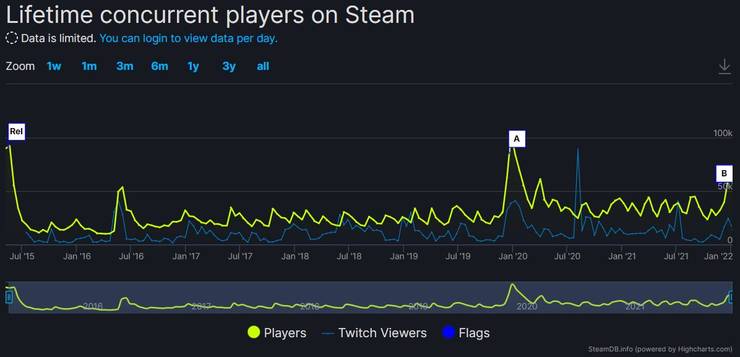 Helping that along have been extremely generous discounts where The Witcher 3 and all its DLC has been sold for single-digit dollars. CD Projekt reports Witcher 3 sales are still strong many years later, with the series breaking 50 million total sales last year. That number has only gone up, and we expect it to continue with The Witcher 3's next-gen upgrade in 2022.
Unfortunately, the same success story can't be attributed to Cyberpunk 2077. Just recently, CD Projekt settled a lawsuit with its investors for $1.85 million over the game's botched release. CD Projekt's stock significantly dropped in value following Cyberpunk's release, and although it made back some of it, investors still felt they were misled by CD Projekt's description of Cyberpunk 2077's quality.
Still, $1.85 million is nothing compared to the $1 billion CD Projekt lost over the Cyberpunk 2077 debacle. But maybe a TV show tie-in might help Cyberpunk 2077 as much as it did Witcher 3.
Source: Read Full Article