Torchlight 3 Celebrates Halloween With Gear 'N' Goblins Update
Torchlight 3's latest update, Gear 'N' Goblins, is celebrating the spooky season with new Legendary items, exclusive Halloween-themed pets, and new fort decorations. The update is now available for download on Steam, PS4, Xbox One, and will be "available soon" on Nintendo Switch.
The new pets include Midnight Cat, Dragonling Spirit, and Spooky Retriever – all of which are terrifyingly adorable. They can be rescued from dungeons and bosses and feature the new Necropupper legendary skill. The ability lets them summons two skeletons to assist you during battle, dealing 50% weapon damage for 12 seconds. All three will only be around until December, so be sure to rescue them as soon as you can.
If you'd rather deck out your adventurer in slick new gear than save animals in need, you can be on the lookout for the Ancient Ember gear set. This is a Relic-focused set that provides two new skills – Imbue Relic, which restores all Relic Energy, and Earthen Spike, which deals weapon damage to nearby foes. You can also find two new weapons (The Sword of the Lost Legion and Lightning Baller mace), both of which offer spooky new skills and buffs.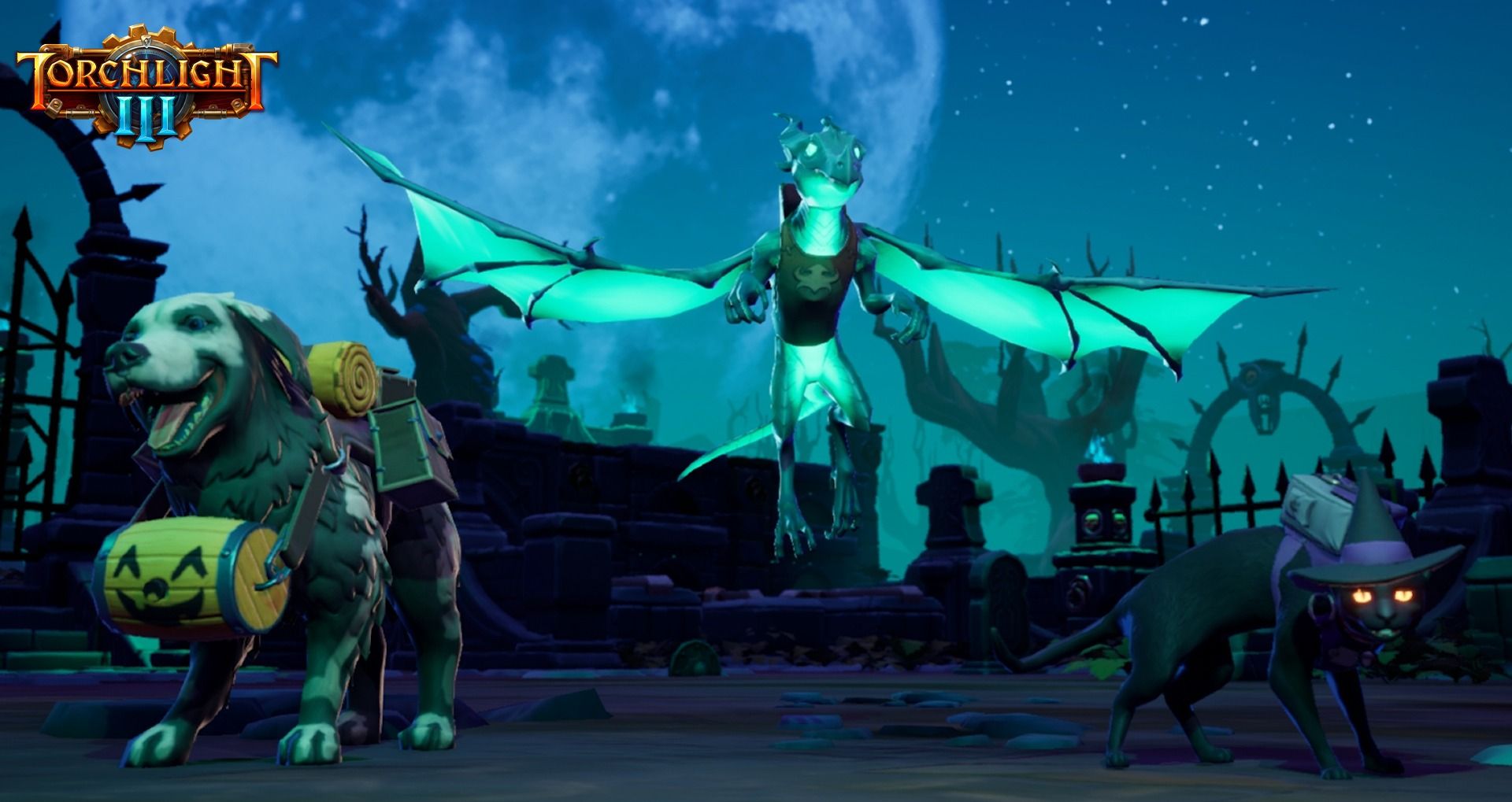 Back at your fort, Gear 'N' Goblins is offering plenty of ways to decorate your humble abode for the holiday. Six decorations can now be unlocked by taking on three different contracts. Here's a quick breakdown of each contract and their rewards:
Adventurer's Contract (Faceless Orator and Tombstone)
Homesteader's Contract (Wooden Coffin and Cemetery Stone Wall)
Craftsman's Contract (Witch's Table and Skull Gate)
It's not all spooky, though, as Torchlight's latest update squashed a few lingering bugs and made several quality of life improvements. For a full list of changes, check out the latest Torchlight 3 blog post.
The developer promises that more updates are on the horizon, and info will be shared about the Torchlight 3 roadmap in the near future. Until then, make sure to take advantage of all the Halloween content available with the Gear 'N' Goblins update before it disappears.
Source: Read Full Article