TurboGrafx-16 Mini Launch Delayed Due To Coronavirus Concerns
Konami was set to release a miniaturized version of NEC's TurboGrafx-16 console next week, but plans have suddenly changed. Originally set to launch in a few weeks, the company announced via the mini console's official website that concerns over the spread of the coronavirus have indefinitely delayed the release of the device. The main cause is that the manufacturing and shipping plants in China that were handling the production of the console have been closed down.
"Regarding the TurboGrafx-16 mini console and its peripheral accessories, the manufacturing and shipping facilities in China have encountered an unavoidable suspension due to the current Coronavirus (COVID-19) outbreak," reads the update. "As a result, the delivery of all TurboGrafx-16 mini products, which was originally scheduled for March 19th, 2020, will be delayed until further notice."
If you aren't afraid of importing, it seems that Konami Japan was able to manufacture a limited amount of PC Engine Minis (the Japanese equivalent to the TurboGrafx). Anyone that pre-ordered the console before March 5, 2020, should be receiving their orders this month. As for any other orders, everything has been delayed past March 20 for similar reasons.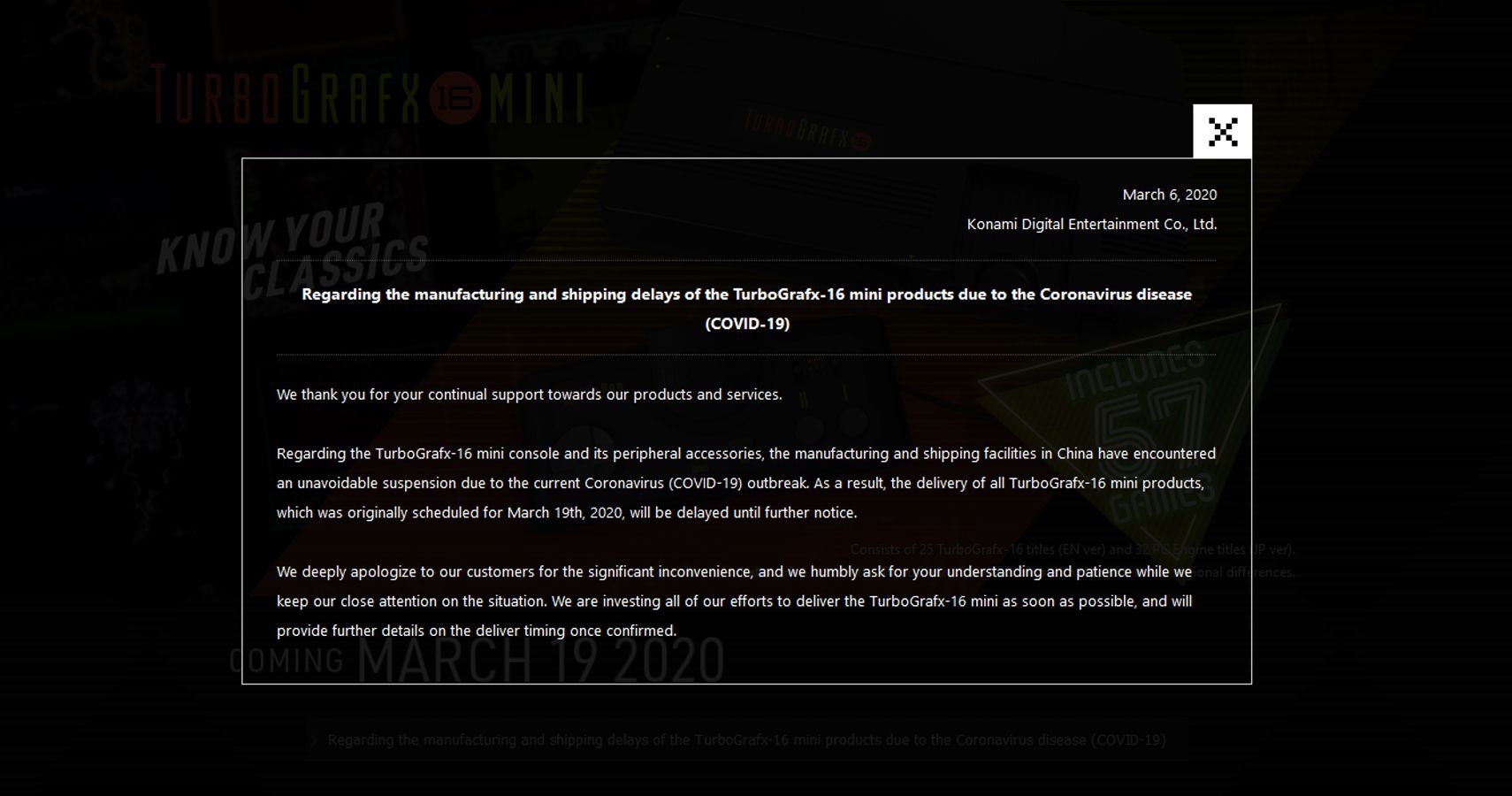 The spread of the coronavirus hasn't showed any signs of slowing down and has been impacting businesses the world over. Electronics companies are being hit pretty hard because most microprocessors and computer chips are manufactured in China. This has obviously led to situations like the TurboGrafx-16 Mini delay and could potentially stall the release of the PS5 and Xbox Series X.
Still, making sure everyone is safe and that we stop the further spread of the disease is more important. Video games will still be there when the coronavirus is contained, so we all just need to be patient. Konami made the correct decision here, even if it may lead to decreased profits in the short term.
It definitely would have been nice to put a mini TurboGrafx on my shelf, but I can hold out until further notice. There's more than enough games to go around and not having the latest in the micro-console craze won't kill me. The lack of Rondo of Blood might, though.
Source: Read Full Article