Unsurprisingly, PSG Were The Most Picked Team In FIFA This Year
It's Christmas week and before you know it, 2021 will be over. We've seen everyone's Spotify Wrappeds, which Switch games occupied the most of your time this year, and soon it will probably be PlayStation's turn to tell you which games you played more than any others over the course of the past 12 months. Before that EA has shared how much we've collectively been playing FIFA as well as some of its other games.
We played just short of 10 billion matches in 2021, scoring 22.3 billion goals in the process. An average of 2.29 goals per match which isn't bad at all. Kylian Mbappe scored the lion's share of those goals. EA will be particularly happy about that considering the French star currently graces the covers of the series' games. The team Mbappe plays his club football for was unsurprisingly the most used in 2021.
That's right, you're all being super boring and playing match after match with PSG. You might think you're good, sat there in your Division 1-shaped Ivory towers. Well, when you have Mbappe and Messi banging in goals for you, FIFA is easy. Try venturing into FIFA's vast online waters as Bristol City and come back in a few days to let me know how it went.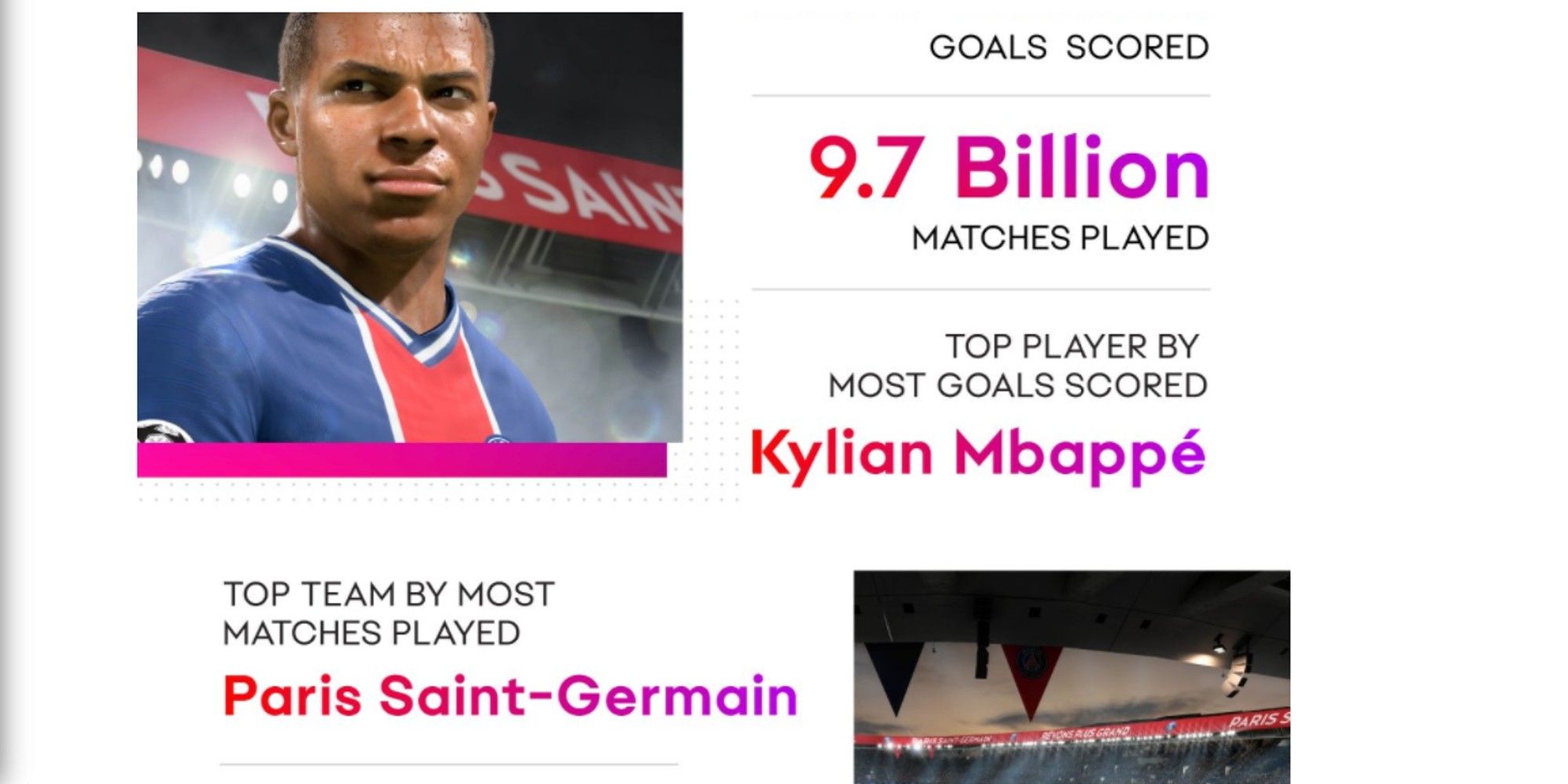 Elsewhere in EA's sporting landscape, Aaron Rodgers scored more touchdowns than any other player in Madden, and UFC 4 players created 6.9 million custom fighters. Outside of the virtual sporting landscapes, Apex Legends players placed 322 billion pings, and The Sims 4 players spent 1.2 billion hours in-game, 226 million of which were in build mode. You also destroyed 923 million ships in Star Wars Squadrons, a number that would have been greatly helped along by it being given away for free through PS Plus.
Back to FIFA, and by this time next year EA could be telling us about a football series with a different name. Reports continue to swirl that EA is open to remaining the series as its deal with FIFA comes to an end. How well the game performs in 2022 should that happen will be very interesting. No matter what it's called, odds are it won't be more poorly received than eFootball which was officially declared the worst-rated game of 2021 last week.
Source: Read Full Article