Who In The Blue Hell Would The Rock Even Play In It Takes Two?
If you hadn't heard, video game movies are good now, and it feels like there's a new one out every other week. Something changed a few years ago and now every studio across both industries is turning every game ever made into a movie or TV show while the getting is good. Sonic 2 is breaking box office records, The Last Of Us is coming to HBO, and apparently, the Minecraft movie is still being made, eight years after it was first announced and a month after its supposed release date.
It Takes Two is also getting the movie treatment. An understandable choice on the one hand following the co-op hit's popularity, but a confusing one on the other as its story isn't exactly all that strong. The adaptation took one very big step closer this week as it was revealed Amazon is heading up the project, adding it to a pile that also includes Mass Effect and Fallout TV shows. Seven Bucks Productions will also be helping out. If you're unfamiliar with Seven Bucks, that's the production company Dwayne "The Rock" Johnson owns alongside his ex-wife.
Quite literally some big guns stepping in to help create an It Takes Two movie, which should instill hope in fans of the game who weren't too sure about this project before now. What might bring that hope back down a peg or two is the attached belief that because Seven Bucks is involved, The Rock will have some sort of starring role in It Takes Two: The Movie. Now, don't get me wrong. I love wrestling, I love action movies, I love The Rock. However, I just can't figure out where exactly the busiest man in all of entertainment would slot into this movie.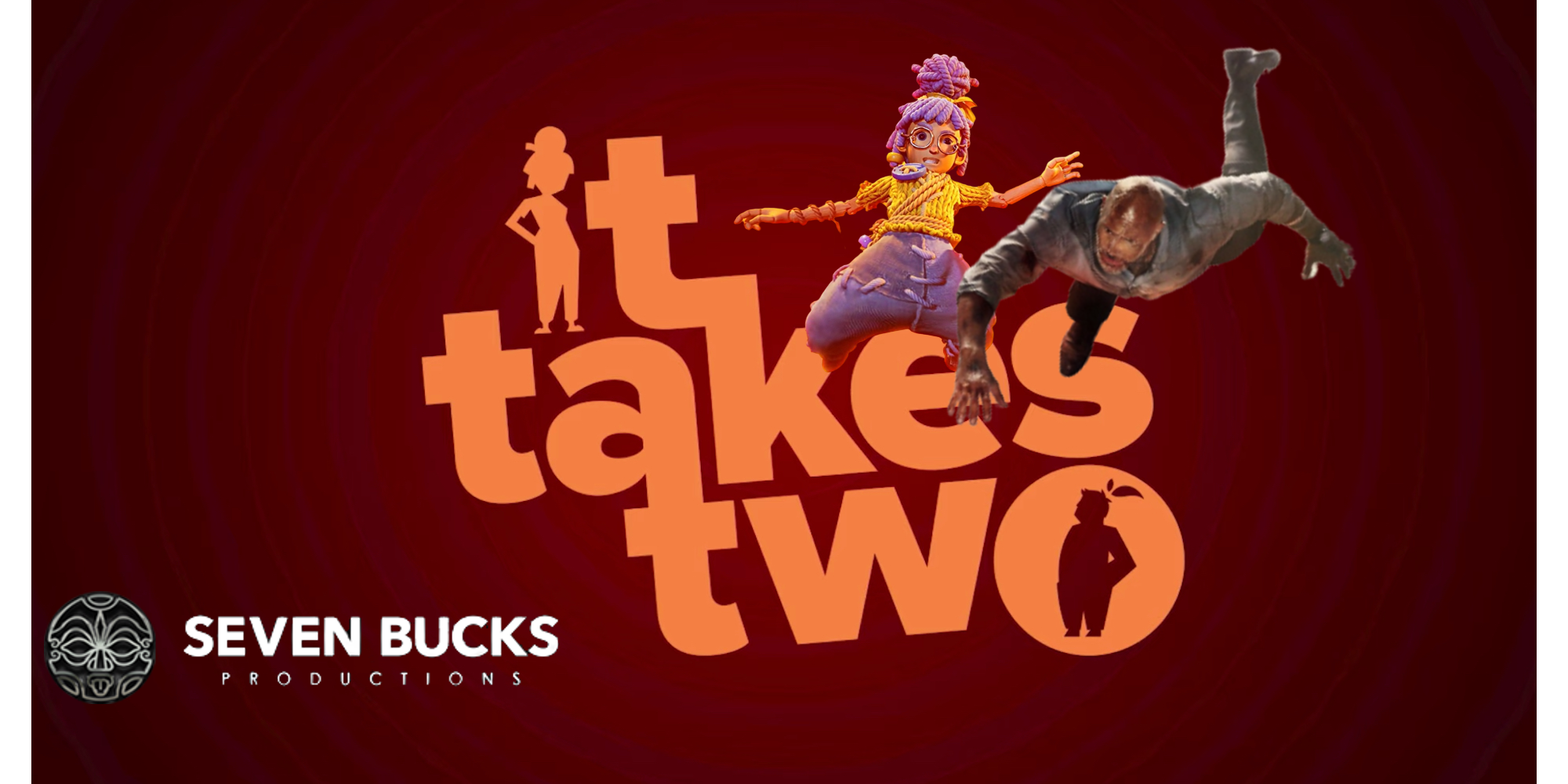 When I first heard that The Rock might be starring in It Takes Two, there is one character who immediately sprung to mind: Dr. Hakim, the anthropomorphic love book who helps main characters May and Cody patch up their relationship. Even though that's the first thing that popped into my head when it comes to a role for The Rock, it's definitely not something I want. When I first heard an It Takes Two movie was on the cards, I wrote about my hope that Pedro Pascal is cast in that role, and I'm sticking to that.
In that same feature, I theorized that Paul Rudd and Emily Blunt would make a great Cody and May. There's also a chance The Rock plays Cody, but that would make absolutely no sense whatsoever. Cody is a downtrodden, mopey, and let's be honest, downright whiney guy throughout the majority of It Takes Two. Casting a six-foot-five-inch Samoan god with muscles in places I didn't even think you could have muscles would make zero sense, even if Amazon and Seven Bucks were to turn the game's entire story on its head.
Speaking of the story, while it shouldn't be molded specifically to fit The Rock's needs, it will need to be expanded on a lot to make this a good movie. The leading reason It Takes Two has been such a successful game is for its gameplay, its reimagination of the co-op genre, and that it includes so many entirely different puzzles and lands that it feels like 20 different games in one. The story was not the selling point, which gives Amazon more creative license to change things than fans would usually allow for. Try doing that to God Of War, Amazon and you'll have me to answer to. I'm no Kratos but I reckon I'd get in a few good slaps before security takes me away.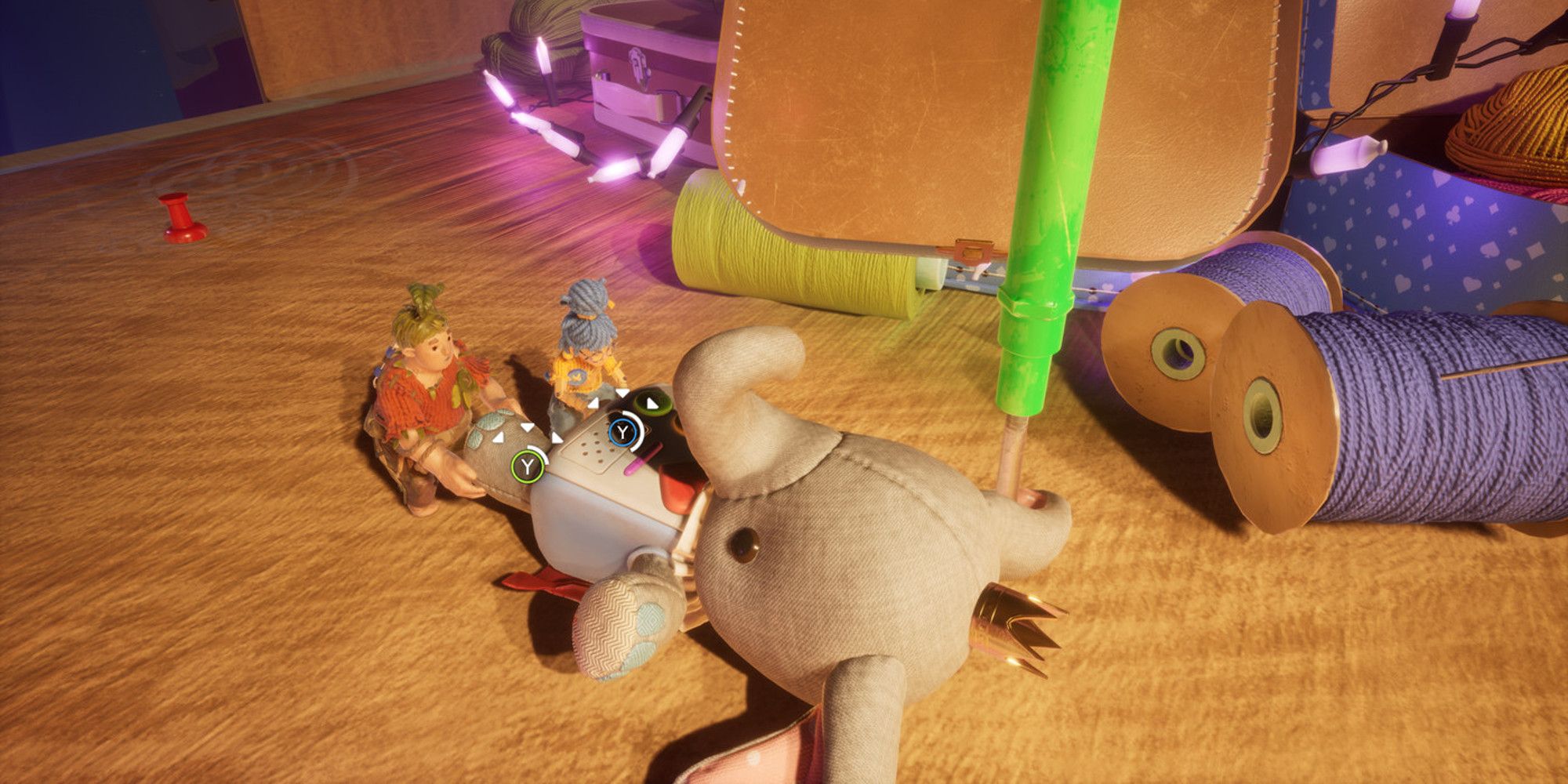 That also means Amazon and Seven Bucks can simply create an entirely new role for The Rock. Apologies for making you think about what might be the most harrowing segment in gaming history, but perhaps The Rock can be a knight guarding Cutie the Elephant's castle. Yes, It Takes Two getting the movie treatment means you're going to have to relive Cody and May's most shameful moment on the big screen. Maybe he's a Yeti inside the snow globe, an owl living with the squirrels in the tree, or a character from a part of the house we never had the chance to visit in the game. A big pot of unused protein powder Cody and May come across when scurrying across the top of the kitchen cupboards. I don't know, he's a big man, he consumes a lot of protein, I think it makes sense.
The Rock has video game movie experience, too. Doom, which you've probably tried to forget, and Rampage, which you have almost definitely successfully forgotten. It Takes Two will be a lot different from either of those projects (I hope) and probably a lot different from the badass video game adaptation Rock revealed he was working on earlier this year. Unless It Takes Two is exactly what he was referencing, though that wouldn't really add up as Hazelight's co-op adventure isn't really all that badass, plus Rock mentioned it was something he had been playing for years. He'd make the perfect Minecraft character brought to life, but it seems he'll have to fight Jason Momoa for that role and WrestleMania has been and gone. Besides, we all know it's going to be something super boring like a Call Of Duty movie anyway.
Source: Read Full Article