World Of Warships Celebrates Five Year Anniversary With Big Update And Player Gifts
The massively multiplayer naval warfare online game World of Warships is currently celebrating its Fifth Anniversary, and the Wargaming.net team has loaded all the big guns to send us a volley of anniversary in-game missions and gifts. The Fifth Anniversary celebration comes partnered with Update 0.9.8, which is bringing a slew of visual improvements and new content additions and game fixes.
The World of Warships Fifth Anniversary celebration began Wednesday, 2 September (3 a.m. PT), and will sail until Wednesday, 30 September (3 a.m. PT). As part of the celebration, our Designer's Table Port has received a festive update, complete with confetti, ribbons, postcards, cake, and a few new ship models. We'll also be receiving new first victory bonus rewards, a new limited-time battle type (Asymmetric Battles), and an incoming Festive Stream cinemarathon with gifts for viewers. But the main draw of the Fifth Anniversary celebration is the new "Five Epochs of the Navy" Campaign.
Aside from the engaging warship battle action the game has provided over the past five years, World of Warships also does an excellent job at teaching naval military history of the 20th century. The "Five Epochs of the Navy" Campaign is another of those master classes where we'll get to dig into a piece of naval warfare history by taking part in and completing in-game missions.
The new campaign involves 50 tasks grouped into five missions that focus on five shipbuilding epochs of the 20th century. For each task, we'll need to pilot ships of a specific tier and type. An example from the Wargaming.net announcement post says that some tasks of the first mission "are inspired by the development of battleship building technologies", and therefore should be completed by piloting battleships that are historically responsible for that inspiration, namely the III South Carolina, III Kawachi, IV Gangut, and the III Dreadnought.
Playing through and completing the "Five Epochs of the Navy" Campaign will earn us the "Five Epochs of the Navy" Collection, along with having learned about actual construction history and design features of many 20th century warships, from the dreadnought era through World War Two and up until the post-war years. Of course, we'll also get other in-game rewards, including a permanent Epoch ship camouflage we can apply to any one Tier IX ship (except IX AL Sov. Rossiya).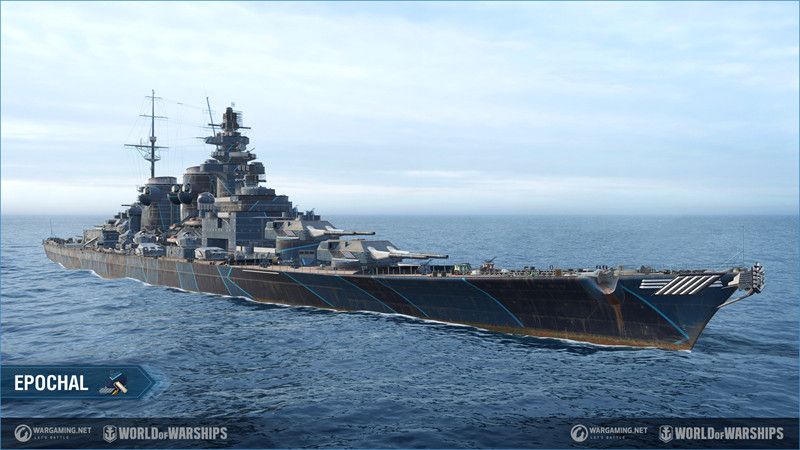 Another big addition to the Fifth Anniversary celebrations is the new limited-time Asymmetric Battles, which are running from Wednesday, 2 September (3 a.m.PT) until Wednesday, 16 September (3 a.m. PT). This battle type will place us in historically-influenced Domination mode battles where one side has more ships than the other on the Ultimate Frontier, Naval Station Newport, and Killer Whale maps.
There are many more details to the World of Warships Fifth Anniversary celebration, and you'll find them all in the Update 0.9.8. World of Warships Birthday video (presented by our favorite Dasha), and in the World of Warships Anniversary! and Update 0.9.8 posts on worldofwarships.com.
Source: Read Full Article