Razer Hammerhead True Wireless Pro Earbuds Review: The New Standard In Earbud Audio Quality
Earlier this year, I had the opportunity to review the THX-Certified Razer Opus Headphones, which was one of the lifestyle and gaming brand's first products aimed at appealing to a wider audience than just gamers. I'm very happy to say that I still use said headphones on a daily basis for virtual meetings, as well as for personal use such as listening to music or gaming. However, because of the sheer size of the headphones (a perfect design for what it was intended for), I have been searching around for some earbuds to pair with my phone while I'm out and about – as much as any responsible person can and should be outside their home right now. But I'm not a fan of Apple's earbuds, and everything else I've come across seems like it can't be trusted to offer exceptional audio quality or noise cancellation.
And then it happened. I attended a presentation for Razer's next evolution of headphone technology, coming in the form of the Razer Hammerhead True Wireless Pro Earbuds. I've spent the past week using the earbuds almost exclusively, and while my Razer Opus Headphones won't be in any danger of collecting dust, the Razer Hammerhead True Wireless Pro Earbuds have officially become my go-to headphone solution.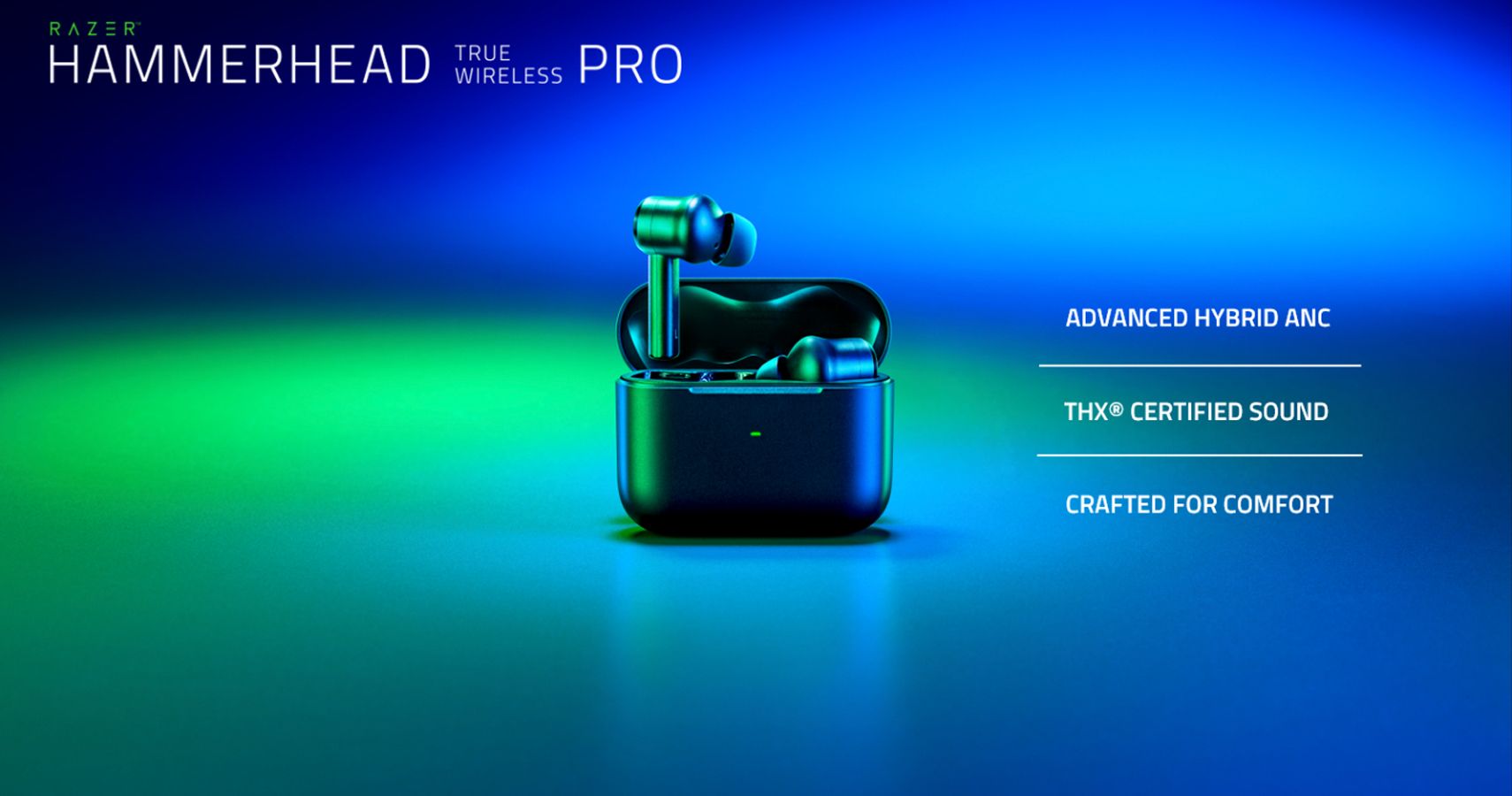 Like the Razer Opus, the Razer Hammerhead True Wireless Pro Earbuds are THX-Certified true wireless earbuds and feature advanced ANC (Active Noise Cancellation), which is a hybrid-type of four-microphone internal setup that allows for the most effective noise cancellation. The four-mic setup (two internal mics, two external mics) prevents unwanted ambient sound from entering the headphones. That is, if that's what you prefer. The earbuds do feature a quick-attention mode for, say, a quick conversation, as well as an ambient mode that actually amplifies surrounding ambient noises, should you need to be a bit more aware of the things happening around you.
Each mode works surprisingly well, especially considering the fact that these are in-ear earbuds. On that note, Razer understands that not all ears are built the same. Rather than providing only a small, medium, and large size of ear tips, the Hammerhead True Wireless Pros come with a selection of seven different tips. These include a medium-sized pair of Comply premium foam tips, which form to the shape of your ear canal; S/M/L sizes of SmoothComfort silicone tips, which are great for extended use and comfort; and S/M/L sizes of SecureSeal translucent silicone tips, which provide more grip for more demanding activities such as working out. I've tried out all of the tips, and the Comply foam tips seem to suit me best for my everyday use. I had to build up my tolerance a bit at the beginning as my ears became fatigued sooner than expected with the earbuds, but I think it was because I hadn't used in-ear headphones for multiple months prior. After a week of use, I'm able to wear the earbuds for long periods of time, and to be quite honest, sometimes I even forget that I even have them in.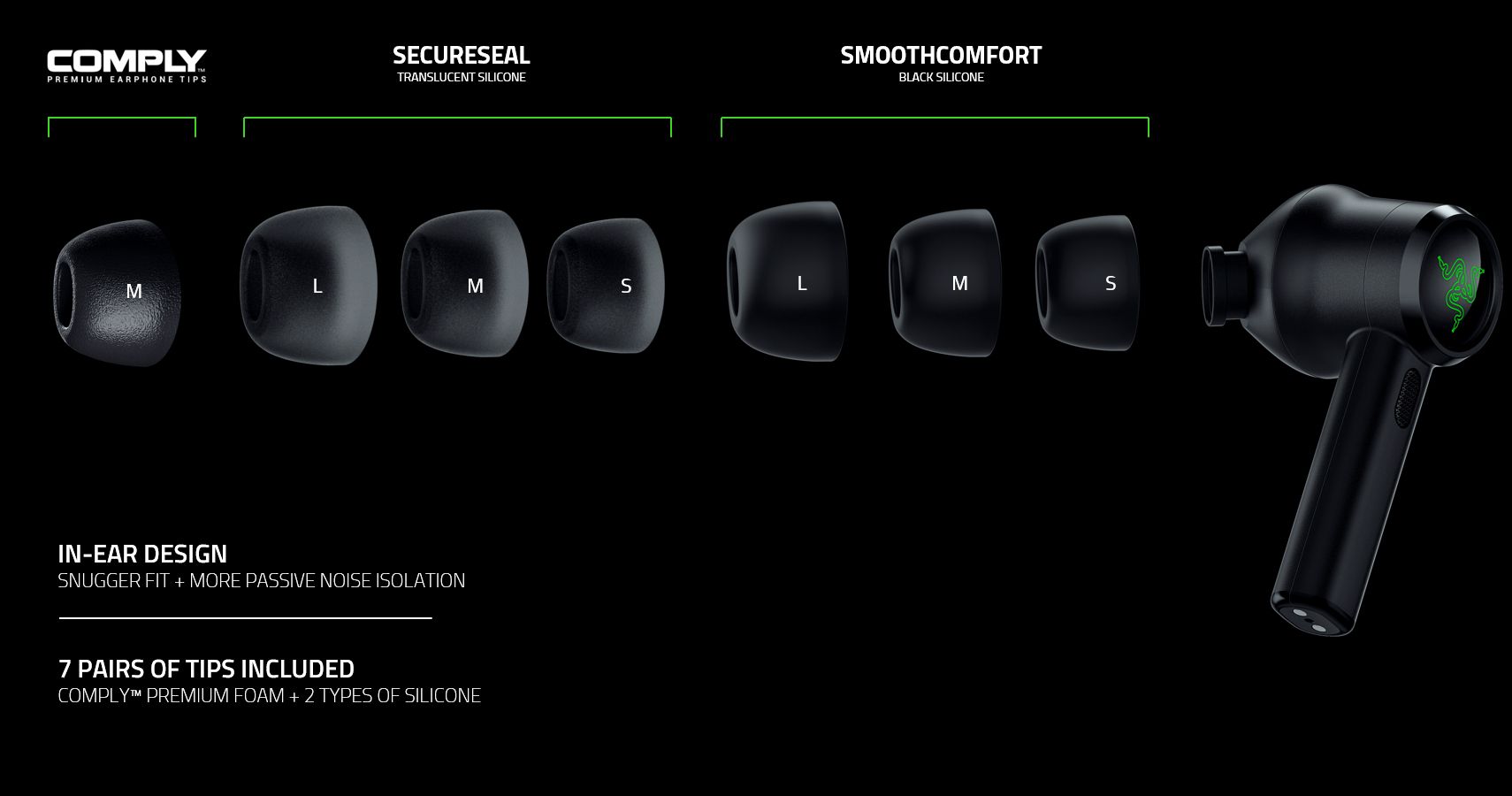 The earbuds' storage case charges with a USB-C cable, with a single charge being enough to last up to 20 hours. The case itself is nice, but I find the earbuds a bit difficult to take out. There doesn't seem to be an easy way to grip them, especially with my dry hands (damn you, winter!). Once I'm able to finagle one earbud out from the case, though, the other is easy to snag.
And how is the actual audio? I couldn't say more positive things about the audio quality. But that really shouldn't be surprising since the earbuds went through the rigorous THX Headphone Certification program to be able to have the THX name associated with it. For you audiophiles, here's what that entailed:
Frequency Response – Clear vocals, dialog, and impactful bass
20 Hz – 20 KHz

Codecs: SBC, AAC
Distortion – No distortion at high volumes
Noise Isolation – Ability to block out and seal in sound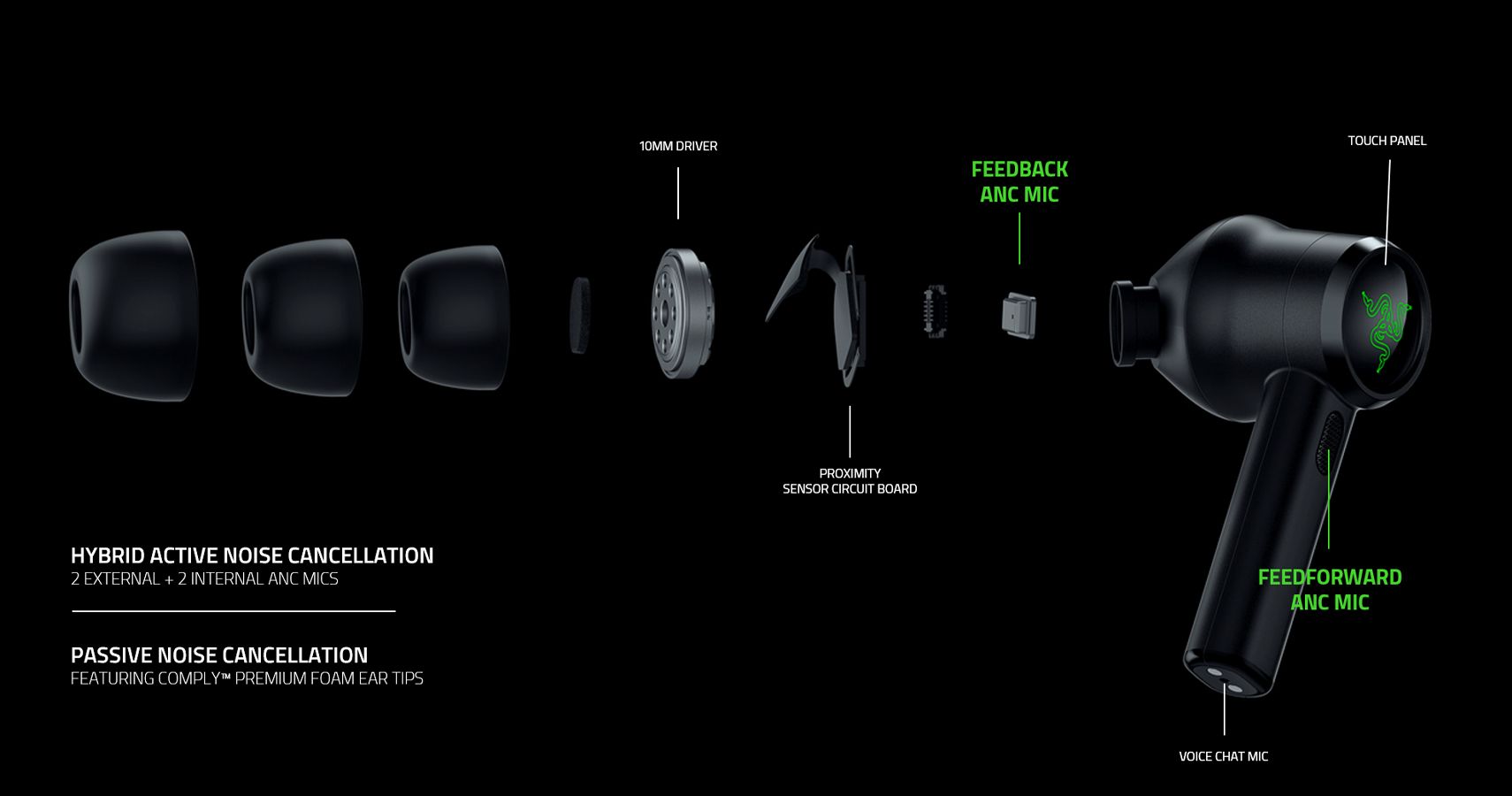 That's basically a detailed way of saying the earbuds sound amazing. From music to podcasts, calls to gaming, the audio sounds incredible even when I'm blasting it louder than I probably should be. In regards to gaming specifically (it is Razer, after all), one of the product pillars was making the earbuds as low-latent as possible to provide the most in-sync wireless audio experience when playing games or watching movies. I'll admit that I personally probably wouldn't have noticed a millisecond-late sync, but with Razer having taken that into consideration for me, I won't have to worry about it at all.
I think the most impressive thing about my week with the Hammerhead True Wireless Pro Earbuds is that all of my testing took place using the earbuds' default settings. With the app, you'll be able to customize your earbud experience by changing up tap commands as well as adjusting the virtual EQ audio levels. I haven't been able to successfully pair my earbuds with the app on my iPhone 12 Pro Max – most likely attributed to the app being in beta while I was testing – but the default button configuration and THX audio settings work perfectly for me.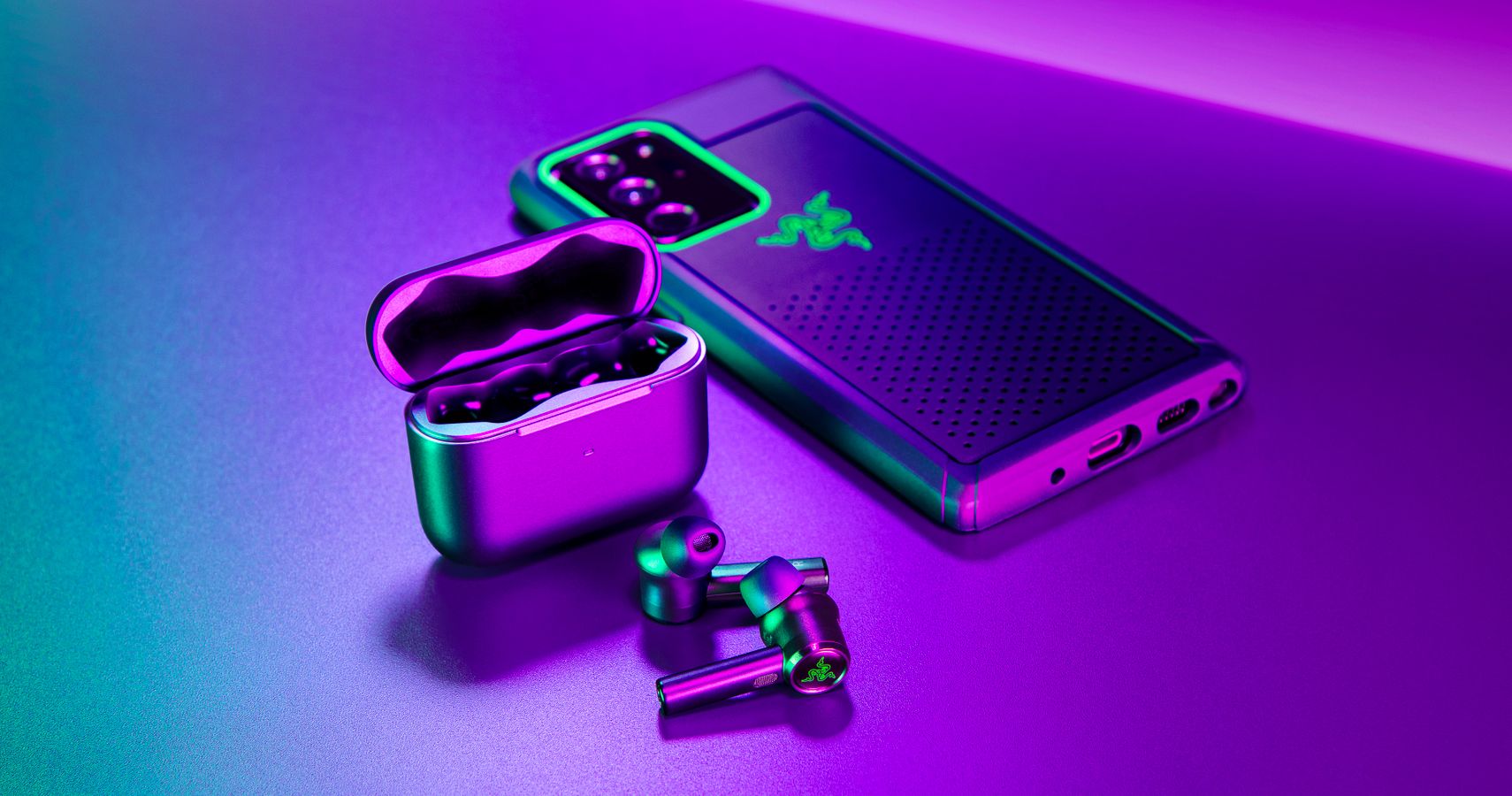 I can't recommend the Razer Hammerhead True Wireless Pro Earbuds enough. From comfort to audio quality, they check every box that I had when I was looking into earbuds the past couple of months. I'd love for the case to be a bit bigger to allow the earbuds to come out a little easier, but that aside, the Razer Hammerhead True Wireless Pro Earbuds are my new standard in headphones – be it earbuds or otherwise.
A Razer Hammerhead True Wireless Pro Earbuds sample was provided to TheGamer for this review and is available now on Razer's website.
NEXT: Call Of Duty BURST Sonic Toothbrush Review: First-Person Smiling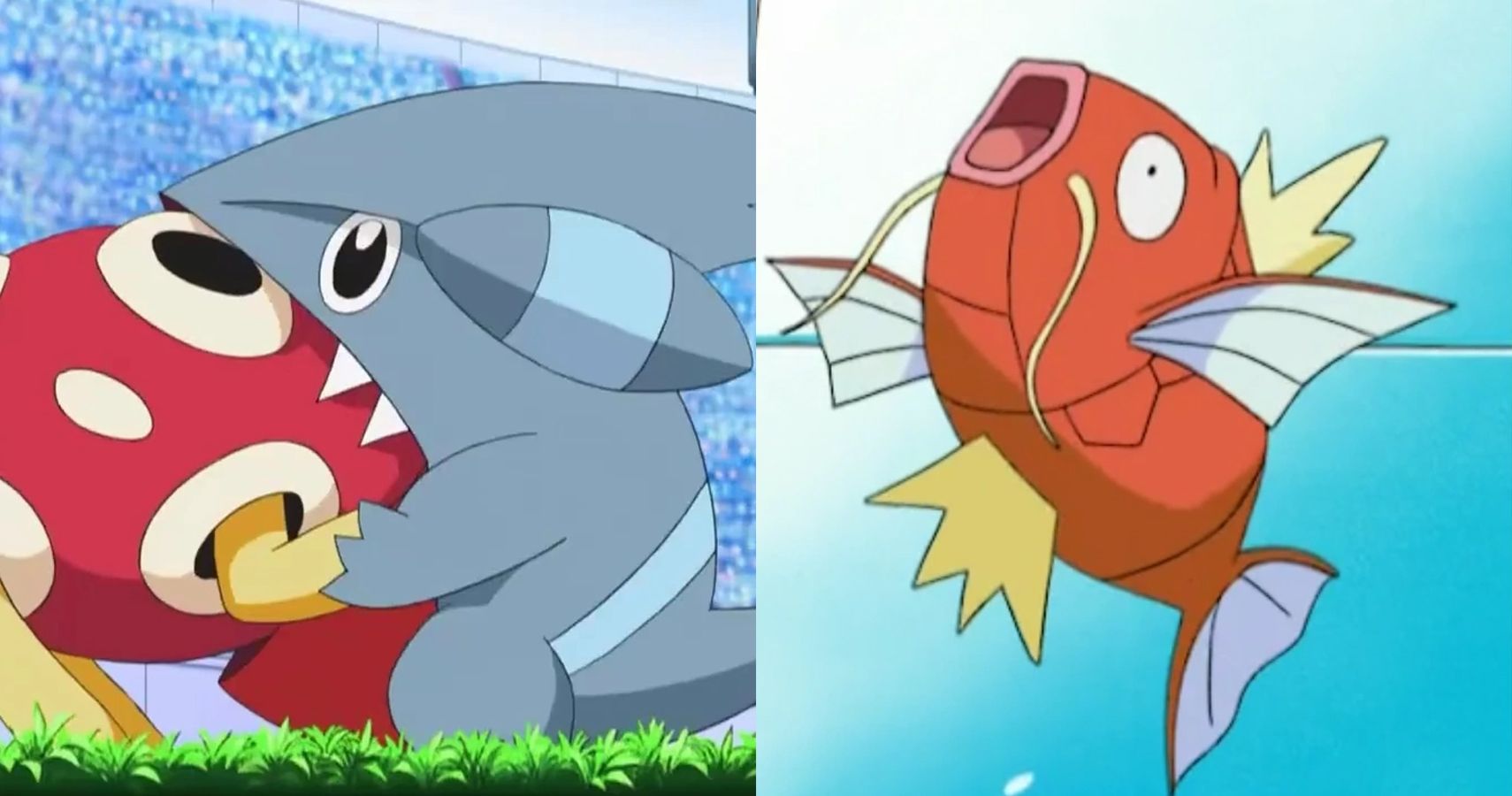 TheGamer Originals
Tech
Razer
Sam has been writing for TheGamer since early 2018, earning the role as the Lead Features & Review Editor in 2019. The Denver, Colorado-native's knack for writing has been a life-long endeavor. His time spent in corporate positions has helped shape the professional element of his creative writing passion and skills. Beyond writing, Sam is a lover of all things food and video games, which – especially on weekends – are generally mutually exclusive, as he streams his gameplay on Twitch (as well as TheGamer's Facebook page) under the self-proclaimed, though well-deserved moniker of ChipotleSam. (Seriously…just ask him about his Chipotle burrito tattoo). You can find Sam on Twitter, Instagram, and Facebook as @RealChipotleSam.
Source: Read Full Article